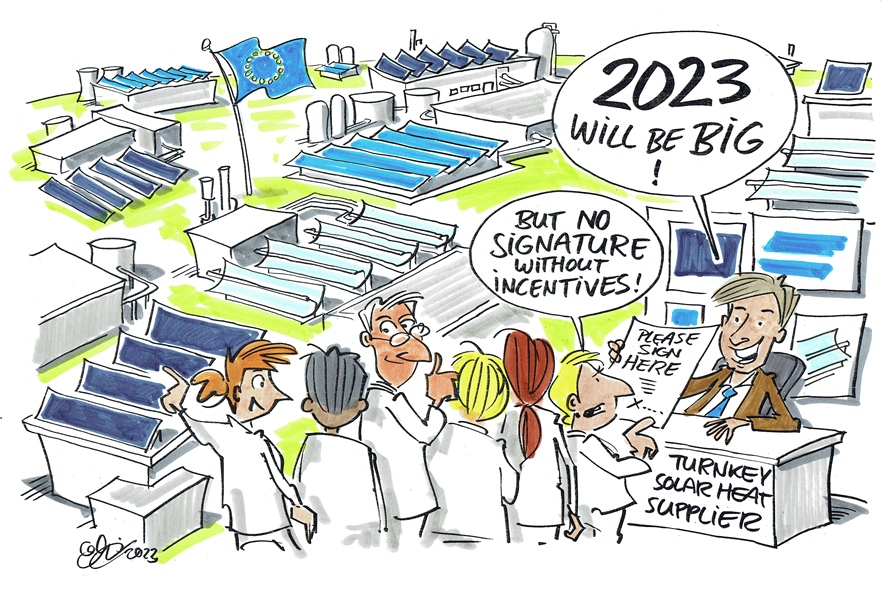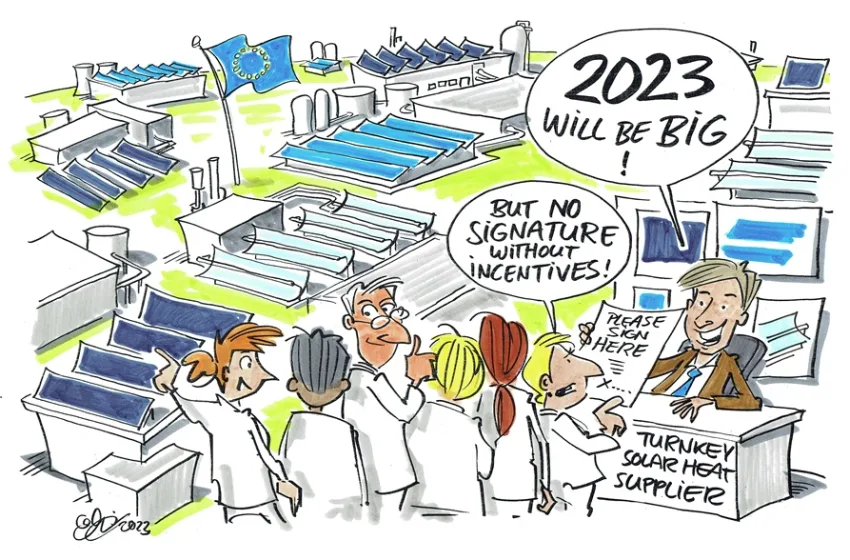 Welcome to a new year and another chance for solar heat to get big
Multi-megawatt solar process heat plants are on the increase. A new record-size system in France with 13 MW for a dairy is in the commissioning phase. Construction of a 28.5 MW field of parabolic trough collectors for a Heineken factory in Spain is progressing well. Belgium will see the largest SHIP plant country-wide (2.5 MW) start operation at a chemical producer in some weeks. What is striking is that all three projects are being realised using heat purchase agreements. This business model reduces the risk for the investor to a minimum. It is one of the important factors that are driving the industrial solar heat (SHIP) market into new spheres. Despite high energy prices, incentives are still another important requirement for getting a contract signed – as a close look at the new flagship projects shows.
Graphics: German cartoonist Michael Hüter
"We have had a high number of inquiries, but industrial customers are still not buying", said one of the German SHIP turnkey suppliers, summarising the sales experiences in 2022. A competitor commented that "we have 10, mostly SHIP, projects currently in the development phase in Europe, but we have not yet reached a financial close for any of them".
No signature without incentive
So it still seems difficult to get industrial customers to sign contracts, despite the gas crisis and the sharp increase in energy costs last year. An interesting example here is Heineken, the second largest beer brewer worldwide. In its "Brew a Better World 2030″ strategy the company committed itself to net zero emissions in production. This target applies to at least 165 breweries around the world (status 2019 according to Wikipedia). For three of them – two in Spain and one in Greece – Heineken has plans to use solar heat (see table below). But the solar thermal specialists involved in the project development of these three sites needed staying power.
The German technology provider Solarlite carried out the first prefeasibility study for the Spanish Heineken factory in Seville already some years ago. However, the brewer accepted a contract only in May 2022 after the grant from the Thermal Energy Production scheme in Spain had been approved. Finally in May 2022, Engie Soluciones España has signed a heat purchase agreement with the Heineken factory in Seville. The Belgium company Azteq together with its subsidiary Solarlite will deliver and install a turnkey solar heat production plant of 28.5 MW in a challengingly short time. This is due to the extremely short implementation time required by the funding scheme. All developers receiving a grant from the Thermal Energy Production scheme in Spain need to finish their projects by June 2023.
| | | | | | | |
| --- | --- | --- | --- | --- | --- | --- |
| Site | Status of the project | Size of the collector field | Collector type | Business model | Source of grant | Implementing parties |
| Seville, Spain | Heat purchase agreement signed since May 2022, plant under construction | 30 MW | Parabolic trough | Heat purchase agreement | Subsidy from Thermal Energy Production Fund approved | Engie Soluciones España, Spain, and Azteq, Belgium |
| Quart de Poblet, Spain | Construction started in January 2023 | 3.5 MW | Linear Fresnel | Steam purchase agreement | Subsidy from Thermal Energy Production Fund approved | CSIN, Spain, a 50-50 joint venture between the two Spanish firms Solatom and Indertec |
| Patras, Greece | Memorandum of Understanding signed in July 2022 | n/a | Parabolic trough | Heat purchase agreement | Application for a grant from the EU innovation fund still pending | Protarget, Germany, in cooperation with Sole, Greece |
Status of the three SHIP projects under development at Heineken factories as of January 2023. The Thermal Energy Production scheme is financed by the European Regional Development Fund Source: Azteq, CSIN, Protarget
A similar project at Athenian Brewery will start soon. Athenian is one of the largest beer producers and distributors in Greece and is a subsidiary of Heineken. The parabolic trough collector manufacturer and project developer Protarget, Germany, won the tender for a solar steam system, including a storage tank, in early 2022. The project is based on a heat purchase agreement. Protarget will finance, construct and operate the plant. Due to its innovative character, the project is aiming to receive a grant from the EU innovation Fund.
Diversity of requirements for SHIP market take-up
Despite the gas crisis last year and the sharp rise in prices, the example of Heineken shows how challenging the market take-up for SHIP is. A large number of different factors must come together in order to successfully implement a SHIP project with a multinational corporation. These include:
Internal, binding decarbonisation targets of the investor
The offer of a heat purchase agreement to reduce the investment risk for the client
Approved investment grants covering a significant amount of CapEx
And for really large SHIP projects: the solar heat specialist should usually sign a strategic alliance with a financially well-positioned company who can pre-finance the CapEx over the term of the heat purchase agreement.

2.7 MW plant under construction at food processor in California Photo: Solid Solar Energy Systems
Basis of California's flagship project: High subsidies and a heat purchase agreement
Several of the factors listed also came together in a 2.7 MW project in the food industry in California, which is about to be finalised after only two months of construction. In this case the grant of USD 2.5 million came from the California Solar Initiative Programme. The scheme accepted new SHIP applications until 31 July 2020 and allowed an implementation phase of four years until October 2024.
In addition, two experienced technology suppliers formed a strategic alliance: Tigi Solar, a collector manufacturer and provider of renewable heat solutions form Israel, invested in Solid America Energy Service, a subsidiary of the Austrian solar heating and cooling project developer Solid Solar Energy Systems. Solid America has built, and will operate, the SHIP plant and signed a heat purchase agreement with the client.
According to Tigi´s press release from August 2022 the project expects approximately USD 4.25 million turnover and is a significant milestone for Tigi, which has been listed on the Tel Aviv Stock Exchange since July 2021.
Websites of organisations mentioned in this news article:
Azteq: https://azteq.be/de/
Engie Soluciones España: https://www.engie.es/
Protarget: https://protarget-ag.com/
Sole: https://www.sole.gr/
CSIN Solatom: https://www.csin.es/
Tigi Solar: https://www.tigisolar.com/
Solid Solar Energy Systems: https://www.solid.at/de/