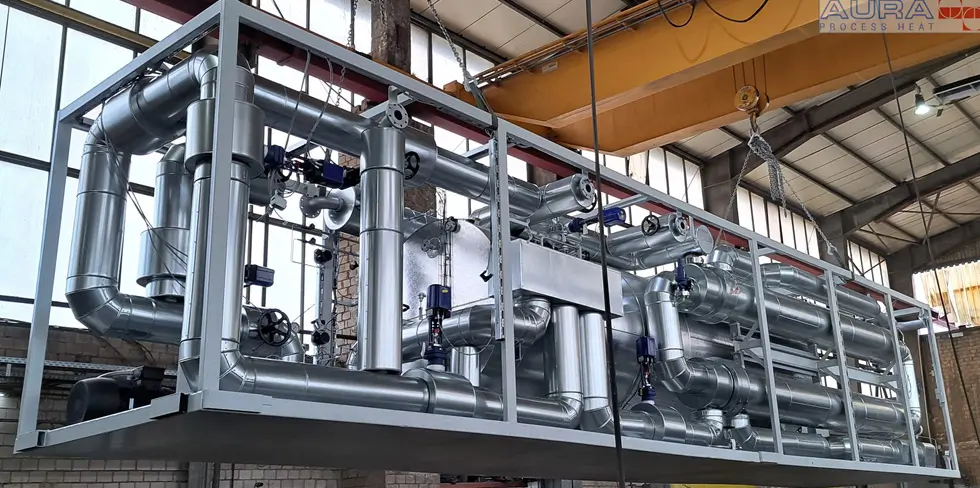 Modulus – Modular Transfer Station
The German research project Modulus, which stands for Modular Heat Transfer Station, is one of the solarthermalworld.org partners. The project aims at developing a standardised, modular interface – a  so called "balance of plant" for the integration of solar heat into industrial process heat systems to bring down costs of solar heat solutions. The currently customary individual planning and production of balance of plants at the respective location increases costs and risks of errors.
Together with the four industrial project participants, researchers from the German Aerospace Center (DLR) and Fraunhofer ISE develop a largely standardised modular and scalable balance of plant as an interface between the solar field and the industrial process heating system. The photo shows a pre-fabricated balance of plant for the demonstration site in Turnhout, Belgium (Photo: AURA GmbH & Co. KG). Altogether, three demonstration plants will be built within Modulus using different heat transfer fluids – air, steam and thermal oil. The DLR chairs the project which ends in March 2024 and is supported by the German Federal Ministry for Economic Affairs and Climate Action.
Please see below the articles created as part of this partnership: