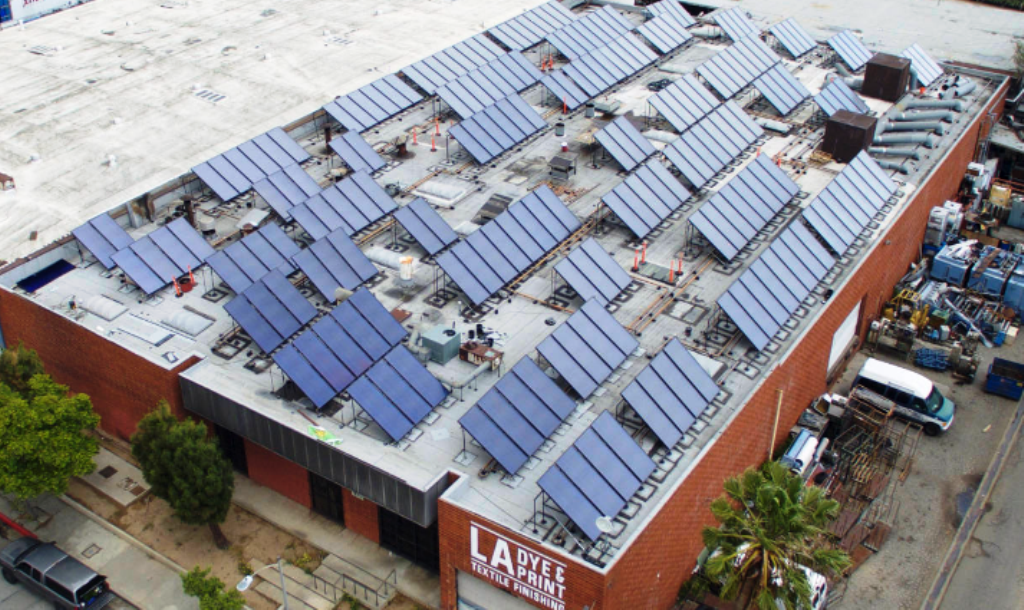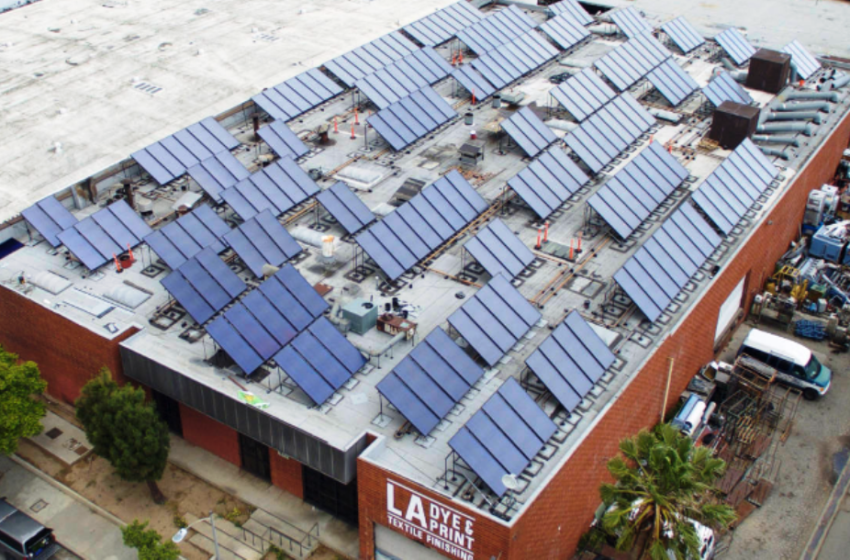 USD 10 million to fund SHIP projects until July 2020
The first industrial solar heat project which received funding from the California Solar Initiative (CSI) was completed at the end of 2018. Since then, 208 flat plate collectors have been supplying heat to the LA Dye & Print factory in Gardena, near Los Angeles. The system was designed by LA-based solar contractor Mac Greine Energy as early as March 2016, when the business also submitted a funding request to Southern California Gas Company, one of four utilities running the CSI programme. A second SHIP application was submitted by a different developer this September and is awaiting approval. Both projects are part of an Excel file listing all CSI Thermal projects. It can be found at 
http://www.csithermalstats.org/download.html
. 
Photo: Mac Greine Energy
Initially restricted to residential solar water heaters, the CSI – Thermal Program was expanded in February 2013 to include other technologies, such as solar process heat, cooling and non-residential pool heating. The market for solar pool heating in particular grew fast and was the main driver of
funding requests in 2015
.
Mac Greine Energy, the firm with the first application for a SHIP incentive, waited two years, until March 2018, before its application was approved. Its customer benefits from a performance-based tariff of 10.10 USD/therm (or 0.03 EUR/kWh), with the incentive being paid quarterly for two years. In the list available online, the incentive amount adds up to USD 753,137, which is 90 % of the total project costs of USD 825,000. "For large commercial gas consumers, CSI covers much of the cost," confirmed Daryl Trew, CEO of Mac Greine Energy.
Low gas prices reduce demand for SHIP
Despite the large incentive, CSI has received few applications for industrial projects. Low natural gas prices have led to falling demand, explained Ed Murray, President of the California Solar and Storage Association (CALSSA). "However, CALSSA has been working for years to make it easier for industrial-scale projects to use the CSI Thermal rebate programme." The association's hard work seems to have borne fruit, as 10 % of the funding budget now goes to the industrial sector. Plus, last November, the four Californian utilities managing the programme published a proposal to raise the individual rebate cap on SHIP projects. Murray emphasised that the new regulations make it possible for the four public utilities to review each project on a case-by-case basis and give them more flexibility to set the amount of funding.
As per the new CSI Program Handbook published in May, the total amount allocated to SHIP systems displacing natural gas was USD 10.08 million in December 2017 (see p. 19 in the attached PDF). The handbook also describes a phase-out scenario for the grants. "We will accept new applications until 31 July 2020, at which point the programme will enter a sunset period, during which rebates may be claimed for existing reservations and performance-based incentive projects will receive payments. All incentive payments and administrative activities, however, must be concluded by 31 October 2024."
Organisations mentioned in this article: