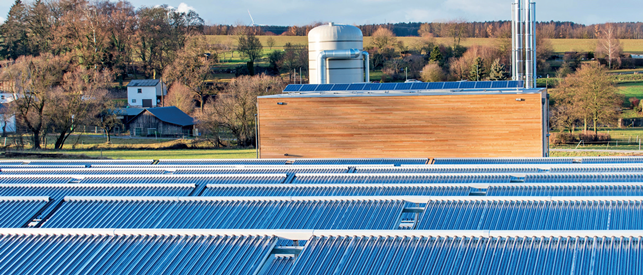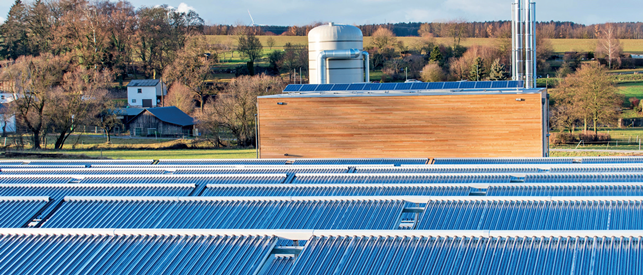 Successful operator models for solar district heating in Germany
Around 50 large solar district heating systems are in operation in Germany, among them a growing number of energy community initiated projects. The three-year SolnetPlus project aims to popularise solar district heating especially among municipalities. On 24 November 2022, the project held a webinar on the topic of Successful operator models for solar district heating. Bene Müller, Managing Director of the German company solarcomplex AG, explained how energy communities can operate solar district heating systems successfully. Currently, solarcomplex is building or planning three solar heat networks in the small German communities of Jungnau, Häusern and Bingen.
Photo: Guido Broer
At the beginning of the webinar the moderating expert from Difu, Jan Walther, illustrated the importance of the heating sector for the energy transition. "The industrial use of heating and cooling and the heating of private and public buildings account for around half of energy consumption in Germany", he explained. His flash poll among the approximately sixty participants, including mainly representatives of municipalities and regional energy agencies such as architects, urban planners and energy experts, revealed that "although there are initial steps towards the use of solar thermal energy in many municipalities, the topic is actually still at its very beginning".
solarcomplex offers all-in-one solutions for energy communities. It plans, builds and operates energy plants, especially in southern Germany, not only for the generation of power but also local heating networks. A group of around 20 people founded the cooperative solarcomplex in the year 2000. Today it has over 1,000 shareholders, "Since we realised our first regenerative heating network in Mauenheim in 2006, a new one has been added every year", Müller explained. Initially, it was mainly networks with waste heat from biogas plants, but now "the solar symbol is increasingly taking hold".
"Local heating networks are future-proof because they are open to new technologies", Müller is convinced, since they can integrate "bioenergy as well as solar heat, waste heat, heat pumps and geothermal energy". He sees the advantage of solar thermal energy over biomass in the much greater yield in relation to the land area required (see figure 1).
Solar heat achieves 33 times higher yield than biomass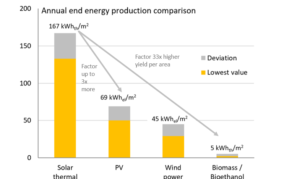 Figure 1: Yield per area comparison of different renewable energy technologies
Source: news on solarthermalworld.org from 31 July 2017
In summer, he said, solar thermal energy can provide hot water and in the transitional periods it serves to support the wood boiler. Since there is usually no seasonal storage available, it only makes a small contribution in winter. Over the year, however, solar covers between 15 and 20 % of the total heat demand in district heating networks.
Maintaining local heat networks 24/7
Presenting various examples of local heating networks planned, built and operated by solarcomplex, Müller illustrated the advantages and disadvantages of the possible operator models of public utility companies, municipal operation and cooperatives (see also figure 2). He considered operation by municipal utility companies to be the "ideal constellation" as they not only enjoy the trust of the public but also have the technical know-how and the personnel to reliably maintain a local heat network 24/7.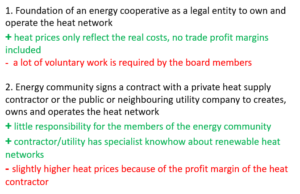 Figure 2: Two operator models for solar district heating plants with their advantages (green) and disadvantages (red). Source: Infoblatt Solare Wärmenetze Nr. 7 / Solnet 4.0 (see pdf below in German)
Although the trust of the public is also present in the case of direct operation by the municipality, there is sometimes a lack of "energy policy competence". In such cases, companies like solarcomplex can offer to take over operation on behalf of the municipality.
"The acceptance of district heating networks increases when citizens participate in terms of capital", said Müller, describing the advantage of a cooperative local heat network; he added, however, that there are often conflicts of interest. "Citizens usually want to participate in the opportunities and revenues, but not in the risks." For example, upfront costs for expert opinions have to be paid for without knowing whether the project can be realised. In addition, cooperatives face the challenge of ensuring the necessary staff expertise on a continuous and sustainable basis.

The German village of Mengsberg with 925 inhabitants formed an energy cooperative in November 2014, which has owned and operated a 100 % renewable heating network since November 2018. A deposit of EUR 4,000 is necessary to build the transfer station and the piping to connect an individual house in the village to the heat network.
Source: Energy cooperative Mengsberg
Websites of organisations mentioned in this news article:
SolnetPlus: https://www.agfw.de/solnetplus
solarcomplex: https://www.solarcomplex.de
Bio-energy village Mengsberg: https://www.begmengsberg.de/ (in German)