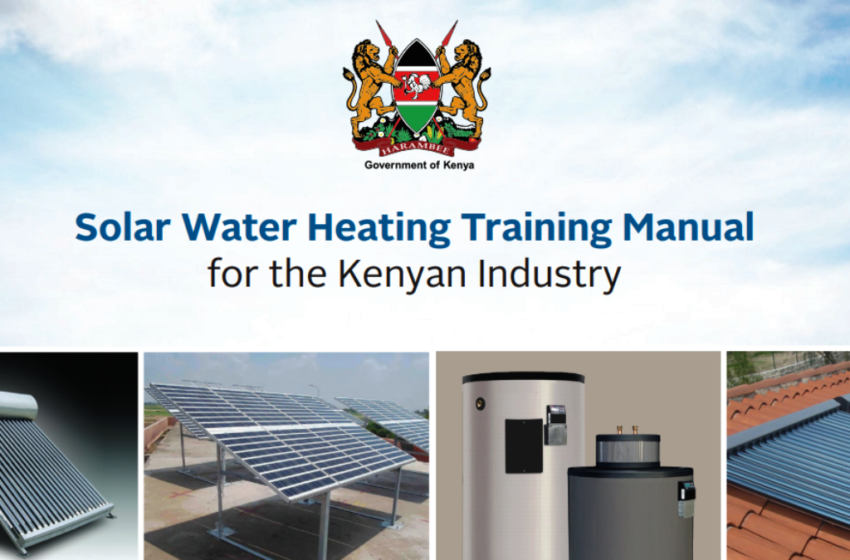 Kenya scales up SWH experts training
More than a year after Kenya's parliament annulled the solar building regulations, the government is still scaling up the training of experts in the installation, maintenance and repair of solar heaters. The Kenyan environment ministry has been supporting 10 technical and vocational education and training institutions across the country in order to improve access to knowledge about solar thermal and solar electricity technology. These capacity-building activities have been supported by UNDP as part of the Low-Emission and Climate-Resilient Development (LECRD) project.
Members of LECRD were likewise involved in publishing a national Solar Water Heating Training Manual in 2017 (see the attached document). The 88-page manual covers nine topics and not only helps readers gain a basic understanding of the technology but also provides insights into the sizing, design and installation of systems, as well as the compliance requirements that technicians must meet.
The ministry emphasised that the annulment of the
solar water heating regulation
in August 2018 did not remove the registration requirement for vendors, manufacturers, contractors and technicians in the solar thermal sector. To register, a permit must be obtained from the Energy and Petroleum Regulatory Authority (EPRA), which succeeded the Energy Regulatory Commission (ERC).
Training is not only mandatory for contractors but also for technicians at vendors and suppliers of solar water heaters. Likewise, manufacturers must "employ licenced technicians in order to be licensed themselves," the ministry said in an advertisement for the training courses, which usually last two weeks.
Under the LECRD project, experts who are eligible for a course but are unable to pay for it receive a one-off grant to cover a portion of the fees, with the funds being directed to the relevant training institution.
The government considers the persistent lack of expertise in installing, maintaining and repairing solar water heating systems to be an impediment that "has led the country to harness insignificant amounts of renewable energy despite high potential."
The now-annulled building regulations, promulgated by the energy ministry in May 2012, had stipulated that, by May 2017, SWH systems should be installed and used in all residential, commercial, medical and educational buildings where daily demand exceeds more than 100 litres of hot water above 60 °C.
Those found in non-compliance with the rules faced fines of up to Kenyan Shilling (KES) 1 million (around USD 10,000) or even imprisonment, which the
Committee on Delegated Legislation
thought was a rather harsh punishment. Therefore, it recommended last summer that parliament abandon the regulations entirely.
Nevertheless, the LECRD project, which is still in operation in Kenya, has been a crucial step forward. At last, the government has found a way to address the lack of expertise in the SWH sector, so the country will be ready when the market starts growing.