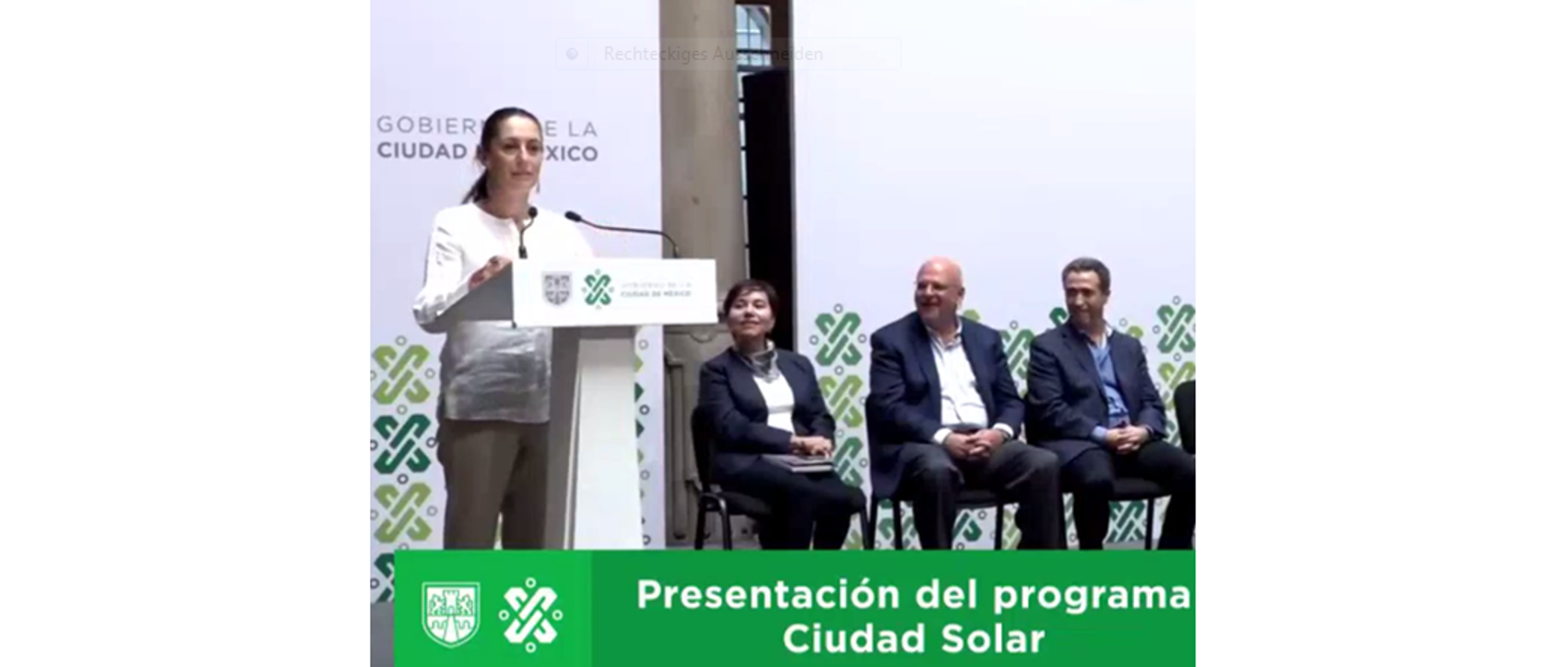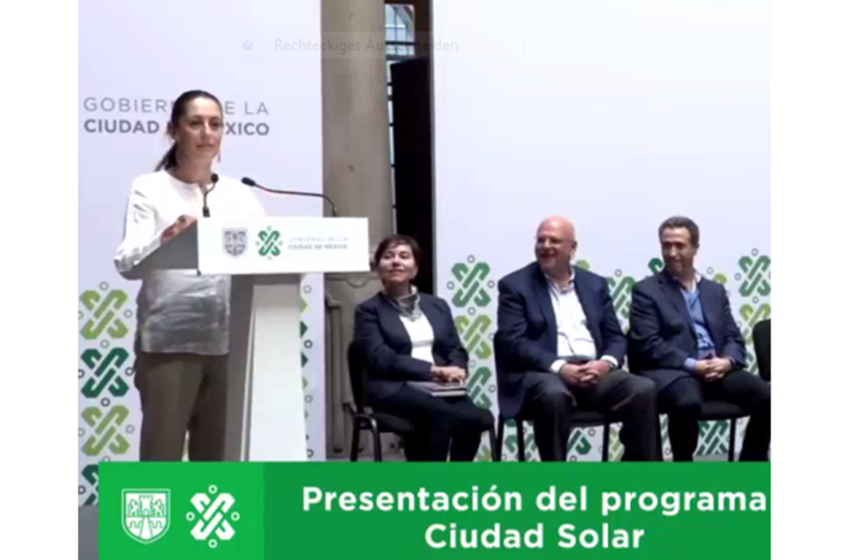 Big solar plans in Mexico City
On 25 May, the mayor of Mexico City, Claudia Sheinbaum, announced plans to turn the capital into a solar city based on a new Energy Sustainability Strategy for the years 2019 to 2024. The goal is to install 787,000 m² of collector area by the end of 2024, some at residential units, some at Nixtamal mills, which produce corn flour for tortillas, a key element in the Mexican diet. Alberto Valdés, who is spearheading the effort as head of the Solar City project, estimates that 3.2 % of the city's 2.57 million homes are equipped with solar water heaters, which would be around 81,000 homes or 243,000 m². The photo, a still image taken from video footage, shows Sheinbaum introducing Solar City for the first time.
In the residential market, the aim is to install solar water heaters in 22,435 homes annually, or a total of 134,611 by the end of 2024. The project will also promote a new, local standard called NADF-008-AMBT-2017, which sets out technical specifications for using solar energy to heat water in residential and commercial buildings in Mexico City. Since this year, the standard has required the installation of solar thermal technology in all residential newbuilds that have no more than 4 storeys and all new or to-be-renovated buildings that accommodate more than 30 people.
Solar heat for 240 Nixtamal mills
Another target for 2019 is the installation of solar water heaters at 240 Nixtamal mills, a measure to be supported with MXN 80 million. "These businesses generally use LPG for heat production, which is more expensive than natural gas," said Valdés. "By installing solar water heaters that provide at least half the energy needed for nixtamalisation, it will be possible to have these small producers become more profitable and offer them a great opportunity to create jobs." Nixtamalisation is a process to soak, cook, wash and hull corn.
Solar City offers mills a direct incentive to cover up to 30 % of the initial investment, combined with a low-interest loan at 6 %. "All mills in economically weak neighbourhoods of Mexico City, for example, Milpa Alta, Tláhuac, Xochimilco, Iztapalapa and Alvaro Obregón, will have access to these funds," said Valdés. Starting in 2020, the project is expected to extend financial support to 400 businesses a year. These include restaurants, laundries, hotels and other SMEs interested in solar heat.
Another essential element of the project is the training and certification of solar system installers. As per the strategy document, the aim is to train and certify 1,000 technicians as installers for both solar water heating and PV systems in 2019. Certification is based on existing schemes, listed in the
labour standards
approved in 2014 by the Energy Secretariat, also known as SENER. Furthermore, this measure is expected to lead to the founding of new solar energy companies that can rely on expert staff.
To implement the Solar City strategy, the municipal government has forged several partnerships with international organisations, such as the Inter-American Development Bank, or IDB, the UNDP and the World Bank. Local partners are the Federal Electricity Commission, or CFE, the energy ministry SENER and solar energy association ANES, the last of which has likewise partnered with the organisers of the Intersolar Mexico, a conference and exhibition that will be held in Mexico City from 3 to 5 September this year.
Mexican organisations mentioned in this article: