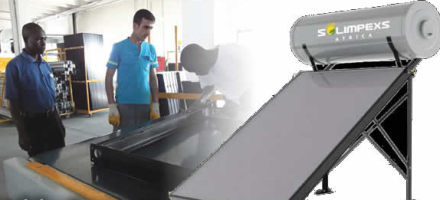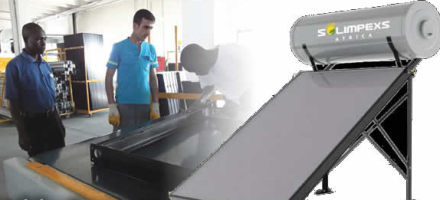 Kenya: Financial Scheme Attached to Solar Obligation
Kenya is the frontrunner in solar obligations in Africa. The government of the East-African country approved the so-called Energy (Solar Water Heating) Regulations 2012, which were gazetted on 25 May that year (see the attached PDF). The Energy Regulatory Commission (ERC) confirmed that there "has been significant growth in solar thermal" since the solar obligation came into force. The financial institutions have also jumped on the solar bandwagon recently and are creating asset finance solutions to make solar water heating systems affordable. One of them is Housing Finance, a firm quoted on the Nairobi Stock Exchange. The company started the SolaPawa programme in March 2015 to focus "primarily on the provision of financing for solar water heating systems for both domestic and commercial entities," Achieng Oluoch, Head of Marketing at Housing Finance, explains. "Our objective is to enable individuals and institutions to comply with this law in a convenient manner."
Photo: Solimpexs Africa
The SolaPawa credits cover 100 % of the costs of solar water heating equipment at an interest rate of 18.5 %. According to the bank's website, the benefits for SolaPawa clients include an up to seven-year warranty on solar equipment, extended repayment periods of up to 60 months and installations at no cost. As Housing Finance just started roll-out, it cannot yet provide actual numbers of approved credits. Still, Oluoch confirms that "we have received a lot of enquiries from potential customers and are currently in negotiations with preselected vendors."
Solar has to cover 60 % of building´s annual hot water demand 
The Kenyan
solar obligation
applies to all new buildings – residential and commercial – which have a hot water capacity of more than 100 litres per day, as well as to existing buildings during a five-year transition period, which will end in May 2017. It requires a solar system to cover at least 60 % of a building's annual hot water demand (see the attached PDF).
In reply to a request by solarthermalworld.org, Lee Alubala Okombe, Technical Officer at ERC´s Renewable Energy Department, provided a list of what ERC is doing to support the implementation of the ordinance:
Building capacity for the industry by licensing several technicians and contractors
Carrying out inspections of installations by various system suppliers and unlicenced contractors to check whether they comply with the new regulation
Raising awareness for the regulation by public notices in print media, TV, on the radio and at regional stakeholder workshops
Developing a curriculum for solar water heater technicians in cooperation with the National Industrial Training Authority and the Kenya Renewable Energy Association for training courses across the country
Eleven certified solar water heater contractors
ERC also certifies solar thermal system suppliers and installers. In the meantime, eleven Solar Water Heater Contractors have been licenced and their staff participated in trainings in order for the company to be included in the Solar Water Heater Technicians Register of the ERC (see the attached list). Solimpexs Africa is one of the registered contractors (see the attached list) and Muchiri Karanja, Solimpexs's Sales and Marketing Manager, has been observing market up-take since 2012.
"We have increasing demand," Karanja confirms. "Our turnover has grew significantly in 2014 compared to 2013." Solimpexs Africa started assembling solar thermal collectors four years ago. The company is a subsidiary of Turkish collector and tank manufacturer Solimpeks and purchases materials, such as the glass cover, metal frame and absorber, from Turkey. The components are then assembled in the factory in Nairobi, Kenya. Karanja confirms that the ERC is carrying out compliance inspections of the stipulated solar systems: "Homeowners do not receive occupancy permits if they do not fulfil the solar obligation."
More information: