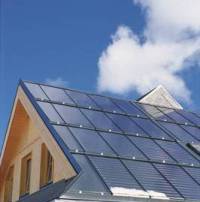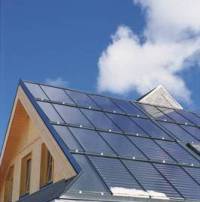 Roadmap: Solar Thermal in Austria
Austria: The 2008 Roadmap to Solar Thermal Success
A good example for solar heating: a semidetached house with a collector area of 92 m2. According to the roadmap of the Austrian Institute for Renewable Technologies, AEE Intec, it is very important to support solar combi systems which supply domestic hot water and space heating.
Photo: AEE Intec
In 2008, the solar thermal market in Austria grew by an impressive 25 %. Installers set up 363,000 m² of collector area last year, the equivalent of 254 MW of thermal power. What was even more impressing was the production figure presented for solar thermal collector area: it reached around 3.96 million m² or an export rate of 80%, respectively. The net turnover of the industry hit EUR 590 million – all in all some promising figures for a single year, but not enough according to a study translated as "Solar thermal 2020. A roadmap to technology and implementation in Austria", which was published by the Austrian Institute for Renewable Technologies, AEE Intec (see attached document – only in German).

Roadmap for solar thermal: A share of almost 50 % of the demand for low temperature solar heating and cooling by 2050 could only be achieved if a large number of solar thermal systems also covers a significant share of the heating demand of buildings. Source: AEE Intec
The target of the European Union to generate 20% of its energy from renewable sources has encouraged and forced Austria to set its own target with a share of 34% by 2020. In order to reach this goal, researchers from AEE Intec have developed a so-called "Impulse-Programme for Solar Heating in 2020", whose main goal is to use solar energy for covering 10% of the low-temperature demand by 2020. Additional goals include: regaining the technological lead in solar thermal systems to take the lead on further solar thermal efforts and increasing the country's contribution in fighting climate change.

The "Impulse Programme" mentions three main objectives:
• A temporary incentive programme for solar heating systems
• Being active in such fields as training and promotion
• Research and development.
The programme will cost EUR1.47 billion over a period of 11 years, which is, on average, double the amount that was spent overall in 2007. The authors of the aforementioned study count on a ten-fold increase in the number of installed collectors. Werner Weiss, director of AEE intec, who convinced Austrian politicians of the road map, stated that, "the government should double the incentive for renovated buildings in the future. To achieve a large share of solar energy in the long run, combination systems should be the main beneficiary of any incentive given."
The roadmap describes the three objectives as follows:

1. The focus of the temporary incentive programme lies on solar thermal systems, which should become the standard energy supply for heating equipment in Austria. The key applicants mentioned are private households (both newly built houses and already built ones), companies (new and already constructed buildings), goods manufacturers, users of thermal air conditioning and utilities which will integrate solar thermal systems into their energy networks.'
2. Training and promotion will play a significant role in the success of the programme. There is not only a need for a legislative framework, but also for press work and communication management and the establishment of a market introduction programme. This programme, while focussing on the same areas as the incentive programme, will be accompanied and headed up by solar thermal experts. An educational programme will complement the one for market introduction, additionally.
3. Research and development, the third objective of the "Impulse Programme", is out to regain the position as technology leader within the solar thermal industry. The programme will focus on research that complies with the guidelines of the ASTTP (Austrian Solar Thermal Technology Platform), as well as on key technologies, applied activities and experimental and fundamental research.
Text was written by communication specialist Hanna Schober based in South Africa.