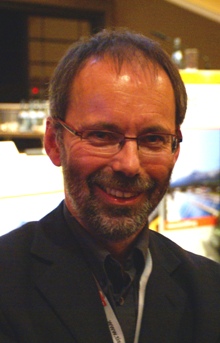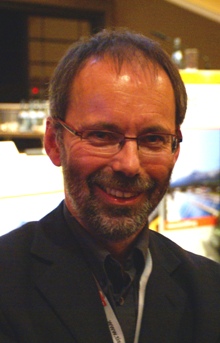 SOLTRAIN: Southern African Solar Thermal Training and Demonstration Initiative
A solar thermal expert with heart and soul: Werner Weiss, Managing Director of AEE – Intec, the Institute for Sustainable Technologies from Austria, runs technical trainings and demonstration projects for solar thermal technology in several countries worldwide. Photo: Bärbel Epp
A solar thermal expert with heart and soul: Werner Weiss, Managing Director of AEE – Intec, the Institute for Sustainable Technologies from Austria, runs technical trainings and demonstration projects for solar thermal technology in several countries worldwide.
Photo: Bärbel Epp
Southern Africa is a region heavily dependent on fossil fuel – something that may be about to change soon. The Austrian Development Agency (ADA) and AEE – Intec (Institute for Sustainable Technologies from Austria) set up a 3-year renewable energy programme in cooperation with Southern African educational institutions, renewable energy institutions and companies in Mozambique, Namibia, Zimbabwe and South Africa, to help wean this region from its environmentally unfriendly ways of using fossil fuels towards a place for renewable energies, with the spotlight on solar water heating.
 
According to Werner Weiss, Managing Director of AEE – Intec: "This project focuses on three target groups: training institutions, small and medium enterprises, and policy and administration." Kudukwashe Ndhlukula, his project partner at the Polytechnic University of Namibia, adds that, "the focus of the project is capacity building with a socio-economic ripple effect expected in the long run". Achieving that goal will require an expansion of training capacities and improvements in quality, performance and life-span of solar thermal systems within the participating countries. Other valuable aims of the project concern job creations at small and medium enterprises, as well as strong political support mechanisms for solar thermal systems.
 
Planned are also 50 demonstration systems for social institutions, such as hospitals, orphanages, retirement homes and HIV/AIDS institutions. Werner Weiss commented: "Those systems should help increase the hygienic standard of social institutions and cut down high energy costs for water heating." According to Kudukwashe Ndhlukula, these installations will be equipped with both domestic and industrial solar water heating systems, most likely based on flat plate collectors. Industrial associations will be part of the programme, too, but the implementing companies have not yet been chosen. The funding budgets plus further steps of the project have also not been finalised.
ADA is currently assisting countries in Africa, Asia, Central America and South-East Europe in their environmentally sustainable, economic and democratic development. ADA is the implementing authority of various kinds of projects initiated by the Austrian State Department. AEE – Intec carries out research and know-how transfers in the solar water heater industry as well as the sustainable building and water management sector. The organisation has several independent offices in Austria. It develops prototypes, implement pilot projects and consult technical firmes.
Further Information:
AEE-Institute of Sustainable Energy in Austria: http://www.aee-intec.at
Polytechnic of Namibia, Renewable Energy & Energy Efficiency Institute (REEEI)
Mr Kudukwashe Ndhlukula / E-mail: kndhlukula@polytechnic.edu.na
http://www.ada.gv.at
Text written by communication expert Hanna Schober based in South Africa. Schober@solrico.com