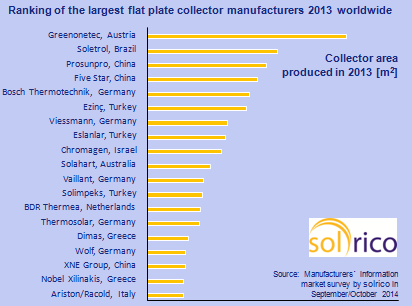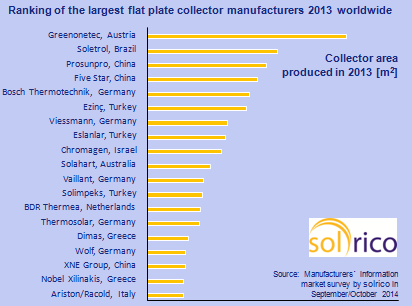 Worldwide: Largest Flat Plate Collector Manufacturers in 2013
The number one in the ranking of the worldwide largest flat plate collector manufacturers based on collector area produced in 2013 is still Austrian OEM collector manufacturer Greenonetec, followed by three non-European manufacturers from BRICS countries: Soletrol from Brazil, as well as two companies from China, Prosunpro and Five Star. Germany's largest flat plate collector manufacturer, Bosch Thermotechnik, only came in fifth place, down from being second in the previous ranking in 2012. German agency solrico created the ranking after carrying out a worldwide survey among companies serving the solar thermal sector in September and October 2014. Who has ranked how well this year shows a lot about the international trends of the global solar thermal industry.
Source: solrico / manufacturers' information
Independent Western European manufacturers vanish
Obviously, the Western European heating industry has suffered from the decline on the European market, and collector production output dropped, on average, by 14 % in 2013 compared to the previous year. This is even more than the official decline of 12 % as stated in the
market survey
by the European Solar Thermal Industry Federation in June 2014. Besides several western European solar thermal collector manufacturers have disappeared from this year's ranking, because they either stopped their sector activities, as was the case with Schüco and Velux, or they went through insolvency proceedings like Wagner. The only independent manufacturer is Thermosolar, a German company with a production factory in Slovakia.
Hard times for Indian flat plate collector manufacturers
And then there is a second group of companies which did not find their way into the ranking of the largest collector manufacturers this year: the flat plate collector manufacturers from India. Jain Irrigation Systems and Emmvee Solar Systems ranked at the lower end in 2012. Sales of established Indian flat plate collector manufacturers were disappointing in 2013 for two reasons: the high financial burden of the
Channel Partners
, which had to prefinance the 30 % grant on all their solar water heaters, but received repayment with a delay of more than two years. Second, vacuum tubes have a clear edge over flat plate collectors. The largest vacuum tube collector manufacturer, Supreme Solar, produced 112,455 m² of collector area in 2013, which is almost double the output of the largest flat plate collector manufacturer.
Public sector supports solar technology
Satisfied with the business development is Brazil's market leader Soletrol, which profited from public-sector orders under the low-income housing programme. "All of the state-funded projects built within the framework of the Minha Casa Minha Vida programme were completed last year. The entire market grew a lot," is how Soletrol's International Sales Director, José Raphael Bicas Franco, explained the company's 26 % growth from 330,000 to 415,000 m². But not all housing projects for which developers have purchased collector systems are completed in the year of the purchase, meaning that at the end of 2013, part of the collector area could still have been in storage.
Obligations policy in China pushes demand for flat plate collectors
In addition to Prosunpro and Five Star, there is a third Chinese company in this year's ranking: Changzhou XNE Group. "Our sales have significantly increased in 2013," XNE's Director, Owen Shi, says. "Flat plate collectors are becoming more and more popular – especially building-integrated designs in new houses – because of the government obligations policy." In mid-October, market insiders reported that Prosunpro had become insolvent, but this was not officially approved by the company yet.
For the eighth time in a row, magazine Sun & Wind Energy commissioned solrico to carry out what is the largest publicly available survey of the international solar thermal industry. A questionnaire was sent to 539 flat plate, vacuum tube and air collector manufacturers from 68 different countries and the form was returned by 261 of them. The survey results have been incorporated into world maps published in the October issue of Sun & Wind Energy and are also part of the ISOL Navigator study, which analyses the development of 18 key solar thermal markets and will be published in December.
More information: