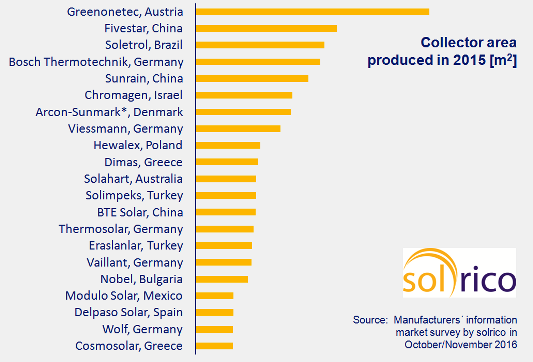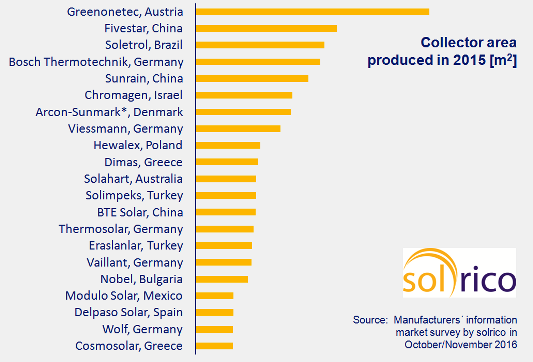 Worldwide: Flat Plate Collector Manufacturer Ranking
The ranking of the largest flat plate collector manufacturers is headed by the same four companies as last year: Greenonetec from Austria, Fivestar from China, Soletrol from Brazil and Bosch Thermotechnik from Germany. But aside from the continuity at the top, last year shows what different paths some markets have taken. Whereas Australian-based Solahart, one of the pioneers of global solar collector trade, as well as Soletrol, the largest Brazilian manufacturer, have lost ground, several others – such as Sunrain from China, Hewalex from Poland and Eraslan from Turkey – were able to report above-average growth for 2015 and rise through the ranks. The produced collector area of the overall 21 companies added up to 4,212,462 m². The number was 21 and not 20 because the last and second-last spot were occupied by companies with equal production output.
Chart: solrico
The chart is based on a manufacturer survey carried out in October and November 2016, and the data collected from it was compared to the results of the long-term annual surveys of the World Map of Solar Thermal Industry. The ranking has been published annually since 2007 as part of the world map reports in Sun & Wind Energy which are available for download on
solrico.com
. All companies except two (Wolf and Vaillant from Germany) have confirmed that they offer engineering services for larger systems of commercial clients and eight others said that their product portfolio included vacuum tube collectors, although the majority of businesses sold only flat plate systems produced in-house.
The ranking indicates some major industry changes last year. Two big manufacturers are not on the list this time: Turkish-based
Ezinç
 stopped production in June 2016 and it remains unclear how much collector area was produced by the company in 2015. And
Prosunpro
from China has cut down on production tremendously over the last years because of financial troubles.
Last year was also the first time that Danish-based Arcon-Sunmark showed up on the ranking. Its production output went up significantly thanks to several completed large district heating projects. The asterisk next to the company's name indicates that output was estimated based on the number of district heating plants delivered and set up by Arcon-Sunmark in Denmark last year. The manufacturer is part of Danish VKR Holding, which has a corporate policy of not releasing any production-related figures.
Ariston Thermo Group, which owns production facilities in Italy, China and India, is not on the list because it did not take part in the survey this year. Last time, it was at 19.
The survey participants had this to say about the starkly differing development of regional markets:
The 18 % growth of Modulo Solar had been the result of an overall growing Mexican market and new exports to Chile, Colombia and El Salvador, as well as turnover from the establishment of a new OEM business, said CEO Daniel García.
The reduction from Solahart is twofold according to General Manager Stephen Cranch: the softening Australian market which is dominated by PV and a difficult situation in Europe. In 2017, Cranch expects an increase in commercial projects to drive up collector volume.
Soletrol's production figures had dropped by 24 % because of Brazil's political and economic situation and the stop of the social housing programme, said Technical Director José Raphael Bicas Franco.
Fivestar was able to retain its level of production due to a growing demand for centralised space heating systems in northern China. The increase had been enough to offset weak demand in the residential market segment, according to Sales Director Sunny Zhao.
Eraslan from Turkey generated additional turnover by selling more solar systems for multi-family properties, explained Export Manager Musa Cimen.
Despite all the ups and downs of certain enterprises, 2015's total of produced collector area (excluding Arcon-Sunmark) held at the same level as last year.