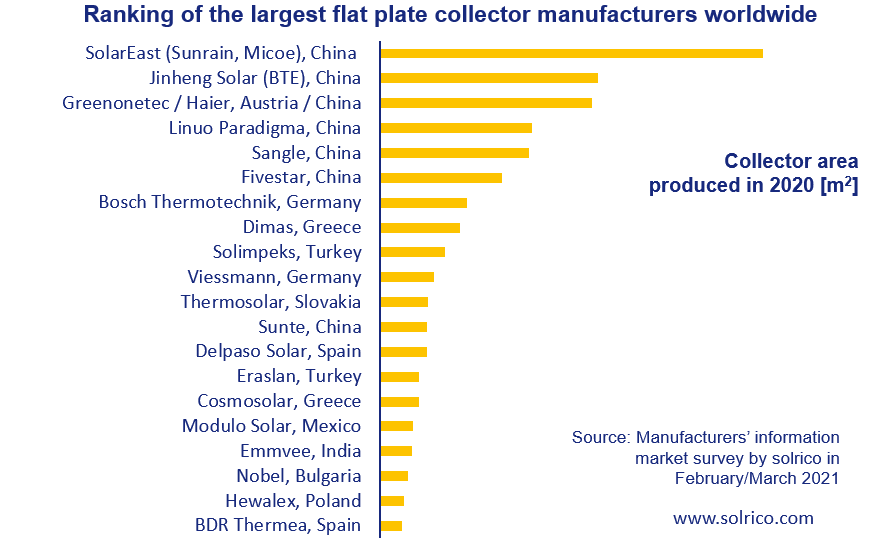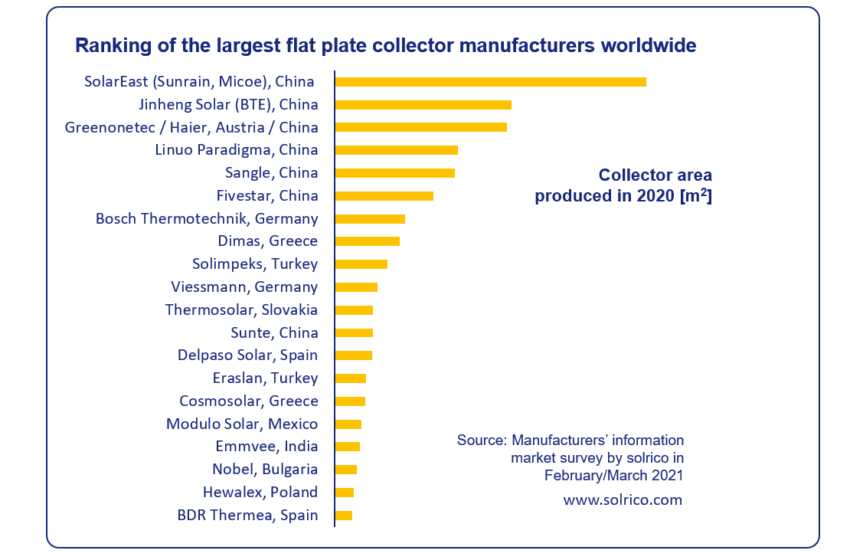 Mixed performance of world's largest flat plate producers in COVID year 2020
Source: solrico / data supplied by manufacturers in February/March 2021
The six spots at the top of the rankings are all held by Chinese manufacturers, namely SunEast Group, which owns the Sunrain and Micoe brands; Jinheng Solar, including its export brand BTE Solar; Haier, Greenonetec's majority owner until December 2020; Linuo Paradigma; Fivestar and Sangle. Leaving aside Austrian Greenonetec, which did not generate any sales in China, these six flat plate collector manufacturers saw a combined increase in sales by 12% in 2020. In all, their business grew at a faster rate than the country's flat plate collector market, which was up by 6% in 2020. The consolidation in the Chinese flat plate collector industry was accompanied by many requests for the installation of solar water heating equipment at big construction sites and for a growing number of solar space heating projects.
Outside China, the largest flat plate collector manufacturers' sales volume fell by 9 % in 2020, offset slightly by strong growth in Germany: "Incentives in Germany helped compensate for the loss of business in other countries as Covid-19 lockdowns and electrification policies were taking effect," a German manufacturer said in its survey response.
Results from Turkey's solar thermal market were mixed. Even though residential system sales increased as residents began moving from urban areas and blocks of flats to villages and individual homes, the commercial solar thermal market targeting hotels, shopping centres and hospitals showed a decline in demand in 2020, noted Ahmet Acar, Energy Analyst at SHURA, Istanbul's Energy Transition Center. Moreover, the two Turkish manufacturers shown in the chart reported opposite trends, with Solimpeks' sales increasing and Eraslan's dropping during the same period.
At -44%, the Polish market experienced last year's strongest decline in a solar thermal market, according to figures provided by SPIUG, the Association of Manufacturers and Importers of Heating Appliances. According to Hewalex' survey response, the reasons for the decline – besides the pandemic – included "a lack of homeowner incentives, reduced subsidies for municipality projects and increasing competition from PV."
Organisations mentioned in this article: