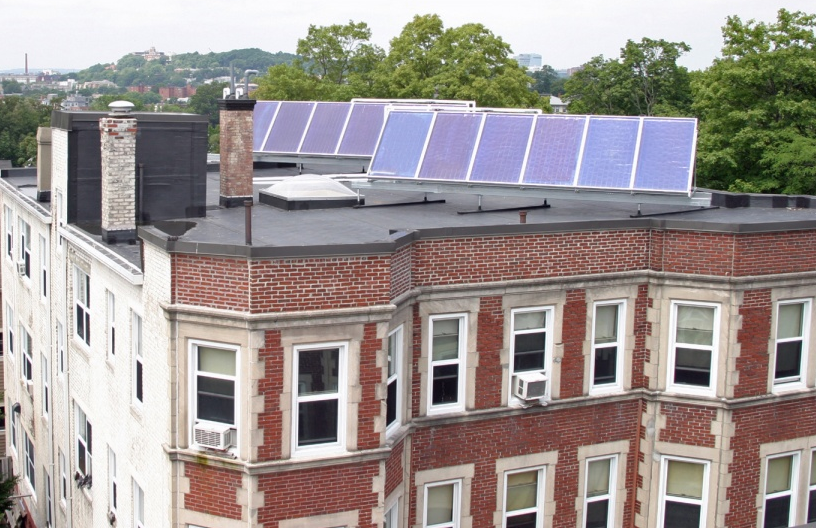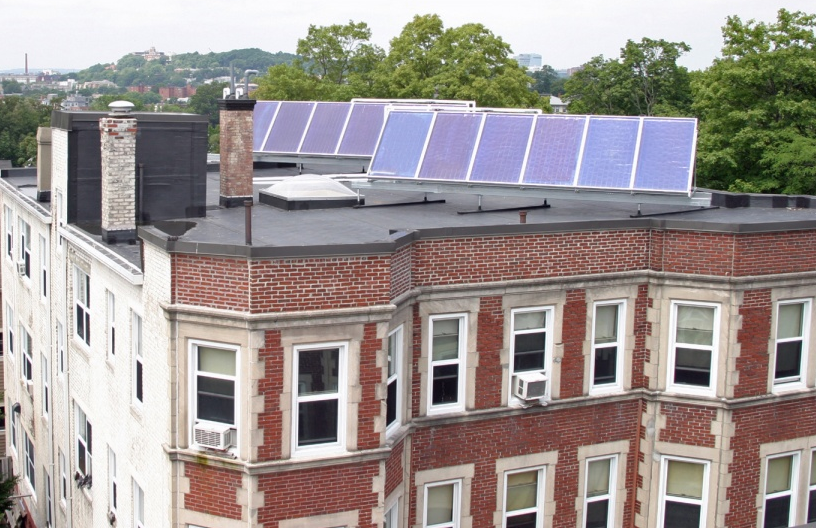 USA: Solar Thermal Focus against the Mainstream
Massachusetts has one of the best solar thermal rebate schemes in the US and the subsidy levels were raised again in September 2014. Since then, commercial systems have been rebated with a maximum of USD 100,000 instead of USD 50,000, which was the previous limit, and there is a new USD 500 subsidy for residential systems to help install a metering system. Since February 2014, owners of residential solar water heaters have also been able to claim 40 % of the investment costs (previously: 25 %) or USD 4,500 (previously: USD 3,500), whichever is less. Public or non-profit investors even receive a 65 % rebate or USD 100,000. "We profit a lot from the Commonwealth Solar Hot Water programme," explains Bruce Dike, Owner of system supplier and installation company New England Solar Hot Water (NESHW).
Photo: NESHW
Dike is one of currently very few Massachusetts installers focusing on solar thermal. The PV segment is attracting the large crowds who benefit from a wealth of incentives, including federal tax credits, state tax credits, rebates, net metering and sales of Solar Renewable Energy Certificates, SRECs. "Since January 2010, the Commonwealth Solar II Rebate programme has approved over 10,000 applications for over 62 MW of solar PV capacity," says Amanda Treat, Project Manager for the Commonwealth Solar Hot Water programme at MassCEC.
"I am going the opposite way to the mainstream. In the photovoltaic business, companies are beating each other up and margins are going down," Dike explains his solar thermal focus. NESHW expects to install around 100 residential and around 20 commercial solar water heating systems this year. "We're advocates for all forms of renewable energy, but solar thermal will almost always have the best payback and return-on-investment of any renewable technology," one can read on NESHW`s website. Nowadays, Dike supplies his residential and commercial clients with glycol-based drainback systems only. "This is the most reliable system type because you avoid stagnation temperatures in summer," he explains.
Electricity bill surcharge ensures stable source of financing
Another very positive sign from the Commonwealth subsidy scheme is that it is not going to run out of money, because the programme is financed by a surcharge which customers have to pay with their electricity bill. The residential programme started at the beginning of 2011 and the commercial one at the beginning of 2012. According to the programme administrator, the Massachusetts Clean Energy Center (MassCEC), the total number of applications approved over the years is 650 for residential systems and 48 for commercial installations (see the following chart).


Residential and commercial applications submitted under the Massachusetts Commonwealth scheme. All but one application have been approved so far, according to MassCEC.
Source: MassCEC
"The increase of the residential rebate to USD 4,500 in February did slightly increase the amount of residential applications, though not as much as hoped," Treat says. During the USH2O call in August, the programme coordinator also talked about new senate bill SB 2214 (formerly, SB 1970), which will enter into force on 1 January 2015 and allows renewable heating and cooling technologies to qualify for Alternative Energy Credits under the existing Alternative Energy Portfolio Standard. "The next step is for the Massachusetts Department of Energy Resources to draft regulations," Treat adds. "They might not be ready for several months: We have not yet received an official timeline."
More information:
http://www.masscec.com/programs/commonwealth-solar-hot-water
http://www.mass.gov/eea/energy-utilities-clean-tech/renewable-energy/rps-aps/