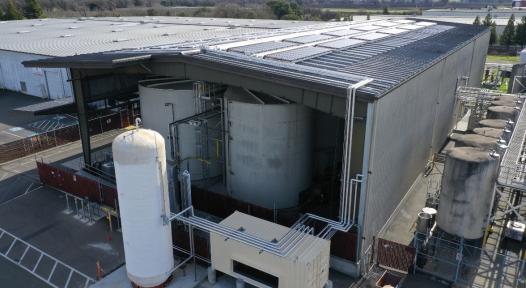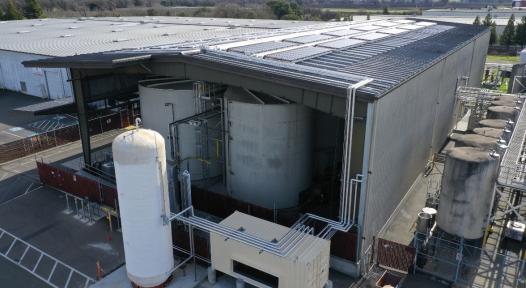 IEA SHC Solar Cooling Task: "We can make a difference"
US project developer ergSol is a true pioneer. The company is not only putting up large commercial solar heat systems in California but also supports the IEA Solar Heating and Cooling programme by heading the Demonstration subtask of global research network Task 65 – Solar Cooling for the Sunbelt Regions. It is the first time in the IEA SHC's history an industry company has taken on such a role as a limited sponsor. The photo shows one of ergSol's references, a 380
m2 vacuum tube collector system on top of a Californian winery. Commissioned at the start of 2020, the system provides on-demand hot water for sanitising and cleaning production and cellar equipment.
Photo: ergSol
"What really drives our business development is our strong belief in sustainability, our passion for innovation, and to shape a place worth living for generations to come", explained ergSol Co-Founder and Co-Manager Monika Weiss. The potential to improve solar cooling for the sunbelt regions to create a cleaner, healthier environment motivated the ergSol Team to take over the subtask lead. "Thanks to the combined expertise and experience of IEA SHC Task 65 – a cross-cultural, interdisciplinary group of professional, highly dedicated members – we truly feel we can make a difference," she said.
Hybrid systems for maximum efficiency
Monika and Wolfgang Weiss, founded ergSol 10 years ago as a provider of integrated, innovative and advanced heating and cooling solutions designed to fit the needs of customers of all sizes and in various industries as well as the built environment. Since then, their team has worked on detailed evaluations, assessments and innovative integration designs for heating (up to 2,000 kWth) and cooling (30 to 1,000 kWcool) installations for reputable clients.

One of ergSol's flagship projects has been installed at Life Time Fitness in California. The rooftop system, which consists of 400 m2 of inhouse developed and prefabricated vacuum tube collectors, provides hot water for the showers, laundry, kitchen and all other facilities at the health club.
Wolfgang and Monika Weiss, founder of California-based ergSol
Photo: ergSol
The ergSol team is currently in the process of drawing up plans for two larger solar heat projects intended to supply heating and cooling to industrial clients, a winery among them. The hybrid operation maximises efficiency. According to Wolfgang Weiss, the system designed for the winery will provide not only process heat for winemaking – the busiest time for which is immediately after the fall harvest – but also hot water, which will be used across the premises to clean production and cellar equipment all year round. Because hot water requirements fluctuate during the year, the utilization of solar heat will be maximised for cooling and refrigeration purposes, using natural refrigerants.

US investors in solar heat systems can profit from both corporate tax credits and deductions. However, many are simply not aware of the multiple benefits of using solar energy and the full range of solar thermal applications, said Monika Weiss. "As with subsidies for other renewable technologies, incentives for solar heating and cooling applications would be welcome."
Strong collaboration
The overall aim of Task 65 is to identify innovations for affordable, safe and reliable solar cooling systems for the sunbelt regions globally. Under the leadership of ergSol, Subtask B focuses on cataloguing existing and potential new applications, demonstration projects and special components, on collecting design and system integration guidelines about installing systems under very specific boundary conditions, and on defining technical and economic key performance indicators.

The first step has been developing templates and questionnaires for the surveys that will be addressed to task members. In all, 77 experts pledged to participate in Task 65 activities, about half of which come from the world of research, the other half from industry. The latter includes companies manufacturing chillers or collectors, or both, as well as project developers. "There's a high sense of collaboration in the team and we regularly get together via video conference, phone call or email. Our focus is on both the work and the people," said Monika Weiss when asked about the collaboration across countries and time zones. The Task 65 team has time until June 2024 to publish several reports that are listed
online
.
Organisations mentioned in this article: