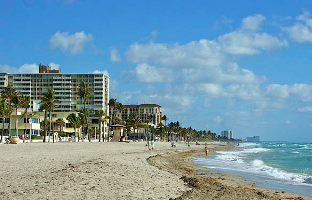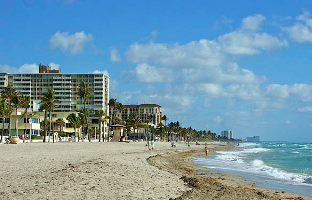 USA: Florida Power & Light starts Solar Support Scheme
Utility company Florida Power & Light (FPL) has just started a solar rebate programme on 21 June. FPL supports both PV and solar thermal plants run by private home owners, as well as companies. The programme is part of a five-year pilot programme the Florida Public Service Commission authorised to promote solar power and reduce energy consumption. The funds for PV were exhausted within minutes. For solar thermal, there was still a lot of subsidy money remaining as of 16 July: USD 3 million for private customers and USD 447,000 for business customers. According to FPL, up to USD 15.5 million per year are planned to be spent on the solar rebate programmes. Once funding for the current year is exhausted, the programme will be halted; customers can apply again the following year.
Source: Pixelio/Carl-Ernst Stahnke
Residential customers who want to replace their electric or gas water heating system with a solar-driven one will receive a USD 1,000 rebate by FPL. "This is twice as much as the support programme has offered before," states David Burrows of Solar Development Inc, a Florida-based collector manufacturer and system supplier. But it is also 20 times less than the grant for photovoltaic systems which is USD 20,000.
His company has managed to increase the number of orders slightly, but "it has not taken off yet", as Burrows says. Many people are simply not aware how much of their electricity bill is due to water heating. "The programme has been fairly well promoted, thankfully raising awareness of the subject," Burrows says.
Ironically, the so-called Sunshine State of Florida has so far not exactly been a model of solar support policy. Former support programmes for solar thermal have suffered from a lack of funding, which resulted in a stop-and-go of incentives. Florida's Solar Energy Industries Association, FlaSEIA, has been promoting ratepayer-based financing, but has had no success with it. And, Florida has no Renewable Portfolio Standards (RPS), making the state a relatively tough terrain for solar energy efforts – despite its plenty of sunshine.
The rebate now offered by FPL applies to collectors, pumps, mounting hardware and water storage tanks. All systems must be approved and certified by the Florida Solar Energy Center (FSEC), and have an FSEC system certification number. There is no minimum or maximum size limit.
Only new solar water heaters in existing buildings are up for a rebate – upgrades of existing solar water heating systems, solar pool heaters and solar water heaters in newly built houses are not covered.
Commercial customers receive a rebate of USD 30 per 1,000 BTU and day of maximum rated output (1,000 BTU equals roughly 0.3 kWh), capped at USD 50,000 per building and as long as the programme is running. Business customers are able to receive more than one rebate, provided that the application includes multiple company locations and only up to a limit of USD 150,000 per financial year. As for residential customers, the rebate is limited to new solar heating installations in already existing buildings.
Non-profit low-income builders may receive an additional rebate under the Solar Water Heating Low-Income New Construction Program. For their houses, FPL will provide the solar system's full installation costs. The aim is to install 1,000 solar water heaters in low-income housing units over the next five years. This particular rebate is not open to individual applicants. The housing builders will apply at FPL for funding and will select the housing units to be equipped with solar systems.
More about the solar rebate programme: http://www.fpl.com/landing/solar_rebate/index.shtml
Solar Development Inc: http://www.solardevelopmentinc.com
Florida Solar Energy Industries Association FlaSEIA: http://www.flaseia.org