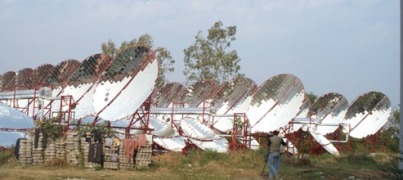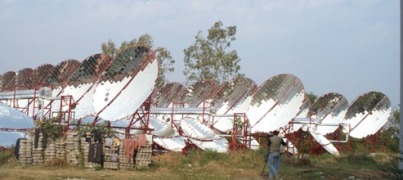 Solar thermal based Air-Conditioning System proves itself in India
Showcase: These parabolic dishes supply a solar air-conditioning plant of a hospital in Gujarat state in western India and replace 1 ton of wood consumption every day. Photo: Gadhia Solar Energy Systems
India's latest and probably most largest solar thermal based air-conditioning system went operational at Muni Seva Ashram (MSA) in Goraj, situated in the Vadodara district of Gujarat state in western India. A total of 100 parabolic dishes (Scheffler type) by the Indian company Gadhia Solar Energy Systems (GSES) – each 12.5 m2 in size – now supply the already existing 100-ton air-conditioning system of the 160-bed hospital at Muni Seva Ashram.
"We had to integrate the solar steam system into the already existing vapour absorption chiller circuit, which had so far been run with around 1 ton of wood every day", Deepak Gadhia, founder and Managing Director of GSES, describes the engineering challenges during this ambitious project. Now, the sun saves this huge amount of wood by delivering 400 kg of steam per hour, at a pressure of 7.5 bar.
The absorption chiller is a two-step machine with a COP (coefficient of performance) of 1.12. First, it generates cold water of 6 ° Celsius and then pumps the water to an air handling unit of the building. Moreover, Gadhia included in its planning a tank that can hold 95,000 litres of cold water, in order to overcome cloudy periods and guarantee a steady output of the air-conditioning unit. It is the first solar air conditioning system GSES has ever designed or installed. The Indian company received a grant from the federal Ministry of New and Renewable Energy (MNRE) for it.
The idea of solar air-conditioning emerged when Vikram Patel, Chairman of Muni Seva Ashram jokingly said that everyone produces heat when it's hot but what was needed was cooling when it's hot! In the past, GSES had already supplied solar steam cooking systems to MSA, which facilitated the decision to work with GSES also on the idea of solar cooling.
The success of the MSA solar cooling system could serve as a fitting example for the country to consider more solar thermal cooling systems.
More reading at: http://www.gadhia-solar.com/