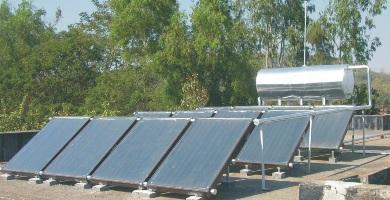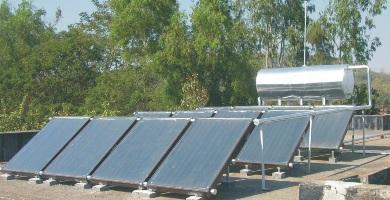 India: Solar Mission Phase II Targets 8 Million m²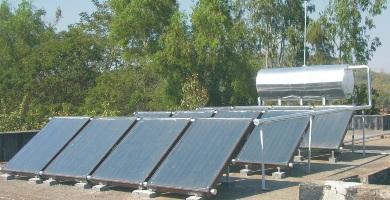 In December 2012, the Ministry of New and Renewable Energy in India published its plans for Phase II of the National Solar Mission (NSM). The 58-page document outlines the policy for the second phase, including targets, the role of the states and an implementation strategy (see the attached document). The overall aim is to install around 8 million m² of collector area between March 2013 and March 2017 – in addition to the 6.07 million m² of collector area which had already been commissioned until November 2012. The cumulative target until the end of Phase I (March 2013) is 7 million m², and the country will, in fact, be on course to reach this number. Since the start of Phase I of the NSM in June 2010, the country has witnessed the installation of close to 2.5 million m² of collector area totally. The photo shows a solar water heating unit in central India.
Photo: Jaideep Malaviya
The National Solar Mission consists of three stages, which together are planned to lead to the installation of 20 million m² of solar thermal collector area for water heating by 2022. The Indian solar water heater market is mainly urban in nature, and rural residents seldom use the sun to have a shower. Therefore, the aim of Phase II of the National Solar Mission is to make solar water heaters more popular in rural areas all around the country, in contrast to the present concentration of the technology in a few rural cities. The Indian government has already chosen 58 rural communities which it wants to develop as solar cities, and solar water heating technology would be the key pillar of their residential energy structure. The Solar Mission Phase II will also single out at least 15-20 more urban cities in which solar water heaters are to replace electric systems and become the major technology to heat water in households.
Another major solar thermal application discussed in the policy document is industrial process heat. The industry, including the important branches of chemicals, textiles, plastics and other hydrocarbon-based technology fields, consume over 35 million tons of fuel oil for process heat at temperatures above 250°C. To reduce the consumption of fossil energy, Phase II aims to install 400 concentrating solar heat (CSH) plants which will cover an average area of 250 m² each. In total, this will add up to 100,000 m² of collector area.
The Phase II document also mentions the installation of at least 200 solar air conditioning / refrigeration systems with a cooling capacity of 30 TR each and a total area of 60,000 m².
In addition to solar hot water applications, the policy document also states the aim of installing 50,000 cooking systems with solar concentrators. The list of beneficiaries will include at least 100 community kitchens and about 25,000 schools for their midday meals. The reflector area target is around 7 million m². The larger reflector is to stand outside the kitchen and lead solar radiation into it through an opening in the north wall. From there, a secondary reflector will further concentrate the rays onto the bottom of the pot or the black-painted frying pan. The achieved temperature is around 400° C. Other prospective application areas could be community resting places (ashrams), hospitals, hostels, hotels, military facilities, as well as prisons.