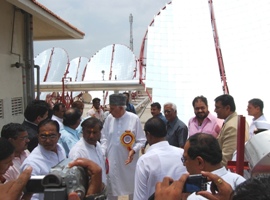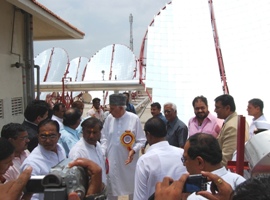 India: Temple Possesses World's Largest Solar Steam Cooking System
The famous pilgrimage to Shirdi in Western India will soon include meals cooked by the world's largest solar thermal installation for steam cooking. Its estimated cost is at INR 13.3 million (approx. US$ 300,000), for which the Ministry of New and Renewable Energy provided a subsidy of INR 5.84 million (approx. US$ 130,000) to the temple's Shri Saibaba Sansthan Trust.
Concentrator technology: The Minister for New & Renewable Energy, Dr. Farooq Abdullah (centre) inaugurated the world's largest system for solar thermal steam cooking on 30 July 2009.
Photo: MNRE
The system will generate the steam required in cooking food for 20,000 pilgrims twice a day. Responsible for its design and installation was the leading company in the market for sun concentrator technology in India, Gadhia Solar Energy Systems Pvt. Ltd., reaching completion of the project in just 10 months.
The system comprises of 73 solar dishes, each with an aperture area of 16 m2, which were placed in series and parallel combination. It was designed in such a way that even if electricity is not available to run the feed water pump for circulating water in the system, it is able to generate a sufficient amount of steam to cook food for the given number of people.
The system possesses a steam header connected to a large number of receivers to which water can be pumped in the morning when electricity is available. During the day time, it runs on a thermosiphon principle, without requiring electricity to help generate steam and store it in the header for quite some time, until it will be used for cooking in the kitchen.
The system is also connected to a conventional boiler, which runs on Liquefied Petroleum Gas (LPG), in case the weather turns out to be too cloudy or dusk will set in. The installation is expected to save around 100,000 kg of LPG per year, which is equivalent to INR 2 million (approx. US$ 45,000).
The temple's Trust has already had satisfactory experiences with a smaller system installed in 2001. This system consists of 40 dishes with 10 m2 each and provides energy for cooking 6,000 meals for 3,000 people daily. The now improved technology with 16 m2 solar dishes has reduced the area installers have to cover, as well as operational and maintenance requirements.
More information:
http://www.gadhia-solar.com