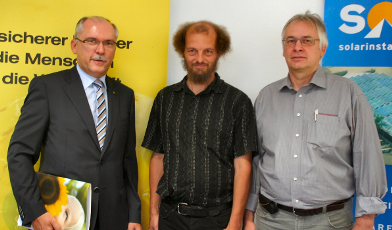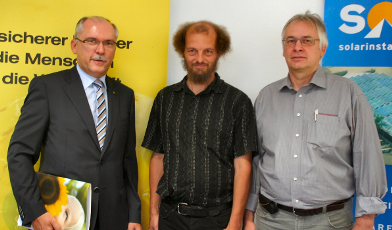 Singapore: Austria delivers and finances biggest Solar Cooling Installation worldwide
A major order for two Austrian companies was announced at a press conference in the middle of August: Austrian engineering company Solid – represented by its two CEOs Christian Holter (middle) and Franz Radovic (right) – signed a contract with the United World College of South East Asia (UWCSEA) to deliver, install and operate a solar heating and cooling installation with 3,900 m2 of collector area in Singapore. The Raiffeisen-Landesbank of Steiermark (RLB-Stmk) will be responsible for financing the investment of around EUR 4 million together with the OeKB, the Oesterreichische Kontrollbank.
Photo: Solid
The solar thermal installation will supply hot water and cooling to around 2,500 students, who live and study on a newly created 76,000 m2 campus, which incorporates facilities such as boarding houses, canteens, science labs, libraries, sport amenities and music studios (see figure below). The announced project is the world's largest solar cooling installation yet.
"The use of solar energy prevailed in producing the hot water, because gas prices in Singapore are as high as electricity prices," Holter explains. The CEO plans to meet 100% of the hot water demand for the campus and around 30% of its cooling demand. Although the maximum energy output of a solar cooling system perfectly matches the maximum solar radiation in the tropical country of Singapore, Solid estimates a relatively small collector output of 560 kWh/m2 per year due to a frequently cloudy sky.
New campus of the United World College of South East Asia: From August 2011 on, the 76,000 m2 area will host 2,500 students from 60 different countries worldwide.
Figure: UWCSEA
The collector area will be mounted on all of the buildings. Installation will begin soon and the system is thought to start operating in the spring of 2011. Supplying the panels is the Austrian company Ökotech, a subsidiary of the Solid Group Austria. The highly efficient Gluatmugl collectors possess a convection blocker between absorber and glass cover to minimize heating losses and reach higher temperatures than usual, which will be necessary to operate the absorption chiller with a power of 1,759 kW by Broad, China.
"The technical design of the installation has been ready for a year. What took the last twelve months, were the negotiations on its financing," Holter stresses. Solid had to first prove the credit-worthiness of its financing partner, the Raiffeisen-Landesbank of Steiermark (RLB). The Solid Group assumes the role of contractor together with its Singapore subsidiary Solid International Asia (SIA). The UWCSEA will repay the investment within 15 years by paying the energy costs it saved with the help of the solar installation.
And, Singapore's Economic Development Board (EDB) had to be convinced of granting a subsidy of 15 % of the investment costs for the solar installation, which ensured that the new campus reached the Green Mark Platinum certification, the highest rating in Singapore´s green buildings grading system.
Asia is becoming increasingly important for Solid: At present, the Solid Group achieves 50 % of its turnover in Asian countries. After installing a solar cooling (613 m2) and a hot water system (666 m2) at the logistic centre of the 2008 Olympic Summer Games and a solar cooling project in Abu Dhabi, the project in Singapore is already the fourth large-scale project by Solid in Asia.
More Information:
Solid Group: http://www.solid.at
Ökotech Produktionsgesellschaft für Umwelttechnik: http://www.oekotech.biz
Raiffeisen-Landesbank of Steiermark: http://www.rlbstmk.at
United World College of South East Asia: http://www.uwcsea.edu.sg