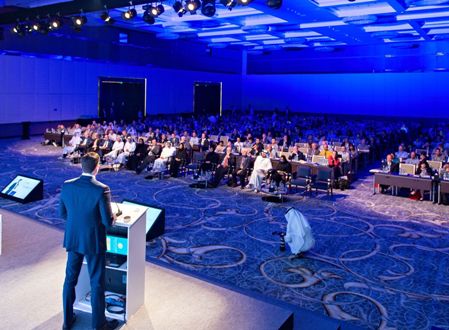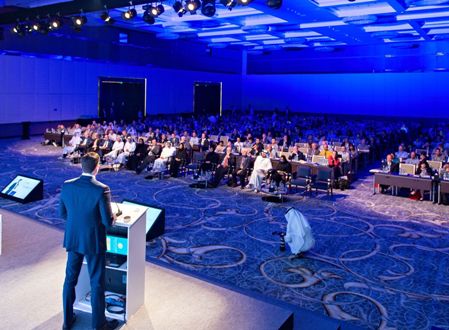 SHC 2017: Largest experts' meeting on integrated solar heating and cooling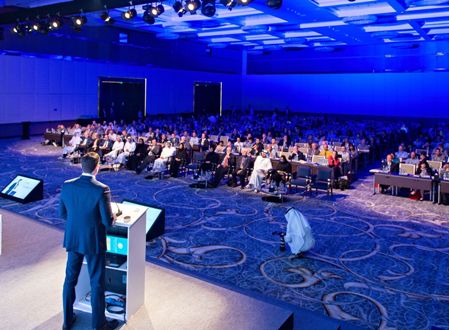 500 experts from more than 50 countries attended the 5th International Conference on Solar Heating and Cooling (SHC) in Abu Dhabi, UAE, from 30 October to 2 November 2017. It was the first time that this biennial conference by the IEA's Solar Heating and Cooling Programme had been organised jointly with the Solar World Congress by the International Solar Energy Society (ISES). The new partnership resulted in 2017's largest experts' meeting on integrated SHC solutions for buildings, industry, cities, regions and utilities, and in over 300 presentations.
Photo: Masdar Institute at Khalifa University of Science and Technology
Dr Thani bin Ahmed Al Zeyoudi, the UAE's Minister of Climate Change and Environment, provided a warm welcome to the international solar research experts, who may play an important role in advancing the adaption of solar technologies to the dusty, often waterless Gulf region. The host of the conference was Masdar Institute, which had been incorporated into Khalifa University of Science and Technology this February. Ken Guthrie, Chair of the IEA's SHC Programme, lauded the collaboration: "With Masdar Institute, we had a very professional conference organiser that made it a pleasant event for all participants."

Warm welcome from Ken Guthrie, Chair of IEA SHC, Dr Thani bin Ahmed Al Zeyoudi, UAE's Minister of Climate Change and Environment, and David Renné, President of ISES (from left)
Photos: Masdar Institute at Khalifa University of Science and Technology
"All renewable technologies will have to work together to speed up the transition to 100 % clean energy," ISES President David Renné emphasised during his opening speech. Solar thermal's future lies in comprehensive system solutions. Hence, the focus of the technology sessions was on highly innovative fields, such as seasonal storage, building integration and PV-thermal, which combines heat and electricity generation from sunlight.
Utility-scale solar heat plants push prices to record lows
Professor Klaus Vajen from the German University of Kassel had encouraging words for the research community: "We have reached the commercial stage in Denmark. This country in northern Europe has seen the installation of 110 solar district heating systems." The large solar fields deliver energy at below 30 EUR/MWh, beating the 54 EUR/MWh price of gas-sourced heat – good news to spark renewed interest throughout Europe and China. A feasibility study about a 350 MWth solar heat plant in the Austrian city of Graz has found the average heat price, including seasonal storage, to be 35 EUR/MWh all year round, which is in line with the cost of energy from gas-fired boilers. Vajen's key message was: "Solar thermal alone won't save the world, but with it, it´s cheaper and easier."
Massive increase in solar heating and cooling support needed
The electrification of the heat sector prompted controversial discussions during several plenary sessions. Cédric Philibert, Senior Analyst in the IEA's Renewable Energy Division, warned that the 100 % target was often misunderstood to mean a complete decarbonisation of the power market. He emphasised that the most difficult sector to decarbonise was the industrial one, considering its 80 % heat share in energy consumption.
Meanwhile, residential PV-driven heat pump systems for hot water have become competitive because of low electricity prices in several countries. But electric heating would not have that much of an impact on the market, said Werner Weiss, managing director of Austrian research institute AEE INTEC. He pointed out that heat consumption shows 6 times as much seasonal fluctuation when compared to electricity demand. An increase in power loads for space heating in winter would require expensive additional capacities.

Mission Innovation Workshop on Affordable Heating and Cooling of Buildings
Photos: Masdar Institute at Khalifa University of Science and Technology
"Policymakers need to contemplate a massive increase in solar heating and cooling support to be able to meet targets," Hans-Josef Fell, President of the Energy Watch Group, said during his closing speech. A promising development has been the establishment of Mission Innovation, a global initiative of 22 countries and the European Union, which aims to double the investment in clean energy R&D in five years. In parallel to the SHC 2017, around 100 government representatives and solar experts met to identify key research fields in the Affordable Heating and Cooling of Buildings. "The two-day workshop spotlighted research areas which had not received enough attention in the past," explained Stephen White, Energy Efficiency Domain Leader at the Commonwealth Scientific and Industrial Research Organisation in Australia.
International Energy Agency, Solar Heating and Cooling Programme (IEA SHC)
IEA SHC is an international research and information platform for solar heating and cooling technologies. It is used by over 200 experts from 21 countries and six organisations to conduct collaborative research on a wide range of topics, from green quarters in urban planning to future storage tank designs and the integration of large-scale solar fields into district heating and cooling networks. Founded in 1977, SHC is one of the IEA's oldest Technology Collaboration Programmes and one of 10 in the field of renewable energies.
Conference websites:
Organisers' websites: