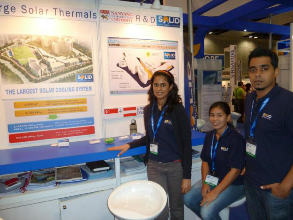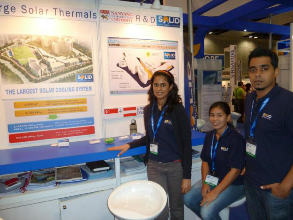 Singapore: Fair Competition between Solar Thermal and Photovoltaics
Solar thermal technology has still a long way to go in Southeast Asia before being recognised as the reliable and valuable alternative energy source it is appreciated for in other parts of the world. Solar heating and cooling technology did not play a major role at Singapore's Clean Energy Expo Asia (CEEA) at the beginning of November 2011. The trade fair and conference is part of the Singapore International Energy Week, which is the biggest event of its kind in Southeast Asia. Only two international solar thermal exhibitors found their way to Singapore: Austrian engineering company SOLID (see photo) and hydraulic specialist Oventrop from Germany.
Photo: SOLID
However, the third CEEA attracted many global industry players from the renewable energy sector. The organisers counted 5,283 participants from 62 different countries, more than double the number of the inaugural edition in 2009. All in all, the trade fair hosted 170 international exhibitors and the conference programme included 130 speakers.
Solar heating and cooling was hardly mentioned at the round-table discussions or technology sessions, SOLID Asia's CEO Peter-Jürgen Husnik says. "In general, our industry is not publicly rewarded – everybody sees photovoltaics as the 'better' solar technology, which means we suffer from unfair competition with a highly subsidised technology." No presentation took place during the conference which would have outlined the market opportunities of solar thermal technology in Southeast Asia.
Because Singapore does not have a feed-in tariff for solar electricity, it seems the right market on which solar thermal could stay in competition with photovoltaics. It also moved into the focus of Singapore's energy authorities and the Economic Development Board (EDB): One well-known case study is the world's largest solar cooling plant at the United World College (UWC) in Singapore, which was planned and installed by SOLID. The Austrian company additionally signed a research agreement with the Nanyang Technical University (NTU) of Singapore in February 2011 to develop solar thermal technologies which would be more suitable for tropical areas. The two partners agreed to set up a Centre of Excellence for solar thermal. The funding application has already been submitted to EDB and the first research projects related to solar cooling and systems monitoring are being drafted right now.
The cooperation shows that it is solely in the hands of the solar thermal business to promote the sector in Southeast Asia and increase public awareness in the region.
More information:
http://www.cleanenergyexpoasia.com
http://www.edb.com.sg
http://www.solidasia.com/
http://www.oventrop.de/index.asp
http://www.ntu.edu.sg
This article was written by Johann Pacher, Managing Director of Faros Consulting Pte Ltd, a company specialised in renewable energies and based in Singapore. http://www.farosconsulting.com/