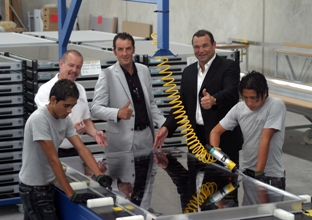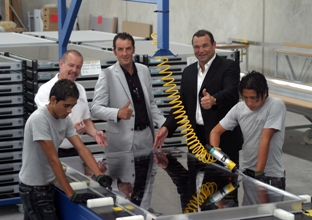 Opening of the Kioto Collector Factory in Mexico
Thumbs up! Klaus Meier, general manager of Kioto S.A., Marlon Rechberger, sales director of Kioto S.A. and Robert Kanduth, chairman of the board of Kioto Clear Energy AG(from left to right), are satisfied with their new production unit in the Mexican city of El Salto (Guadalajara). Photo: Kioto
The factory assembled the first locally produced collectors with absorbers from the Austrian manufacturer Greenonetec this May. The key features of the flat plate collectors FP 1.20.0 HE and LE – made in Mexico – are quite similar to European ones: high selective coating, laser-welded full plate absorbers with a high selective coating and tempered, low-iron glass.
The factory, which has an annual capacity of 100,000 m2, employs 30 people, according to Marlon Rechberger, sales director of the new founded company Kioto S.A. It is planned to distribute the finished units throughout the entire American continent, from north to south and including the Caribbean. "We have developed tanks and mounting systems with local partners, so that we can offer complete solar thermal kits to the neighbouring markets," he explains.
The decision to start a collector production unit in Mexico was made in April last year. What were the reasons for this choice? "The small risk of currency fluctuations, the strong national market and a good location with short routes of transport to strategic markets in America," answers Rechberger.
The factory is owned by the new founded Kioto S.A., a 100 % subsidiary of the Austrian Kioto Clear Energy AG. The AG is an Austrian stock company with a turnover of EUR 180 million specialised in the production of solar heating products as well as photovoltaic components and was founded by Robert Kanduth. The successful Austrian business man is also the founder of Greenonetec, the biggest flat plate collector manufacturer in the world. 50 % of Greenonetec belongs to the Kioto Clear Energy AG, the other half was bought by the Danish VKR Holding some years ago. The new Mexican subsidiary and Greenonetec complement each other well. Whereas Greenonetec is specialised in the production of OEM collectors and absorbers, the factory in Mexico will sell also own branded collectors and systems.
More information:
http://www.kioto.com
http://www.greenonetec.at