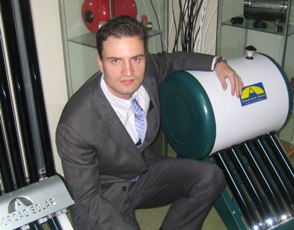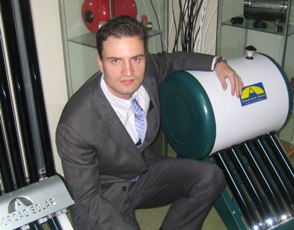 Managing the Crisis in Spain: "by keeping our fixed Costs to a Minimum"
"2009 was a very good year for us and 2010 looks very promising", Nicolai Birch, Marketing Director of Amordad Holdings, stated in an interview with solarthermalworld.org. The Spanish company was founded 7 years ago as a wholesaler of solar thermal systems based on vacuum tube technology.
Photo: Amordad Holdings

Amordad Holdings is located in Madrid and has contracts with 45 distributors throughout Spain, 3 in Portugal, 1 in Brazil and the company has just started its first large project in Chile with the installation of solar systems in 1,500 houses. 
Solarthermalworld: The Spanish market is not in an easy situation at the moment. What makes you so optimistic about your sales in 2010?
Birch: Despite the lack of new constructions in Spain, I'm very pleased to report that our company is currently out of stock and our customers have been put on waiting lists. There are five 40-feet containers due to leave our factory in the next two months and all of the systems (compact and split systems) have already been pre-ordered.
Solarthermalworld: This is an unusual situation in times of a shrinking Spanish market with -10% in newly installed collector area in 2009?
Birch: What helped us tremendously was the fact that we did not let ourselves get "carried away" in previous years after the new law which passed in Spain made it obligatory to install solar systems in all newly constructed buildings. Many solar system providers got greedy: They bought up warehouses and factories and hired hundreds of sales people, which earned them great losses when the economic crisis hit the country.
At Amordad, we did the opposite: We took precautions and tried not to bite off more than we could chew. We outsourced all our logistics, the large scale engineering projects, component manufacturing and distribution points. We kept our number of in-house people limited to the absolute necessary. By keeping our fixed costs to a minimum, we had more resources left to focus on improving the quality of and service for our products, dedicating more time to our distributors and increasing our knowledge of what the market is looking for.
Solarthermalworld: Vacuum tube technology made up only 5% of the Spanish market in 2008. How do you convince costumers to buy vacuum tube technology?
Birch: This was indeed a challenge and still is, but vacuum tube technology is something we truly believe in. When we entered this market, we had all the options available. After researching and trying out different alternatives, we decided that flat plate collectors did not live up to our expectations, but rather vacuum tubes were a product of the future, because of their many advantages concerning efficiency, installation and maintenance.
Solarthermalworld: What will be necessary to bring the Spanish market back on track?
Birch: Well, a lot of things have to change. Of course, I don't have all the answers, but to begin with, the government has to get involved more: It's not enough to talk about it and to carry out political campaigns. For many years, countries like Germany have had a great commitment to thermal solar energy, despite having to deal with much less sunlight than Spain. This is partly due to the well-organized government programmes and incentives.
Secondly: If subsidies are promised then they should be given. Over the last years, we've experienced too many unbelievable things in the Spanish market. We have heard about several cases where subsidies were denied to customers for inexplicable reasons. Some distributors tell us that the paperwork is so complicated and that the strict conditions set by their local municipality make it almost impossible to obtain subsidies in certain regions of Spain. The most reliable subsidies are distributed by the Andalusian Energy Agency under the Prosol Programme. The application process is swift and reliable. Subsidies are paid out within 45 days and usually cover around 60% of the total product and installation costs.
Thirdly: It is also important that consumers put more faith in solar energy. It is lost in many cases due to poor-quality products and also badly done installations. A product can be of first-class quality but if the installation is poorly done, it is of no use. Quality control must be part of the game and sometimes it is better not to carry out a sale if you suspect that the person buying it will do a lousy installation job, because at the end of the day it will come back to you.
The interview was conducted by Bärbel Epp.

Head office

Madrid

Founding year

2003

Product range

Thermosiphon systems, pumped systems with vacuum tube collectors and off-grid photovoltaic solar kits

Number of in-house staff

14 (in Spain)

Collector area sold in 2009
4,080 m2 (Thermosiphon) plus
2,520 m2 (pumped systems)

 

Countries from which components are purchased

Greece, Israel, China, Germany and Italy
Key figures of Amordad Holdings S.L