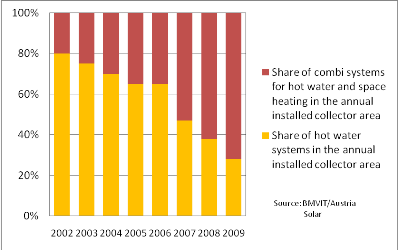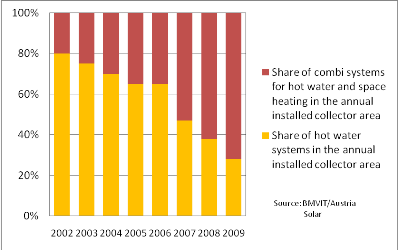 Long-term Trend in Austria: Combi Systems in retrofitted Houses
Austrian flat plate collector manufacturers may smile again: Last year's decline seems to have been overcome. A quarterly anonymous survey carried out by an Austrian accounting company among 25 members of the solar thermal industry association Austria Solar (representing 75 % of the total market volume) showed an increase in sales of 22 % in the first quarter of 2011, compared to the previous weak year. The annual market statistics carried out by the Federal Ministry for Transport, Innovation and Technology (BMVIT) also show several other interesting trends, such as the one towards combi systems (see figure).
Figure: BMVIT/Austria Solar
"Austria can be considered the most mature market in Europe," the European Solar Thermal Industry Federation (ESTIF) wrote in its annual market statistics of 2010. It has always been seen as a showcase for the development of other Central European countries. Therefore, it is interesting to study the long-term transition processes on the market, whose annual BMVIT statistics can be used to catch some of the market's trends:
Combi systems for hot water and space heating dominate the country's solar thermal market nowadays. Their share more than tripled from 20 % in 2002 to 72 % in 2009 (see figure above).
The retrofit market indicates a successful development over the last years: The share of solar thermal systems installed in this segment increased from 25 % in 2004 to 83 % in 2009 (see figure below).
The share of annually imported collectors grew exponentially over the last years, from 2 % in 2002 to 18 % in 2009. In total, the imported collector area went from 3,000 m2 in 2002 to 64,000 m2 in 2009 – 21-fold, that is. During the same period, however, market volume only doubled. Competition by solar thermal system imports reduces the national sales volume of domestic manufacturers, and heightens price pressures on the market.
The fastest growing market segment: solar heating systems in multi-family buildings. According to BMVIT annual report 2009, a share of 21 % of the newly installed collector area in the country was intended for this segment. A year before, the share was only 11 %.
More information:
http://www.solarwaerme.at
Download of the 2009 BMVIT study:
http://www.nachhaltigwirtschaften.at-
/nw_pdf/1015_marktstatistik_09.pdf