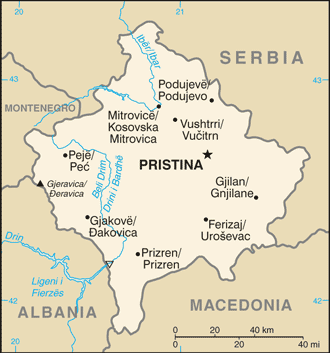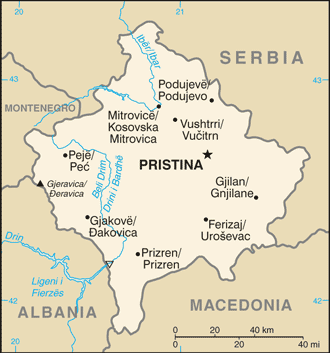 Kosovo: Loan and Grant Funding of Sustainable Energy Projects
By declaring independence from Serbia in 2008, Kosovo became Europe´s youngest nation. The good news from the small country in the central Balkans with its 1.8 million inhabitants is that there have not been any major clashes between Kosovar Albanians and Serbians lately. Still, Kosovo faces plenty of severe challenges, such as a skyrocketing unemployment rate and an environment seriously harmed by fifty-year old coal power plant Kosovo A, which is said to be Europe's number one coal polluter. Given the fact that Kosovo has the fifth-largest lignite resources in the world, the government plans to replace Kosovo A by a modern 600 MW coal power plant. But this approach has encountered fierce resistance from environmentalists organised in the umbrella organisation Kosovo Civil Society Consortium for Sustainable Development. They demand a shift in the state's energy strategy, away from carbon-rich lignite to clean renewable energy resources. Recently, they have launched their No New Coal – Safer Future campaign and declared Kosovo "a nation at the forefront of the global debate over energy access and the role of fossil fuels versus cleaner energy."
Map: Wikipedia
First solar thermal demonstration projects at public buildings
According to the Heating Strategy 2011 – 2018 by the country's Ministry of Economic Development (MED), 40 % of all Kosovars heat their home and water by using firewood, and just as many use coal-generated electricity (see the attached document). But with an annual radiation of round about 1,600 kWh/m2, Kosovo is in a good position to utilise solar thermal energy, at least for water heating. A few years ago, the Kosovo branch of the United Nations Development Programme installed a solar thermal plant as a demonstration project at the Dragash hospital located in the south of the country. A while later, the MED set up solar water heating pilot projects in public buildings like the Kosovo University Clinical Centre in Prishtina. "Solar energy can become a source of water heating, regardless of the high cost of equipment and the scarcely developed market," is one of the conclusions that can be found in MED's Heating Strategy paper.
In November 2013, Kosovo's government adopted its National Energy Efficiency and Renewable Energy Action Plan, whose aim is to save 9 % of the total energy consumption by 2018 compared to 2010 and achieve a 25 % share of renewable energy in the gross final energy consumption in 2020. Such ambitious goals can only be accomplished if there is enough financing available, which is why a number of international financial institutions, such as the World Bank, the German Kreditanstalt für Wiederaufbau (KfW) and the European Bank for Reconstruction and Development (EBRD), have already been active in Kosovo's energy sector. Whereas the KfW and the World Bank both provide soft loans to municipal borrowers for their energy efficiency measures and renewable energy projects in public buildings, the EBRD Kosovo Sustainable Energy Projects (KoSEP) is directed at commercial banks lending to private households, as well as small and medium enterprises (see
t
able below).
Award for solar thermal space heating system with biomass boiler
KoSEP was launched in May 2013 and offers a EUR 12 million credit line, complemented by EUR 3 million from the European Union (EU) for incentives of up to 20 % of the loan value. Up to now, there have been 1,000 projects which received KoSEP loans totalling EUR 5 million. At the beginning of October, the EBRD and the European Union Office in Kosovo jointly held their 2014 Sustainable Energy Excellence Awards ceremony in Kosovo's capital, Prishtina. The winner in the category Best Renewable Energy Project in the Residential Sector was Selim Cacaj, who invested in a space and water heating system with a biomass boiler and a solar water heater.
More information
————————-
KoSEP was closed at the end of 2017. The banks already had stopped accepting applications earlier in 2017 to finalise the financing of the last measures.
Country / Region

Kosovo

Name of programme

The Kosovo Sustainable Energy Projects (KoSEP)

Type of incentive

Low-interest loans and grants for energy efficiency and renewable energy projects

Eligible technologies

All the regular energy efficiency measures and renewable energy installations including solar thermal energy systems

Applicable sectors

Private households

Small and medium enterprises (no more than 249 employees and a maximum annual turnover of EUR 50 million)

Energy efficiency suppliers like installers and  manufacturers (limited up to EUR 150,000)

Amount

KoSEP loans can range from a few hundred EUR to a maximum of EUR 2.5 million.

Maximum incentive

Incentives can amount up to 20% of the loan sum

Requirements for system

According to a pre-approved list of equipment (LEME)
http://www.kosep.org/en-us/pre-approved-list-of-equipment-(leme)

Requirements for installation

According to a pre-approved list of installers (LESI)
http://www.kosep.org/en-us/pre-approved-installers-(lesi)

Finance provider

TEB – BNP Parisbas

AFK – Agjencioni për Financim në Kosovë

KRK – Rural Finance Program Kosovo

Total funds

EUR 12 million for loans

EUR 3  million for grants

Funding sources

European Bank for Reconstruction and Development (EBRD) for loans

European Union (EU) for grants

Government of Norway for technical assistance

Effective date

Since May 2013

Expiration date

Expired end of 2017

Website

Last review of this tabloid

November 2017

Contact

KоSEP

Rr. Anton Cetta 5a

10000 Prishtina Kosovo

Tel: +38138777803

Fax: +38138777803

E-mail: info@kosep.org