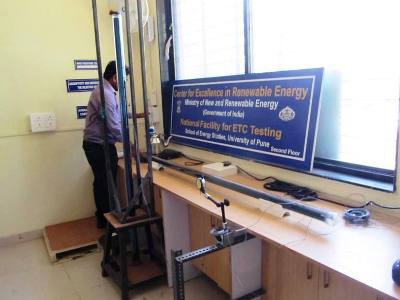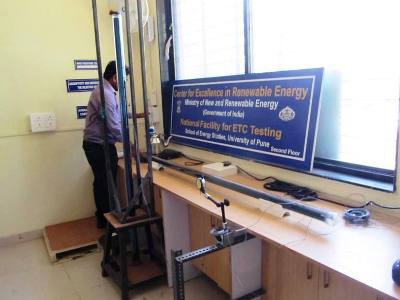 India: First Vacuum Tube Testing Centre Established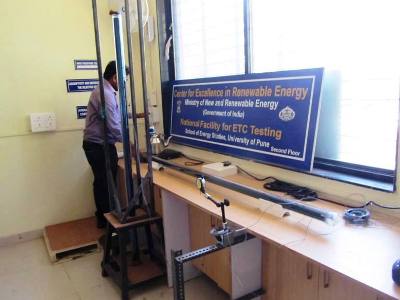 The School of Energy Studies at Savitribai Phule Pune University, located in Maharashtra state, has set up India's first vacuum tube testing centre. The investment was around INR 4 million (about EUR 50,000) and was funded entirely by the Ministry of New and Renewable Energy (MNRE). "Considering the expertise available at our university – in physics, electronics, as well as chemistry – it was the obvious choice," Professor Subhash Ghaisas, Director of the School of Energy Studies, said. His institution also has the first testing centre for concentrating solar thermal technology, which was inaugurated in July 2014. 
Photo: Malaviya Solar Energy Consultancy
A testing centre for vacuum tubes has been called for since
testing standard MNRE STD 01:2013
was published by the ministry in summer 2013. According to the MNRE, manufactures which import the tubes will have to show reports of testing laboratories from the systems' country of origin, and the testing centre will then approve these reports. Some of the leading manufacturers of vacuum tube collectors in the country have played a major role in supporting the implementation of the badly needed institution in order to ensure quality. The centre will also make it easier for international manufacturers to set up their business in India by getting approval of their tubes according to MNRE standards.
Ghaisas added that the new testing centre offered eight different tests which were fully functional:
Stagnation performance
Stagnation solar irradiation
Average heat loss co-efficient
Vacuum performance
Resistance to thermal shock
Resistance to impact
Resistance to internal pressure
Absorptivity and emissivity of selective coating
All tests are explained in the attached MNRE document on the standard. The first two are performed in an open area, while the other six are carried out in-house. The tubes which are to be tested can have a length of 1,500, 1,800, 2,000 and 2,100 mm. It takes almost one month to complete the entire series of tests for each vacuum tube.
The Indian vacuum tube testing centre is equipped with the necessary components: Important measuring devices include a photometer, a pyranometer, a magnetic impact meter, a spark leak detector, a temperature sensor for recording data, a 3-kW electric oven for heating thermal fluid, etc.
More information: