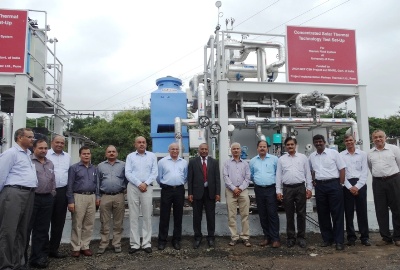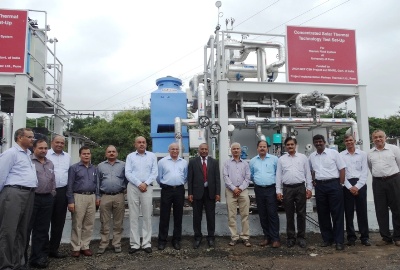 India: Portable Kit Allows Testing Bulky Concentrating Collectors Onsite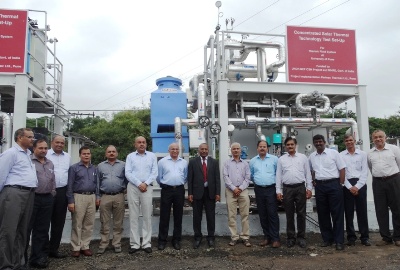 The construction of the first testing centre for concentrating solar thermal technology was completed in record time: "The actual work began in mid-February 2014 and was completed by mid-July. It was a real challenge for us, which we are proud to have overcome," Dr Subhash Ghaisas said in an interview with solarthermalword.org. Ghaisas is not only the Director of the School of Energy Studies, University of Pune, but is also responsible for the new testing site. The photo shows the guests invited to the opening of the testing centre on 22 July 2014, including Dr Ghaisas (sixth from right) and Tarun Kapoor, Joint Secretary for Solar at the Ministry of New and Renewable Energy (sixth from left). Also invited was Dr Avinash Singhal (third from left), National Project Manager of the initiative Market Development and Promotion of Solar Concentrator based Process Heat Applications, which financed the new testing centre. 
Photo: Malaviya Solar Energy Consultancy.
Solarthermalworld.org: How did the idea of setting up such a centre develop?
Dr Ghaisas: India's manufacturing activity in concentrating solar thermal (CST) is increasing. In order to guarantee consumers a quality product, it was felt that such a centre was needed.
Solarthermalworld.org: What made the University of Pune's School of Energy the choice for such a testing centre?
Dr Ghaisas: The School of Energy Studies functions as a Regional Testing Centre, which has already been accredited by the National Accreditation Board for Testing and Calibration Laboratories (NABL). We are the oldest testing centre for solar thermal in India, and considering our wealth of experience in testing thermal devices, we were the obvious choice.
Solarthermalworld.org: Which testing instruments are available at the site?
Dr Ghaisas: There is a complete weather monitoring system, a portable reflectometer, one specially designed testing rack based on thermal fluids and another one allowing operating temperatures of up to 300°C for high-pressure or steam tests. The testing rack is installed outside and is largely from local sources, whereas the monitoring equipment has mostly been imported. We have not yet had a mirror field to test receivers, but it is planned for the future.
Solarthermalworld.org: What kind of tests will be carried out?
Dr Ghaisas: Some of the important tests that any CST system requires will be carried out at our new testing centre. These are: surface reflectivity of reflectors, absorptivity and emissivity of receivers, as well as optical and thermal efficiencies of the complete CST collector. The test lab specialists will calculate the performance based on the obtained measurements and help the user estimate the collector system's energy output.
Solarthermalworld.org: Does the testing centre show any unique characteristics you would like to share? 
Dr Ghaisas: We have a mobile testing unit, which can be carried along to take onsite measurements. This kit will provide a performance report onsite and save the manufacturers the trouble of bringing bulky equipment to the testing centre. The kit includes things such as a flow metre, a high accuracy thermometer, DNI testing equipment, etc. This has made testing affordable, particularly for smaller manufacturers which cannot afford to purchase the equipment, as well as transport a system every time.
Solarthermalworld.org: We have heard that you have also set up a testing centre for vacuum tube collectors?
Dr Ghaisas: Indeed. Until now, India has only had testing standards for flat plate collectors, which were set by the Bureau of Indian Standards. With the increase in the use of vacuum tube collector systems, we will now also be able to offer tests based on the guidelines by the Ministry of New and Renewable Energy. However, vacuum tube testing will be fully available only after October 2014, as some of the tests require a certain level of irradiation.