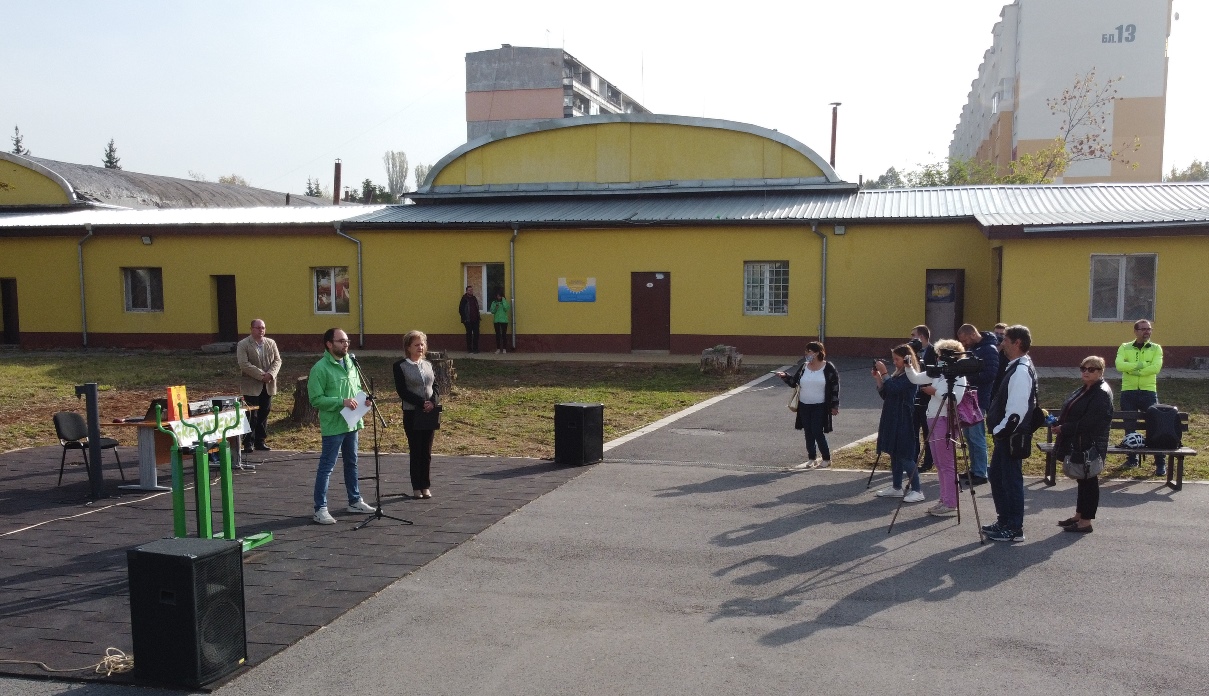 DCIM101MEDIADJI_0172.JPG
Greenpeace Bulgaria campaigns for sunny future of heating
Greenpeace Bulgaria is actively campaigning to promote solar energy for heating purposes. The Bulgarian branch of the global environmental organisation has not only published promotional material but Greenpeace also donated two solar laboratories to schools to educate students about a decarbonised economy. At the beginning of this school year in mid September, Greenpeace Bulgaria installed a solar thermal system in the Vocational High School for Technology and Energy Hristo Botev in the industrial town of Pernik near Sofia. The organisation is also campaigning for a coal phase-out date before 2030 and against the new incineration plant for energy production in Sofia.
Photo: Greenpeace Bulgaria
"In the new solar laboratory, students will be able to use three different solar systems to convert sunlight into heat – a flat plate collector, a vacuum tube collector and a system with photovoltaic modules", explained Balin Balinov, campaign coordinator Energy Solutions at Greenpeace Bulgaria. According to him the setup can be monitored 24/7 and used for the production of hot water and hot air via a heat exchanger. Students are able to do experiments by adding heat storage. "The laboratory components can be adjusted in a way that allows comparison of their basic parameters and operation modes. All the processes can be studied by the students and subsequently managed by them under the guidance of the teachers," Balinov said.



Equipment for the solar laboratory (left) and unveiling of the information board at the opening ceremony (right). Photos: Greenpeace Bulgaria
Mining industry eliminated from school name
He described Pernik as one of the centres of the coal industry in Bulgaria. For many years the city has been mining coal for the needs of the whole country. The opencast mines continually pollute the air, streets and homes in the city and the region, he added.
According to Balinov the local district heating company has not yet turned towards true environmental solutions for its heat production. The alternatives discussed so far, such as waste heat, natural gas or biomass, have controversial environmental indicators. "At the same time the citizens of Pernik are regularly left without any heat supply", he said.
Greenpeace firstly looked for a number of schools that could use such a solar lab to train the next generation of professionals. The Hristo Botev School in Pernik was selected because the 100-year-old school teaches its students in the specialised field of Heat Engineering. Its curriculum did not previously include practical training on renewable technologies. This gap has been filled by the new solar lab.
"Since we installed the solar thermal laboratory together with the students, not only has the school curriculum improved remarkably, but also the school name has changed", reported Balinov.  Originally the Hristo Botev School was called Vocational High School for Technology and the Mining Industry. Meanwhile the school administration has removed Mining Industry from the name, conscious that coal mining won't play a role in the future energy supply.
Although there are numerous schools in Bulgaria that could benefit from solar laboratories, Greenpeace Bulgaria does not plan to donate further solar laboratories. "We are a donation-financed organisation, so unfortunately it is not possible for us to make such solar laboratories available to other schools. However, our initiative will perhaps find imitators. Ideally, the management of a combined heat and power plant could sponsor such facilities, thereby showing awareness of the younger generation and their energetically cleaner future", Balin Balinov hopes.
Call for coal phase-out date before 2030
Many Bulgarian politicians, but also citizens, traditionally favour big, centralised coal and nuclear power stations. But recently Greenpeace Bulgaria launched a petition demanding that the newly elected government of Prime Minister Kiril Petkov names a coal phase-out date not later than 2030 and transforms the energy system by providing financial support for renewable energies so that it will "overcome the dependence on destructive and polluting industries". So far almost 15,000 Bulgarians have signed the petition, according to which communities should get support in finding "alternatives and upgrading heating and hot water systems in their territory, so that they are not dependent on burning fossil fuels, waste or wood in heating plants or in homes, which are the main sources of air pollution in Bulgaria".
Currently, Greenpeace Bulgaria is campaigning against the plans of the local government of the Bulgarian capital Sofia to build a waste incineration plant for energy production despite strong protests. "Unfortunately the city of Sofia is making no efforts to integrate renewable energies such as solar thermal into its district heating network. This technologically advanced measure for decarbonisation of local heat production, which has been successfully realized in northern European countries such as Denmark, is still too little known in our country", Balinov regrets.
Organisations mentioned in this article:
https://www.greenpeace.org/bulgaria/