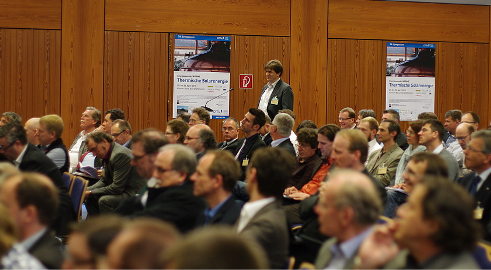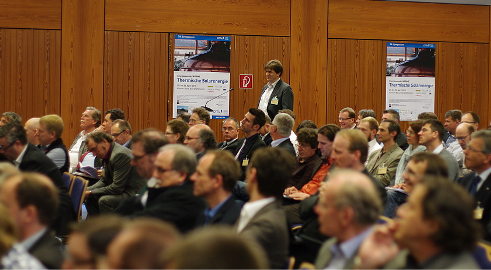 Germany: Symposium Debates Renewable Heating Market Ups and Downs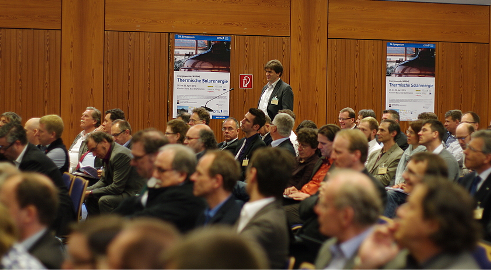 During the first quarter of 2016, solar thermal suppliers in Germany sold around 3 % more systems than they did over the same period last year. This is indeed good news after 2015 turned out to be another disappointing year with a 10 % drop in sales, adding only 805,000 m² (563 MWth) of newly installed collector area. The other good news is that subsidies in Germany have never been as attractive as they are now. It is the reason why the two German solar and heating associations, BSW Solar and BDH, launched the Solar Heating – it always pays off (Sonnige Heizung – immer im Plus) campaign, as announced in a press release in the middle of April – at the same time that the Solar Thermal Energy Symposium took place in Bad Staffelstein. The symposium is Germany's major annual industry conference on the topic and is organised by the East-Bavarian Institute for Technology Transfer, OTTI. This year, the three-day conference was attended by around 250 solar thermal experts from research and industry.
Photo: OTTI / Dr Thomas Vorderwülbecke
Unfortunately, this was all of the good news. Each renewable heating technology suffered from a declining market in 2015, according to the statistics presented by Dr Lothar Breidenbach, Technical Director at the German heating industry association, BDH (see the table below). The segment of fossil-fuel boilers achieved a plus of 6 %, but the total figure was still 52,000 units below the one 10 years ago, when 762,000 new boilers had been sold on the German market. Breidenbach emphasised that the replacement rate was still far too low, as 70 % of the 20.7 million heating boilers operated based on outdated technology.

| | | | | |
| --- | --- | --- | --- | --- |
| | Market development in 2015 | Market volume in 2015 | Market development in 1st quarter of 2016 | Market volume in 1st quarter of 2016 |
| Solar thermal systems | -10 % | 805,000 m² | +3 % | 145,500 m² |
| Biomass boilers | -18 % | 29,500 units | -9 % | 5,000 units |
| Heat pumps | -2 % | 57,000 units | +14 % | 14,500 units |
| Fossil-fuel boilers | +6 % | 623,500 units | -5 % | 129,000 units |
Market development in the heating industry. The significant rise in heat pump demand was obviously triggered by an increased subsidy amount effective since the beginning of 2016
Source: German heating industry association, BDH
What is also alarming is the fact that the share of renewable heating systems among the annual number of newly installed boilers has been shrinking continually from the peak year of 2009 with 45 % to only 19 % last year.
The changes in the number of applications to the German Market Rebate programme, MAP, in 2015 can be seen as an indicator of how the market will develop this year (see the table below). Obviously, heat pump owners have profited the most from the increased subsidies since April 2015: The number of applications in this segment tripled last year. Solar thermal applications rose by 6 % and biomass boilers seems to be hit the most by the low oil price – hence, the drop in applications in 2015 by –-17 %. According to a January 2016 press release by the German heat pump association, BWP, the industry is confident that the increase will continue in 2016 because the new rules of the Energy Saving Ordinance, EnEV, further limit the allowed primary energy demand for heating, hot water, air conditioning and ventilation by around 25 % in newbuilds, although they can still be fulfilled by a monovalent heat pump.
| | | | |
| --- | --- | --- | --- |
| | Solar Thermal | Biomass | Heat pumps |
| Total number of applications 2014 | 23,275 | 28,558 | 5,292 |
| Total number of applications 2015 | 24,776 | 23,721 | 15,917 |
| Difference 2014/2015 | 6% | -17% | 201% |
Comparison between the number of applications within the German Market Rebate programme 2014 and 2015. Further information on the database of incentive schemes
Source: Federal Office for Economic Affairs and Export Control, BAFA
End consumer campaign: Solar heating – it always pays off
And if that were not enough bad news: German installers have not yet adopted
energy labelling
required since September 2015 for all hot water and heating systems Europe-wide as much as it was hoped. Jörg Mayer, Managing Director of BSW Solar, reported that by far too few package labels had been issued on the website
Heizungslabel.de
, which supports plumbers in determining the right label for a heating system consisting of components from different manufacturers.
The new campaign Solar Heating – it always pays off should increase end customer awareness of the high subsidy level. It attempts to show that a solar thermal system combined with a condensing gas boiler will gain an energy labelling rank of A+ or above. Since the beginning of 2016, end consumers have received up to EUR 3,600 when retrofitting a condensing boiler by adding a solar collector field. The high subsidy amount was achieved by combining the increased MAP grants since April 2015 with an additional bonus allocated by the newly launched support system Energy Efficiency, APEE, which has been in place since the beginning of this year.
The constantly low oil price over the course of 2015 weakened demand for solar process heat systems: 63 applications had been approved in this segment in 2015, 27 % less than in the previous year, Mayer said of the disappointing statistics. Since August 2012, manufacturers and trading companies have been granted a subsidy of 50 % of the net investment costs under the MAP.
Websites of associations and campaigns mentioned in the article: