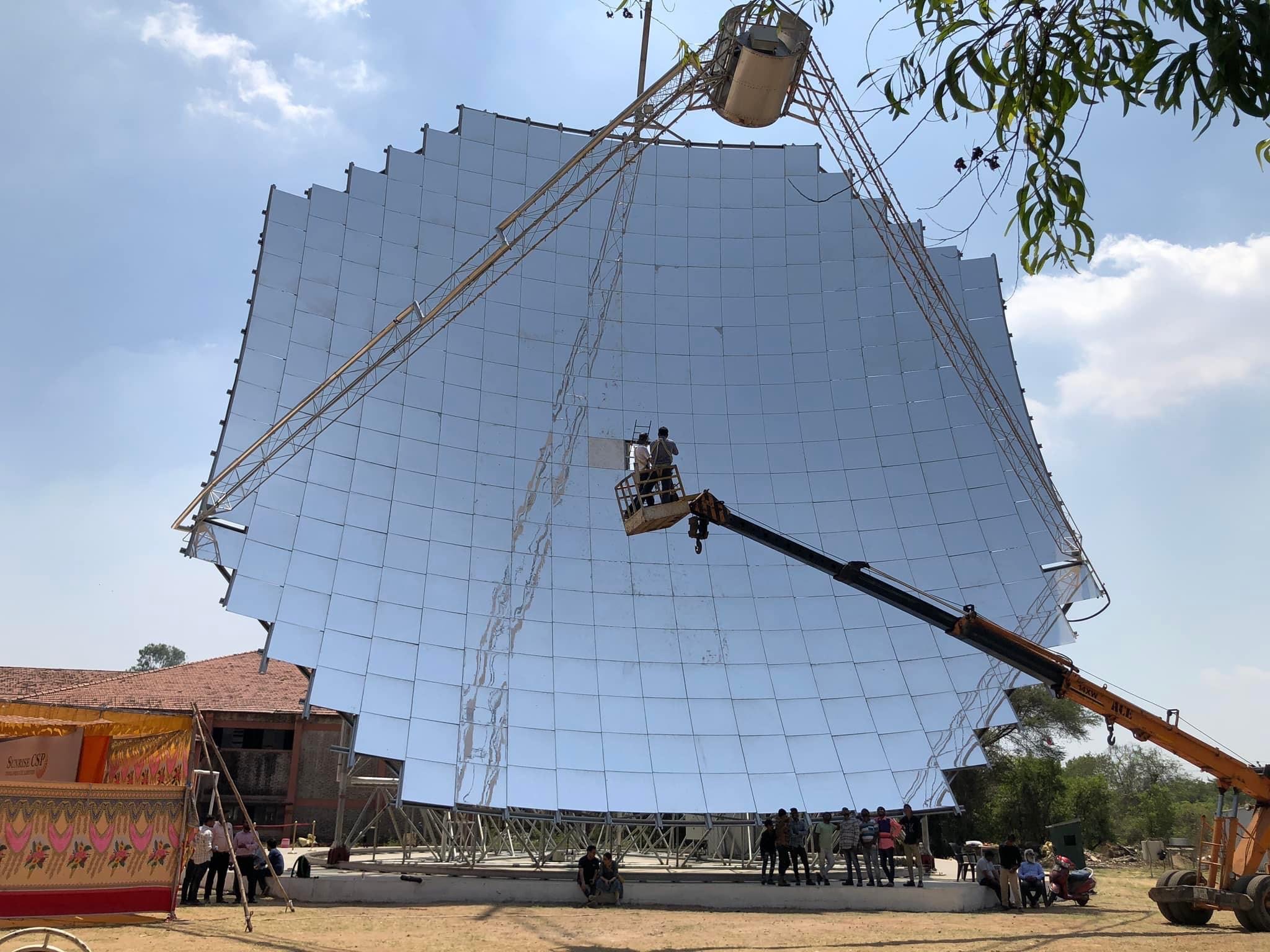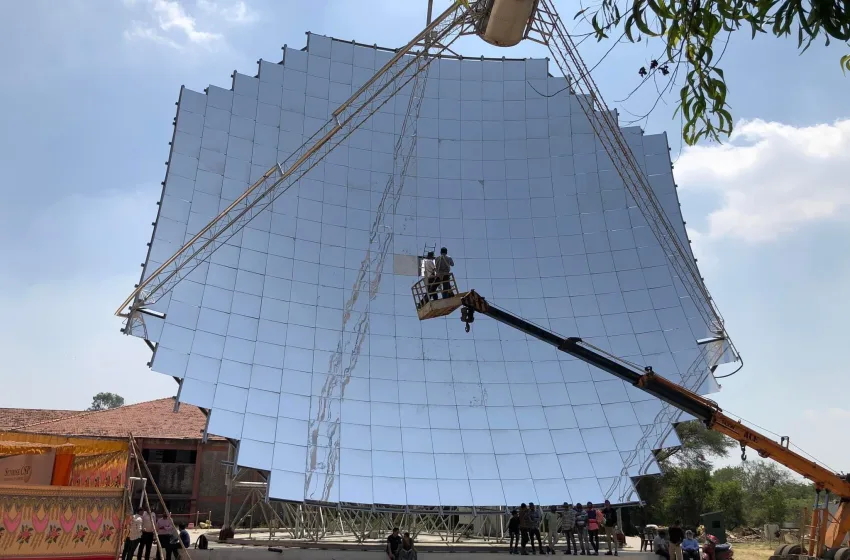 First Big Dish system supplies steam for a hospital in India
The world's largest solar concentrating dish unit has been put into operation at the Kailash Cancer Hospital and Research Centre in the state of Gujarat, western India. The Big Dish system was developed by the Australian National University and the Australian company Sunrise CSP. The hospital has signed a steam purchase agreement over 20 years with the Indian subsidiary of Sunrise CSP. The steam is used for cooking, sterilisation and the laundry. It replaces steam from a biomass briquettes boiler. The Big Dish system consists of 380 mirrors with a size of 1.17 x 1.17 m and uses double-axis tracking. It focuses the sunlight on a direct steam receiver.
Photo: Muni Seva Ashram
Big Dish units require only one-third of the land area compared to Scheffler dishes with the same capacity, states Sunrise CSP on its website. The current Scheffler dishes from the company have an aperture area of 16 m2 and are generally used in series of several units for commercial cooking, for example at pilgrimage sites, schools etc (see photo below).
"The engineering design and the accuracy in tracking have increased the efficiency of the Big Dish system compared to previous dish technologies", noted Deepak Gadhia, Chairman and Managing Director of Sunrise CSP India and initiator of the hospital installation. He is involved as one of the trustees at Muni Seva Ashram, an Indian NGO that offers services in social and health care, education and sustainability. "During a visit of the Sunrise CSP team from Australia to India in 2018 they invited Muni Seva Ashram authorities to introduce their Big Dish technology. This event led to the founding of Sunrise CSP India." Subsequently, Sunrise CSP group from Australia financed the Big Dish installation for the Kailash Cancer Hospital. Sunrise CSP India became the operator of the first Big Dish plant and signed the steam delivery contract with the client.
According to Gadhia, Big Dish is a significant milestone for the solar industrial heat market in India: "Industries that rely on steam and thermic fluid for heating by burning biomass, coal, furnace oil, diesel, and other fossil fuels will benefit immensely from its deployment."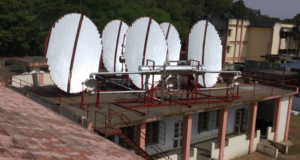 Solar steam cooking system consisting of Scheffler dishes for cooking 400 to 500 meals daily for an Indian army camp in Pune, southern India Photo: Sunrise CSP
Big Dish system saves 1,000 kg biomass briquettes on a sunny day
With its high concentration ratio a Big Dish reaches a thermal output of around 400 kW and provides around 400 kg steam per hour for seven hours a day. The Big Dish plant has an aperture area of 450 m2. It provides steam with up to 400 °C at 40 bar, according to Pranav Gadhia, CEO of Sunrise CSP India.
In the hospital, which has 2,000 beds, nearly 70 % of the heat requirement for washing, cooking and sterilisation will be covered by solar steam according to the project developer. This leads to a saving of about 1,000 kg of biomass briquettes on a sunny day informs Sunrise CSP India. Two tanks with a total capacity of 6,000 litres store the steam as pressurised hot water to allow provision of heat to the hospital even after sunset. Briquettes will now mainly be used as back-up during non-sunny days.
The hospital already has sorption chillers for the air-conditioning, which could be also run by solar steam in the future. The Sunrise CSP team estimates that eight additional Big Dish units would be necessary to provide the 1,000 TR cooling capacity.

This landscape is taken from the video that Sunrise CSP produced about the first Big Dish system installed in India Source: https://www.youtube.com/watch?v=6n3sPMl5vUs
| | |
| --- | --- |
| Aperture area | 450 m2 |
| Type of mirror | 1 mm thick glass mirror is bonded to a sandwich consisting of a layer of galvanised steel, a thin layer of wood and a second steel sheet layer |
| Mirror area | 380 mirrors of 1.17 x 1.17 m = 520 m2 |
| Thermal capacity | ~400 kW at DNI 900 W/m2 |
| Land area for one dish unit | 625 m2 footprint |
| Range of operating temperature | Up to 400 °C |
| Range of pressure | Up to 40 bar |
| Heat transfer medium | Water / steam |
| Receiver type | Direct steam receiver |
| Total weight | 26 tons |
Key technical parameters of the double-axis tracking Big Dish unit. Source: Sunrise CSP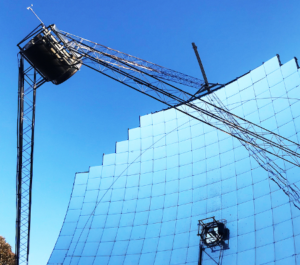 The direct steam receiver is fixed in the focal point of the mirror field. The mirrors were imported from stock at Sunrise CSP Australia. The rest of the components were designed and manufactured in India. Photo: Sunrise CSP
Websites of companies mentioned in this news article:
Sunrise CSP: https://sunrisecsp.com/
Muni Seva Ashram: https://www.greenashram.org/
Video on the Big Dish system: https://www.youtube.com/watch?v=6n3sPMl5vUs