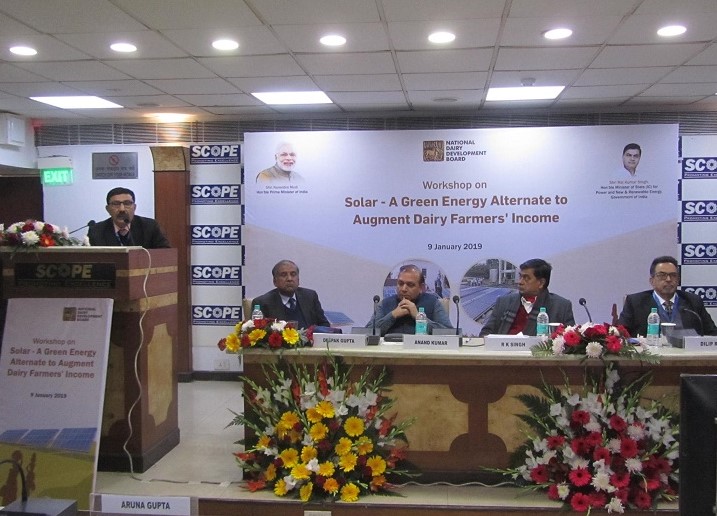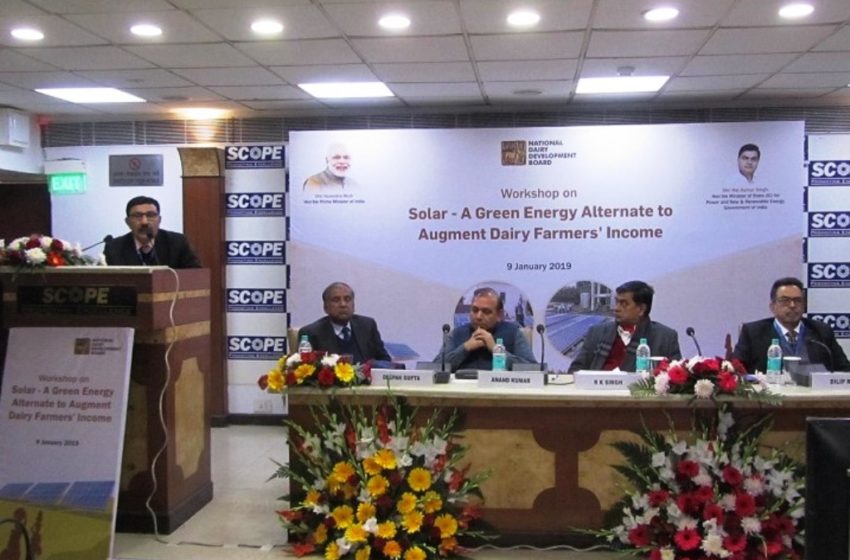 Concentrating solar heat for dairies in India
A one-day workshop titled Solar – A Green Energy Alternate to Augmented Dairy Farmers' Income has given stakeholders a chance to discuss how to increase solar heat use in India's dairy industry. The workshop, which took place on 9 January in New Delhi, had been organised by the National Dairy Development Board (NDDB), an association that supports and funds producer-owned dairies. In his opening remarks, India's Minister for Power and Renewable Energy Raj Kumar Singh (second from right) expressed satisfaction with the initiative started by NDDB and said he hoped to see inexpensive and innovative solar thermal technologies being developed to meet heating, drying and cooling needs and tackle climate change.
Photo: STFI
India is the world's largest producer of milk and milk products. More than 1,200 small, medium and large dairies in the country process 177 million tonnes annually and 60 % of that processing capacity is owned by cooperatives. The cost of energy accounts for nearly 30 % of production expenses, with 70 % of that share being paid for heat. The industry cools, pasteurises and packages liquid milk and makes value-added products, such as butter, ghee (a type of clarified butter), milk powder, cheese, curd, butter milk and sweets.
Consumer interests come first
Dilip Rath, Chairman of the NDDB, is convinced that solar thermal is a win-win solution for a typical dairy in India. He again said that a mandatory solar share in heat production, along with higher investment subsidies, would help dairies (see
interview with Dilip Rath
). However, the most important issue was to protect consumer interests by ensuring reliable, standardised systems were available before one could make any such proposal.
The former Secretary of the Ministry of New and Renewable Energy (MNRE), Deepak Gupta, said all dairies should substitute solar thermal energy for fossil fuels. His proposal was to establish a working committee made up of representatives for NDDB, MNRE, STFI and the Indian Institute of Technology (IIT) Mumbai to analyse the heat use of small, medium and large dairies, as well as identify the ideal concentrating solar capacity. The 15 SHIP systems currently running at Indian dairies were also to be studied thoroughly to address their weak spots.
Funding viability gaps
Another suggestion discussed at the conference was Viability Gap Funding (VGF) to reduce payback periods to three years and make industrial solar heat economically attractive. The VGF programme was designed by the Indian government in 2004 to support public-private partnership projects that are economically justified but not financially viable. A typical grant covers up to 20 % of the capital cost of a project. So far, VGF has mostly been used to fund infrastructure.
Other suggestions that emerged from the discussion were:
Create a policy paper to mandate a certain proportion of heat to be produced from solar thermal energy so as to generate demand. Capital subsidies would be driving growth and encourage dairies to comply.
Study the Energy Service Company (ESCO) concept to make upfront investments less of a burden on dairies.
Hold five awareness workshops in five different locations that show a high concentration of dairies in order to share the benefits of CST use.
Organisations mentioned in this article: