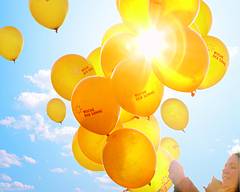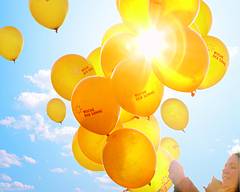 European Solar Days Expect more than Half a Million Participants
Grassroots campaign drums up enthusiasm for clean energy: From Tuesday, 1 May, to Sunday, 13 May, hundreds of thousands of European citizens are gathering at locations all across the continent to show their interest in solar energy during the European Solar Days (ESD). At hundreds of events, the ESD will demonstrate to audiences, such as policy makers and companies – but particularly to individual citizens – the benefits of using solar energy to generate heat and electricity. The nearly two-week campaign includes showcasing solar thermal and solar PV technologies, trainings for company staff, doors open days, street events for children, balloon release and many more.
Photo: Fotostudio Pflueg
In addition to the Europe-wide events, which expect to welcome more than 500,000 visitors in 20 countries, there will be a special event for stakeholders in Europe's political and industry affairs, which will take place in Brussels on Thursday, 10 May. This roundtable – entitled, "Solar Citizens: People in charge of their energy future" – is going to highlight the policy changes needed to further integrate solar energy across Europe.
Over the course of the last decade, solar energy has, for many households, become a crucial source of clean, decentralised energy in a more and more diversifying European energy market. Solar thermal systems with approximately 26 GWth had been installed in Europe until the end of 2011, according to the European Solar Thermal Industry Federation (ESTIF). "Strong and growing demand for solar energy is an important factor for developing an innovative and sustainable Europe," Xavier Noyon, Secretary General of ESTIF, says. "Solar thermal and photovoltaics are key industries for the European economy and for reducing CO2 emissions."
The European Solar Days were first launched at a national level in Austria in 2002 as the "Day of the Sun". The idea was then taken up by Switzerland in 2004, and, subsequently, by Germany in 2006. In May 2008, 13 European countries celebrated the first European Solar Days by, all in all, hosting more than 4,000 different events. The ESD has gradually become a joint effort of thousands of local event organisers across all cooperating nations – from solar equipment manufacturers to schools and local authorities. In 2011, the increasing support for solar energy was demonstrated by the more than 8,000 events organised in 19 countries throughout Europe. They attracted about half a million people.
The 5th edition of the ESD is organised by ESTIF, in cooperation with the European Photovoltaic Industry Association (EPIA) and a network of affiliated organisations, including NGOs, businesses and local governments. It will also be supported again by the European Commission's Intelligent Energy Europe (IEE) programme.
More Information:
http://www.estif.org
http://www.solardays.eu