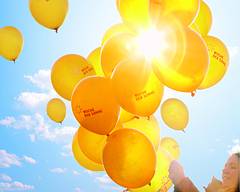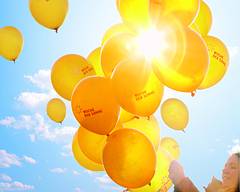 European Solar Days: Around 6,600 Events in 17 European Countries
Everything revolves around the sun: 17 European countries participate in the 3rd edition of the European Solar Days from 1 to 16 May 2010. Around 6,600 events are planned for this year's campaign, involving several hundred thousand citizens at a local level.
Photo: Fotostudio Pflueg
For the 3rd edition of the European Solar Days from 1 to 16 May 2010, the European Solar Thermal Industry Federation (ESTIF) expects over half a million citizens to attend around 6,600 events in Austria, Belgium, France, Finland, Germany, Ireland, Italy, Hungary, Norway, Poland, Portugal, Serbia, Slovenia, Spain, Sweden, Switzerland and The Netherlands.
The Europe-wide campaign, which promotes the use of solar energy for the generation of electricity, heat and cold, was first launched on a national level in Austria in 2002 as the "Day of the Sun". The idea was then taken up by Switzerland in 2004 and Germany in 2006 and in May 2008, 13 European countries celebrated the first European Solar Days, hosting more than 4,000 different events altogether. The Days have gradually become a joint effort of thousands of local event organizers across all cooperating nations – from solar equipment manufacturers to schools and local authorities.
Following the adoption of the European climate and energy package, which targets a 20% share in renewable energy within Europe by 2020, German Chancellor Angela Merkel became the patron of this year's campaign "Woche der Sonne" in Germany, with 4,000 events being hosted in the mid-European nation alone. In Paris, several main events are going to take place in partnership with Maison de l'Europe in front of the city hall on 7, 8 and 9 May. Citizens from all over Europe are welcome to join the events and directly contact the event's organisers on http://www.solardays.eu.
"The mobilisation of event organisers at the local level is impressive and has been growing from year to year," Richard Loyen, Secretary General of French association ENERPLAN, says. "Our group "Journées européennes du Solaire" has now exceeded 1,000 friends on Facebook and we are set to celebrate around 1,500 events in France this year."
In Brussels on the other hand, the European Renewable Energy Council (EREC) is going to host the "Buildings for the future" conference on 6 May 2010. It will focuses on how to combine the use of renewable energy sources with improvements in energy efficiency and provide an opportunity for sharing ideas, enter into discussions with other professionals and strengthening relations between the renewable energy industry and the buildings sector. The key issues of the programme are
the EU policy framework regarding the energy performance of buildings,
the momentary situation of energy efficiency and renewable energy solutions for newly and already constructed buildings
and an EU outlook on energy-smart buildings.
The European Solar Days are coordinated by ESTIF in close co-operation with the European Photovoltaic Industry Association (EPIA) and are supported by 25 national and European organisations.
More Information:
http://www.solardays.eu
Registration for the conference "Buildings for the Future" in Brussels:
http://www.erec.org
The European Solar Days are official partner of the Sustainable Energy Europe Campaign:
http://www.sustenergy.org