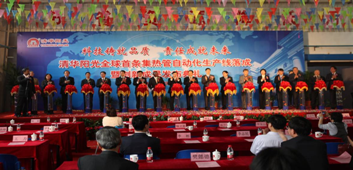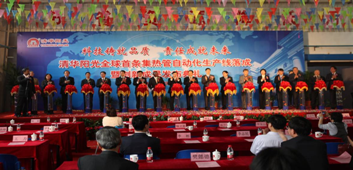 China: Fully integrated Vacuum Tube Production Line now also at Tsinghua
Tsinghua is the fifth Chinese manufacturer to inaugurate an almost fully integrated vacuum tube production line. At the end of April, the company based in Beijing invited stakeholders from politics, research and the solar thermal sector to visit the factory. Himin was the first to commission automated production lines in Dehzou in 2009. The Linuo Group celebrated the opening of its new factory in Zhangqiu, Jinan province, in July 2010. Sunrain/Micoe followed in October 2010 with the inauguration of a new factory in Luoyang, Henan province. And Sunshore has produced vacuum tubes at its new factory site since the beginning of the year 2011. Photo: Tsinghua
According to a Tsinghua press release, the new production line in Beijing has an annual capacity of ten million tubes per year. To convert tubes into square metres of collector area, it is common to calculate the area of a tube with 0.1 m2 and multiply the tube cross area times 1.5. Accordingly, 10 million tubes correspond to a collector gross area of 1.5 million m2.
The new production line is 80 % automated. All production steps from cleaning the glass tubing, to coating, sealing, evacuating and packaging are performed on one line. The only two manual steps in the production chain: filling the carriers, in which the tubes stand vertically, and sliding the inner into the outer glass tubes after coating.
"In our new factory, we also produce the all-glass heat pipe," Jiao Jiwen, Manager of Tsinghua's international trade department, explains. "It is a popular product which already makes up 10 % of our production." The all-glass heat pipe was developed by Zhiqiang Yin, a former professor at Tsinghua University, and was presented for the first time at the ISES Congress in Beijing in 2007. It is a coated double-glass tube, closed at the top and featuring a glass condenser. It is filled with a small quantity of heat transfer medium. At present, the tubes are only used in non-pressurised thermosiphon systems. "The companies holding the patents for the all-glass heat pipe are Tsinghua and Huayang, both being run by former students of Prof Yin," explains Jiwen.
More information:
http://www.thsolar.com/