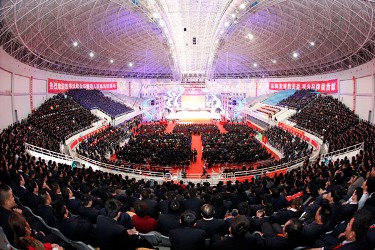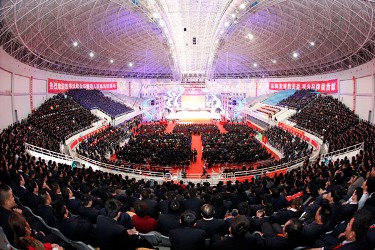 China: Micoe celebrates 10th Anniversary with 5,000 Guests
The 10-year anniversary of solar water heater manufacturer Micoe Solar Energy in China was accompanied by major news and events: The manufacturer, founded 2000 in Beijing, opened a new factory in the city of Luoyang in Henan province, at which it produces vacuum tubes with a new absorber coating. And, according to a recent household survey, Micoe is the second most popular solar brand in China.
Photo: Micoe
The 10th anniversary celebration took place at the new factory site in Luoyang at the beginning of December. About 5,000 guests came, among them more than 4,500 from Micoe's distribution partners. The new production unit for vacuum tubes started its pilot production in June last year. "The innovative feature is the absorber coating," Micoe President Li Jun explained in an interview with the international magazine Sun & Wind Energy. "This new, red and violet coating is a further milestone in the development of coatings for vacuum tubes".
The picture taken at the beginning of 2011 shows the new factory for vacuum tube and vacuum tube collector production with 2,000 employees at Luoyang. Micoe's long term extension plans for the midwest industry site foresees a total capacity of 27,000,000 vacuum tubes. Among the four planned full automated production lines, two are already in operation.
Photo: Micoe
"Luoyang is going to become the largest, most technologically advanced and complete industry park of the solar thermal industry in China," Marketing Manager Ryan Chan explains. The company purchased an industrial area of 154,000 m2 and will invest RMB 4.5 billion (about EUR 0.5 billion) to reach the planned long-term annual production capacity of 27 million vacuum tubes and to build up a research department.
 
The average gross area of a tube is 0.1044 m2 (58 mm * 1800 mm), which means that 27,000,000 tubes correspond to a tube area of 2.8 million m2. Chan recommends a conversion factor of 1.5 to convert gross tube area into gross collector area. Hence, the company´s long-term production capacity at Luoyang translates into 4.2 million m2 of collector area.
According to the annual survey for the World Map of the Solar Thermal Industry carried out by German agency solrico, Micoe has increased its output of vacuum tubes by 60 % in 2010, from 1.1 million m2 in 2009 to 1.78 million m2 in 2010. Even with the high sales volume set for 2010, the company fulfilled its stated goal of producing all vacuum tubes in-house last year. In recent years, the company had purchased half of its vacuum tubes from other Chinese suppliers.
Micoe is a well established brand in China and is ranking high in the eyes of the population. According to a survey carried out by the China Household Electrical Appliances Association (CHEAA) among households, Micoe ranks second in popularity with 26 %, following Sunrain with 28.3 %. Third is Himin with 24.1 %.
Although Micoe is part of the Sunrain group, the two companies Sunrain Solar Energy and Micoe are being run completely separate, both operatively and in terms of financial management. The Sunrain Group is by far the biggest business in the solar water heater market in China – and worldwide.  Together, the two brands cover a market share of around 20 % according to the statistics of CHEAA. The data come from the subsidy programme Home Appliance Information System that reduces solar water heaters in rural areas by 13 % (percentage of the VAT) and covers approximately 75 % of the market.
More information:
Report on the CHEEA survey: http://www.cheaa.com/Product/SP/HangYe/2011-1/267972.html
http://www.micoe.com
http://www.sunrain.com
http://www.sunwindenergy.com
http://www.solrico.com