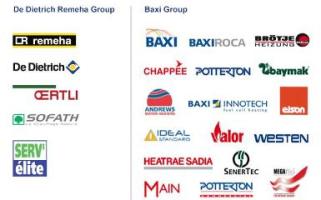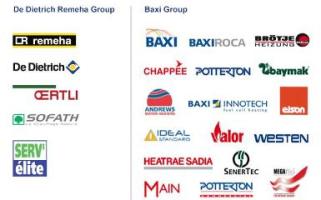 BDR Thermea: A new European Heating Giant
Together, De Dietrich Remeha Group and Baxi Group have just established BDR Thermea, the third largest heating corporation in Europe. Five solar brands are part of the newly founded company: De Dietrich, Oertli, Baxi, Baymak, Brötje.
Figure: BDR Thermea
The time for mergers within the European heating industry is not over yet. At the beginning of November, De Dietrich Remeha Group and Baxi Group announced the formation of BDR Thermea, a new company focussing on heating technology, hot water solutions and services. After receiving the necessary competition approvals from the European Commission, the transaction is now complete. The newly founded company has a total turnover of EUR 1.8 billion for 2008, catapulting it to number three in the ranking of the largest European heating corporations (see the following table).
 

Turnover 2008

Number of employees worldwide

Sites of solar collector factories

Website

Bosch Thermotechnik, Germany

3 billion EUR

13,000

Wettringen (Germany) and Aveiro (Portugal)
http://www.bosch-thermotechnology.com/

 

Vaillant Group, Germany

2.44 billion EUR

12,912

Gelsenkirchen

(Germany), and Nantes (France)
http://www.vaillant-group.com/

 

BDR Thermea, Netherlands

1.8 billion EUR

6,400

Istanbul

(Turkey) and Fabrigas (Spain)
http://www.bdrthermea.com

 

 

Viessmann

, Germany

1.7 billion EUR

8,600

Falquemont (France)

http://www.viessmann.com

 

Ariston Thermo Group, Italy

1.2 billion EUR

6,800

Serra de' Conti, (Italy) Pune (India) and Wuxi (China)

http://www.aristonthermo.com

 
The European heating giants
Source: Company statements

The two companies will merge based on a share for share model, in which Baxi Group shareholders, as minority partners, will invest around EUR 100 million in additional equity into the new group, with the Remeha Group B.V. holding the majority. The corporation's new headquarters are located in the Netherlands.
As for the solar thermal business, BDR Thermea now handles the two collector factories of the former Baxi Group in Istanbul, Turkey, and Fabrigas, Spain. The Turkish plant runs under the name of Baymak and is a 50/50 joint venture of the Turkish CEO and the BDR corporation. "Baymak will keep its name and its position," assures Tacnur Yilmaz, Baymak´s Export Deputy Manager. The factory in Spain is under construction and is planned to come into operation this December.
The Remeha group has not had any collector facility until now. Its own solar thermal brands are De Dietrich and Oertli. Jose Antonio Perez, Baxi's former Group Product Manager Solar, has not been available to answer questions about the future of these solar thermal brands within the new company.
BDR Thermea's website does not offer any information on the solar thermal sector. With regard to the general heating business, it states that the new company will have the top market position in six key countries: UK, France, Germany, Spain, the Netherlands and Italy.
More information:
http://www.bdrthermea.com