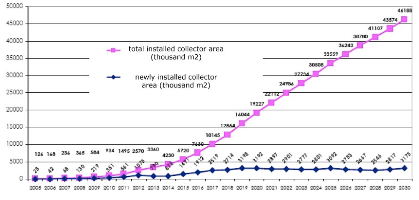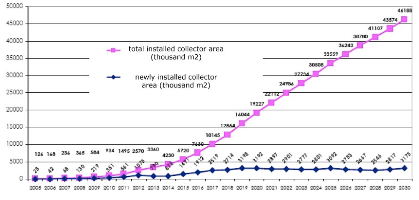 Poland: "Wind of change" blowing for Solar Thermal
While in most of Europe the solar heating and cooling market has been suffering from a decline in sales since 2009, Poland has experienced a slight growth in its national industry. According to data gathered by ESTIF (European Solar Thermal Industry Federation), Poland was the 8th largest market for solar collectors in 2010. It has not had significant lows in newly installed collector area since 2000, but still needs a big jump forward to reach the target of 20 million m2 in 2020 (see chart). Solarthermalworld.org talked to Janusz Starościk, head of the Polish heating organisation SPIUG, which has made the push for solar energy part of its agenda.
Source: IEO EC BREC
Although solar water heaters are not an unusual sight on Polish roofs, the huge potential of solar energy has hardly been tapped. Flat plate collectors – mostly with harp type absorbers – are the most common type of collectors in Poland, making up about three quarters of the market, according to ESTIF. Data by Polish company Institute for Renewable Energy (IEO EC BREC) shows that there are currently 656,000 m2 (450 MW) of solar collectors installed in Poland, of which 146,000 m2 (102 MW) were newly added in 2010 – a slight increase compared to the 144,000 m2 (101 MW) set up in 2009 and the 130,000 m2 (91 MW) in 2008..
SPIUG, which was founded in 2005, represents most of the biggest players in Poland's heating industry: Ariston, De Dietrich, Ferroli, Hewalex, Immergas, Junkers, Wolf, Stiebel Eltron, Vaillant, Viessmann. "We focus on the quality of our commitment, not the quantity of members," Janusz Starościk says. "A small but strong group has a better chance of working together successfully than a big organisation whose members have quite different ideas and objectives ."
Although SPIUG does not intend to become a big organisation in terms of the number of members it has, Starościk emphasises the importance of cooperating with other groups that have similar interests. One of them is Solar Panel 20×2020, which was founded by IEO EC BREC and the Polish Economic Chamber of Renewable Energy (PIGEO), and in which many of Poland's around 40 solar thermal companies are organised. "We have an excellent relationship with Solar Panel 20×2020," Starościk says. In addition, there are the Polish Solar Energy Society (PTES) and the Polish Sanitary, Heating, Gas and Air-Conditioning Technology Corporation (SGGiK).
SPIUG sees the promotion of solar heat as one of its primary objectives. "Solar collector technology is one of the main product groups which all our members have in their portfolio," Starościk explains the importance that solar energy has for the organisation. One example of SPIUG´s work was the improvement of the incentive scheme for solar collectors of end users. The scheme had been introduced in 2010 and was changed in January 2011, with SPIUG supporting the changes in the programme by gathering company feedback and providing a statement to the National Fund for Environmental Protection and Water Management (NFOSiGW), which is responsible for the programme. "Not all of our suggestions were included, but the ones that had been were sufficient for giving the programme a good start," Starościk says. Although there are still some points of the scheme which solar thermal companies see as quite big hurdles to further growth (see http://www.solarthermalworld.org/node/2892), Starościk is optimistic. " There are around EUR 75 million to be distributed by 2014 and there is a good chance that our suggestions will not fall on deaf ears – so SPIUG will stay in close contact to NFOSiGW," he says.
According to the country's National Renewable Energy Action Plan, Poland has one of the EU's most ambitious targets for its national solar thermal market. It has agreed to substitute 7.5 % of overall fuel consumptions by renewable energies by 2010, 15 % by 2020 and 20 % by 2030. IEO EC BREC's Solar Panel 20×2020 has set a goal of 20 million m2 of totally installed solar collectors by 2020 (http://www.solarthermalworld.org/node/791). Looking at the data gathered over the last years, this will prove to be quite a challenge: Of the 20 million m2, more than 19 million have yet to be installed, meaning an average of 1.9 million m2 of newly installed collectors per year over the next ten years – or ten times more than in the last years. To bring about the 'energy turn', all players will have to work closely together. But there seems to be some movement in politics: "As a board member of several conferences and advising teams of government organisations, I could feel a `wind of change` blowing. And there is actually a big potential for solar technologies in Poland," Starościk says.
SPIUG: http://www.spiug.pl
Solar Panel 20×2020: http://www.ieo.pl
Polish Solar Energy Society PTES: http://ptes-ises.itc.pw.edu.pl/indexEN.html