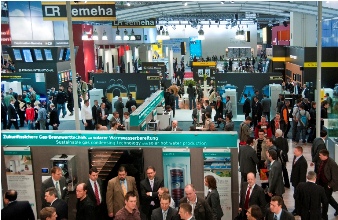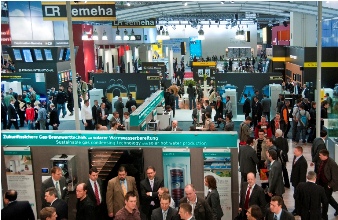 ISH 2011: Solar Trends in the Heating Industry
The ISH is becoming increasingly international. At the beginning of this March, the world´s largest trade fair for bathroom, building, energy and climate technology in Frankfurt, Germany, has counted significantly more international visitors than ever before. 35 % of the 204,000 trade visitors came from abroad (2009: 29 %), whereas the total number of visitors almost stagnated (+1.5 %). The ISH is the trade fair of the European heating industry. The five largest corporations – Bosch Thermotechnik, Vaillant, Viessmann from Germany, BDR Thermea, Netherlands, and Ariston from Italy – dominated Hall 8 with huge stands. Solarthermalworld.org presents some of the trends it discovered in the solar thermal product portfolio of Europe's heating business.
Photo: ISH 2011
Shift towards aluminium absorber plates: Viessmann was the first to start offering collectors with only laser-welded absorbers two years ago. BDR Thermea's production unit in Spain also assembles collectors with laser-welded absorbers, which will now enter the German market on 1 May under the brand name Remeha. Bosch Thermotechnik, the largest heating company in Europe with a total turnover of EUR 3.1 billion in 2010, has shown on the ISH its new generation of flat plate collectors which feature an ultrasonic-welded aluminium absorber sheet. Only the new Ariston collectors sold in Germany, France and Switzerland since December 2010 under the brand name Elco possess an ultrasonic-welded copper absorber.
Shift towards polyester fleece insulation for tanks: Bosch and Viessmann have presented tanks with removable polyester fleece as insulation material instead of the so far commonly used PU soft foam. Its advantages: lower thermal conductivity, perfect fit around the tank and lower flammability.
Keeping the tank warm and saving installation time: Viessmann launched a time-saving insulation jacket closure system with a new polyester fleece.
Photo: Bärbel Epp
New collector production capacities outside Europe: To expand on the world market, the European heating industry is inaugurating new collector factories outside Europe. Vaillant has already started producing collectors in Turkey at the beginning of 2010, at the factory of boiler manufacturer Demir Döküm, which the group purchased in 2007. The company uses a roll-bonding process with a coating developed in-house. Bosch Thermotechnik announced to start collector production in Bangalore, India, and Campinas, Brazil, in 2012.
System solutions occupy large spaces: Installers, as well as costumers want to receive information about complete renewable heating and hot water solutions – and for different application areas, too. Visitors to the ISH have not been disappointed: A particularly favourable combination has proved to be heat pumps plus solar thermal systems.
Integrated into the wall of an Italian home: The hot water system Ceraclass Smart-Incasso, including a heat pump and a solar system, has been developed for the Italian market, for a country in which heating technology is often integrated into the outside walls of the house.
Photo: Bärbel Epp
More information:
http://www.bosch-thermotechnik.com
http://www.vaillant.com/
http://www.viessmann.com/com/en
http://www.bdrthermea.com/home.html
http://www.aristonthermo.com