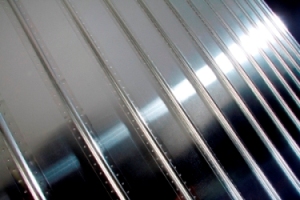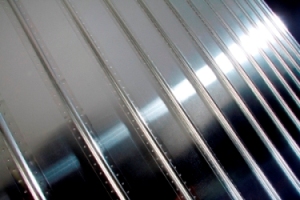 Austria: Clinched Aluminium-Copper Absorber with omega-form Sheet
New absorber production process: The so-called Omega absorbers by Austrian company Estec Energiespartechnik Süd consist of coated aluminium plates, harp-type copper pipes and omega-form aluminium sheets. In order to join plate and sheet, the company uses an entirely automated clinching machine developed by Austrian machinery supplier RG Fertigungstechnik.
Photo: RG Fertigungstechnik
"We are satisfied with our new absorber production," Martin Wilhelmer, Estec´s Sales Manager, confirms. Estec used to purchase all of its collectors from Austrian OEM manufacturer Greenonetec, but reached a sales volume that made it possible for the company to start its own collector production. In mid-2009, the Austrian solar thermal system supplier finally decided to produce the collectors in-house. After that, everything went quite fast. Austrian machinery supplier RG Fertigungstechnik delivered and set up the clinching machine prototype this April. "After testing the machine during a pilot phase, we are now officially in serial production," confirms Wilhelmer.
The clinching machine is fed with the absorber plate, and the omega-form sheet that already encloses the harp-type pipe. The clinching process itself is fully automated. The machine can do 96 buttons per cycle, which means about 8 minutes for one absorber of 2.5 m2. "We have designed the production line for an annual capacity of 100,000 m2 in three shifts," explains the sales manager. If necessary, the number of buttons per pass can be increased to up to 196.
What are the system's advantages? The fairly loose connection between the aluminium sheets and the copper pipe allows for different thermal expansions of pipe and absorber plate, keeping material stresses at a minimum. According the RG Fertigungstechnik, the production processes does not create any undulations, but a higher stiffness thank to the omega-form sheets. And, because the omega-form sheet and the absorber plate completely surround the copper pipe, heat conductivity is at its maximum.
Roland Grubelnig, Managing Director of RG Fertigungstechnik GmbH, confirms that the company has already received orders from other collector manufacturers to set up automated clinching machines tailored specifically to their requirements.
More information:
http://www.estec-solar.at
http://www.rg-fertigungstechnik.at/