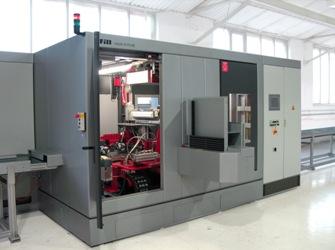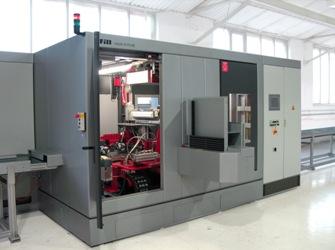 Norway: Infrared Welding Machine Completes Automated Polymer Absorber Production
Aventa's automated production line for polymer-based solar thermal absorbers is now complete. Austrian machinery supplier FILL has just delivered the last component to the Norwegian company: an infrared welding machine, which is used to join the extruded absorber sheets to the injection-moulded end caps and form a 100 % polymer absorber. According to a press release from the middle of January, the machine has an annual capacity of 40,000 m2 of collector area per shift.
Photo: Aventa
The press release also described the development of the production line as very demanding. "Even after a few years of technological 'renaissance' in the infrared welding of plastics, repetitively joining polymer sheets to large extruded absorber panels represented a considerable challenge," Jörg Vetter, materials and process specialist at FILL, confirms. It took two years to design and install the machine in Aventa's Holmestrand factory.
The machine makes the most important process of solar collector production fully automated: the joining of end-caps and absorbers (see the photos below). Both parts come from OEM suppliers specialised in polymer process extrusion and injection moulding. Using an infrared welding technology based on medium wave metal-foil emitters reduces the time for the entire process to around two minutes per panel. The challenge was to design a welding machine which could process large absorbers, because Aventa focuses on solutions with absorber lengths of up to 6 m.
Photo: Aventa
Aventa's company director, John Rekstad, has been satisfied with the cooperation between FILL and his company. "We needed to increase our production speed and, at the same time, move away from manual processes. We now have a very efficient production process, which always guarantees a 100 % product," says Rekstad.
Aventa was founded in 2005. The company provides integrated solar heating systems for a wide range of applications. The manufacturing process developed in cooperation with Chevron Phillips Chemicals, Belgium, and Kaysersberg Plastics, France, allows Aventa to offer solar collectors made of high-performing plastic materials, called Polyphenylene Sulphide (PPS).
FILL is a leading international machine and plant manufacturing company whose now more than 550 employees offer solutions to many business segments, such as to metal, plastics and wood in the automotive industry, to aerospace development, to the renewable energy, the sports and the construction sector. The company is the global market leader in ski/snowboard production machines.
More information:
http://www.fill.co.at.
http://www.aventa.no