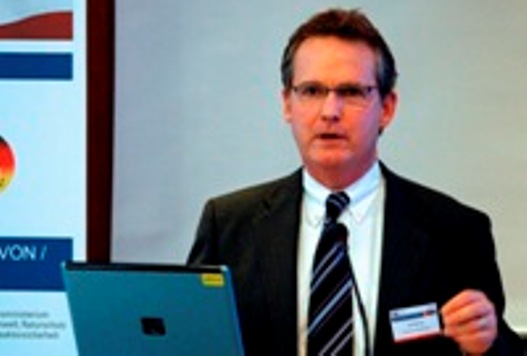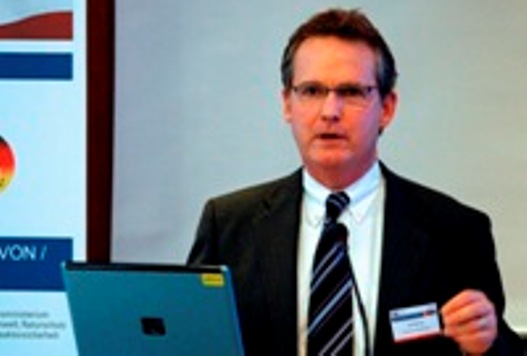 USA: Sunny Outlook after a stagnating Market in 2009
The discussions at the 2nd German-American Energy Days in Berlin this March dealt with the opportunities and challenges of the US solar thermal market: Ed Murray (Aztec) presented the insights he gained from studying its development.
Photo: AHK USA/dena
"The overall consensus is that installations in 2009 were flat or even slightly lower," Ed Murray, President of California-based solar thermal system provider Aztec Solar, stated in his presentation. Besides the difficult economic and financial situation of the United States in 2009, the various speakers pointed to other difficulties, which might have been responsible for the slowdown of a market that still grew by 40% in 2008.
According to Murray, one of the reasons is the delay in introducing the Californian support scheme: After a two-year pilot phase, the Californian Public Utilities Commission published its final decision on a state-wide incentive programme for solar thermal technology running until 2017 in January 2010. The programme will start in May 2010, at which point private home owners can apply to receive a subsidy for a solar system installed on or after the 15 July 2009. Applications by commercial users will be accepted from June 2010 on. Once the solar thermal incentive schemes are rolled out, we will see the "gold rush" in California", said Murray. "I think that California is the new frontier for solar thermal".
"The support measures included in the stimulus package that was approved at the beginning of 2009 have not had an effect until know due to the large bureaucracy," Raoul von der Heydt, Managing Director of Berlin-based system integrator Phönix Sonnenwärme, said. His company has planned to set up projects for public buildings, social institutions and schools, in total worth USD 1 million – all delayed because of paperwork. Von der Heydt is optimistic that the matter will be resolved within the coming months.
"The most important bottle neck is the training of installers," Adam Farrell, co-founder and CEO of New York-based solar thermal wholesaler Silicon Solar, says. His company has trained 1,500 installers from all around the country over the last years. Silicon Solar also launched their solar thermal trademark SunMaxx in 2006, based on an imported vacuum tube collector from China and has, since then, experienced a tremendous increase in its demand.
Apart from the still existing difficulties, there were also some good pieces of news to be announced on the conference, which have resulted in general optimism about how the market might develop in the coming years.
The New York Solar Thermal Consortium (STC) agreed on an incentive programme with a budget of approximately USD 160 million, which should have subsidised 2.4 million m2 of collector area by 2020. "We will set the level of subsidy so that the payback time for residential home owners is no more than five years," explained Farrell. The proposals will be presented to the state government later this year and the incentive programme is planned to come into effect in 2011.
Matthew Horowitz, Manager of Government Affairs at the US-American Solar Energy Industries Association (SEIA), remarked in his presentation that national Renewable Portfolio Standards (RPS) are currently being discussed in Washington. It has so far been the state governments' responsibility to set the quotas for electricity produced by renewable energy sources, which the utilities in the respective state then have to fulfil. The RPS under consideration is going to be part of a comprehensive energy bill also containing quotas on fossil fuels for heating and cooling. It could make solar thermal technology a more appealing alternative for energy providers. According to Horowitz, it is likely the bill will be introduced within the next weeks and could already come into force at the end of this year.

More information:
http://www.gae-conference.com
http://www.seia.org
http://www.aztecsolar.com
http://www.solarhotwater.siliconsolar.com
http://www.sonnenwaermeag.de