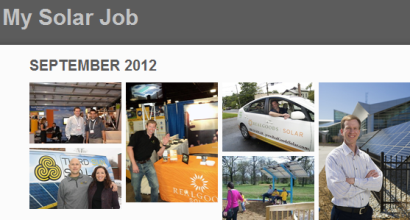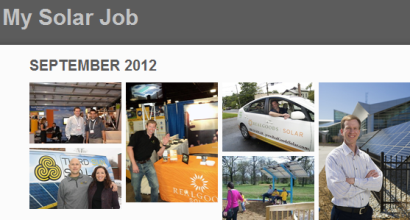 USA: Solar Heating and Cooling Gets Less Attention
The US-American solar heating and cooling industry has been receiving significantly less attention than solar electricity technologies. An example of that is the webpage "My Solar Job", which gathers profiles of people who have worked in the solar industry in the States since June 2012. So far, 148 US-Americans have posted a picture which shows them working with solar technology. Only a few of them are actually from the solar heating and cooling industry, whereas the majority works in the photovoltaic business.
http://mysolarjob.tumblr.com/
The campaign, which was initiated by the Solar Energy Industries Association (SEIA), aims to "address politicians and pundits who don´t believe that our jobs are real", as it says on the webpage. The pictures have been posted with the person's name, solar company, position and US state. SEIA is using the solar jobs website in its advocacy efforts to "tweet" it to as many policy makers as possible.
The GTM Research survey among solar thermal manufacturers and system providers has also enjoyed less attention this time: The number of filled-in questionnaires was too small. This meant that the annual report for 2011 was not officially published, but was only sent internally to survey participants in August 2012. Still, the report mentions two interesting trends that have been developing in the solar heating and cooling sector: Third-party financing for larger commercial solar thermal systems is gaining traction and solar thermal equipment imports are increasing as well – especially from China, but also from Germany.
To the first item: Third-party financing becomes necessary when solar water heating system providers want to function as an Energy Service Company (ESCO). In this case, the solar thermal system provider covers the upfront costs and then sells the solar heat to the owner of the hotel, apartment house or factory. The ESCO bills the customer the heat at a rate that represents a fixed discount off standard utility-supply energy and use all available incentives and contracts for Renewable Energy Credits. There are a few states with promising incentive conditions for this kind of commercial projects, such as North Carolina, Maryland and California, which is why the few large players in this field are situated in or near these states. In September 2011, FLS Energy from North Carolina received a USD 12 million funding from the New Energy Capital Cleantech Infrastructure Fund. In October 2011, Skyline Innovations, which is based in Washington D.C., picked up a USD 30 million investment budget from WGL Holdings, whose leading subsidiary is Washington Gas.
Second trend: The GTM Research Report 2011 quotes the values of solar thermal imports from the US International Trade Commission (see the following table).
| | | | |
| --- | --- | --- | --- |
| | Import value of solar heating and cooling equipment in 2010 [million USD] | Import value of solar heating and cooling equipment in 2011 [million USD] | Growth 2010/2011 |
| China | 6.66 | 17.66 | 165% |
| Germany | 2.84 | 3.51 | 24% |
| Others | 4.11 | 2.88 | -30% |
| Total | 13.61 | 24.05 | +77% |
The table shows a strong increase of 77% in total import value in 2011, compared to the previous year. "This number is heavily affected by a massive increase in imports from China in the third quarter of 2011. This might have to do with the expiration of the 1603 Treasury Grant Programme," the authors of the study argue in the paper. The 1603 programme allowed commercial and utility solar developers and owners to opt for a grant instead of the Renewable Energy Investment Tax Credit (ITC). The authors assume that solar water heater developers hoarded components before the end of last year. It is unclear whether this increase in import value correlates directly with installations. At least, the figures show that solar thermal technology gets the full attention of US import companies.
http://www.seia.org
http://www.greentechmedia.com/research/