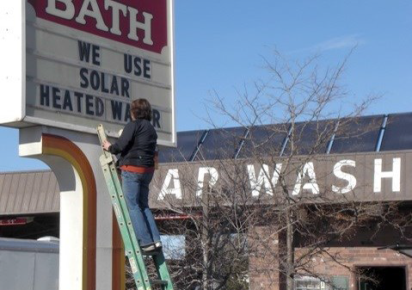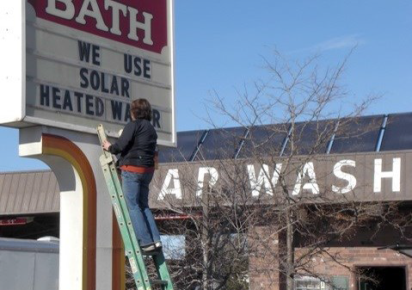 USA: Saving Money with Solar Heat – A Brochure Highlights 27 Commercial Case Studies
"We use solar-heated water," says a large advert sign in front of the Buggy Bath Car Wash in Bozemann, in the US state of Montana. The owner decided to install a solar water heater system not just to save money, but also to attract customers. The drainback system with eight collectors from Californian manufacturer Sunearth cost around USD 11,900 after incentives and saves around USD 1,400 annually. The payback period is estimated at 8.5 years. This solar car wash is one of 27 commercial solar heating and cooling case studies which were described in a new study released in October 2014 by the Solar Energy Industries Association (SEIA). The report is the first of its kind and focuses on the technical, as well as the economical aspects of the installations.
Photo: SEIA
The report is titled Saving Money and Energy: Solar Heating & Cooling Is Paying Big Dividends for US Businesses and includes a large variety of satisfied clients, such as breweries, multi-family house owners, schools, universities, hotels, as well as one prison. The brochure lists the companies involved, the size of the system, the total investment, the estimated annual savings, as well as the payback period for most projects and also highlights the tremendous incentives which investors in solar thermal technology enjoy in some US states. The three selected projects shown in the following table achieve payback periods of 4 years or less and are subsidised with up to 90 % of the investment costs.

| | | | | | |
| --- | --- | --- | --- | --- | --- |
| Project, State | Demand | Number of collectors, supplier | Estimated total costs before / after incentives | Estimated annual savings | Payback period, including incentives |
| Nomad Aquatics & Fitness, North Carolina | Heating of two indoor pools by use of unglazed collectors | 269 collectors, Aquatherm Industries | USD 200,000 / 130,000 | USD 96,000 | 1 year |
| Battenkill Valley Creamery, New York | Preheating water at bottling facility and dairy farm | 20 collectors, Radiant Store | USD 56,000 / 6,000 | USD 4,700 | 1.5 years |
| Stapleton-Spence Packing Company, California | Preheating water for processing and packing dried plums | 500 collectors, Fafco | USD 800,000 / USD 60,000 | USD 15,000 | 4 years |
Three of the case studies from the SEIA report, all of them with payback periods of 4 years or less
Source: SEIA
The new report, whose main topics are cost and energy savings, was created with the help of the
US Solar Heating & Cooling Alliance
, a division of SEIA. Today, the US has more than 1,700 companies which specialise in solar heating and cooling technologies. The report will certainly help to spread the news about the untapped solar heating potential in commercial application. The weak point of the brochure, however, is its missing explanation of what the total investment costs included and how the annual energy savings were calculated. To download it, click
here
.
More information: