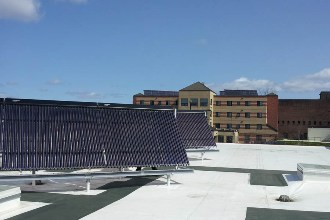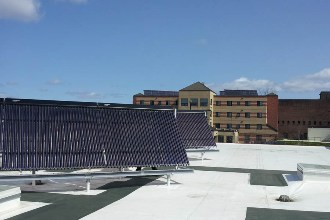 USA: Massachusetts Supports Solar Thermal in Low-income Housing
The Massachusetts Clean Energy Center (MassCEC) will continue its programme "Low-income Solar Thermal" throughout 2012. This year's budget is USD 2 million. The programme's subsidies cover the entire costs for a solar thermal system, including hardware and labour. Christie Howe from MassCEC estimates that the budget will allow for the installation of 15 to 20 solar systems in multi-family houses and other social institutions during 2012. The photo shows the solar thermal system on the Friends of the Homeless building in Springfield.
Photo: BEAM Engineering
The first Low-income Solar Thermal programme ran from November 2010 to December 2011. 16 solar systems for social houses and non-profit facilities were installed during that time. The total collector area amounted to 1,266 m².
The programme is part of a comprehensive support strategy for solar thermal energy developed by the state of Massachusetts. Besides system installations, the scheme also supports capacity building and contractor training.
The organisations in charge of programme administration are the state-wide Low-income Energy Affordability Network (LEAN) and the Action for Boston Community Development Inc (ABCD). Boston-based BEAM Engineering and company Paradigm Partners from Cambridge were selected to take care of the engineering and construction details.
To get funding for a project, social institutions have to apply to LEAN first. The institution has already received 35 applications for this year. LEAN's management will pick out the most promising projects based on criteria such as site location, the possibility to install a storage tank, hot water consumption, roof integration and the client's commitment to solar energy. LEAN was still accepting applications at the end of May.
Once a project has been selected, the LEAN management team sends out a Request For Proposal (RFP). This request will ask for most of the engineering details, such as measurements of the customer's hot water demand, a good collector location and a calculation of the required collector area. Common solar fractions range between 35 and 55 % of domestic hot water needs.
Only then will the actual installers join the process: After visiting the site, they will make their tender. Once these tenders are in, the LEAN team will review each one of them and Paradigm Partners will supervise the entire installation process.
MassCEC had good reason to design the programme as it is: The first large-scale solar installations in a region have to be a positive experience for all parties involved – for customers, as well as installers. If any one of them is left with mostly negative experiences, it may delay rather than speed up market development.
The installers that participated in last year's programme did have basic experience with solar thermal applications, albeit few had helped set up large-scale systems. According to Mike Hogan from Paradigm Partners, the situation improved significantly during the year. The results were greater consistency in tender submissions and reduced change orders. As Howe points out, the feedback of the installers was also very positive and most of them have announced to tender again for this year's projects.
All systems installed with the help of the Low-income Solar Thermal programme are monitored by the Apollo 2 software from SunReports. Many and very different systems can now be compared by using the software: Several types of flat plate and vacuum tube collectors (from, all in all, 13 different manufacturers), various storage tanks, and drain back and closed loop systems. "It will help the industry to create better systems," Hogan says.
When asked about the future of Low-income Solar Thermal, Howe sounded optimistic. "Going forward, we may also use our Low-income partnership as a platform to deploy other renewable technologies, such as geothermal or biomass thermal," she says.
The MassCEC incentive programmes are funded by the Renewable Energy Trust Fund, which is, in turn, financed through a small surcharge on the electricity bill of all customers in Massachusetts. "MassCEC recognises that about 10% of the annual contributions to the Renewable Energy Trust Fund come from low-income residents of the Commonwealth. Thus, we are committed to returning significant value to that sector in the long-term through our low income partnership programme," Howe says
In addition to the Low-Income Solar Thermal programme, MassCEC has also extended the Commonwealth Solar Hot Water programmes for both domestic and commercial applications until the end of June. If all goes well, a long-term programme will start in July.
More information:
BEAM Engineering: http://www.beamgrp.com/
Paradigm Partners: http://www.paradigm-partnership.com/lean.php
About the programme (2011): http://www.masscec.com/index.cfm/cd/NAA/cdid/12223/pid/11159
About the application process: http://www.masscec.com/masscec/file/Low%20Income%20Solar%
20Thermal%20Program%20Evaluation%200112.pdf
About ABCD: http://www.bostonabcd.org/
About LEAN: http://leanmultifamily.org/programs/energy-efficiency-work