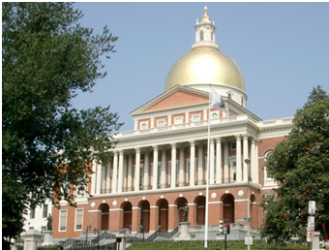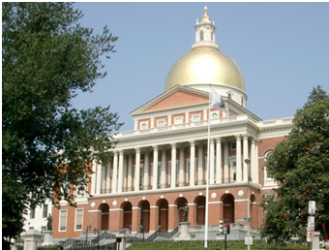 USA: Massachusetts Supports Commercial Solar Systems with up to USD 25,000
In Massachusetts, a new support programme for large-scale solar thermal systems has come into effect recently. Building owners can now apply for grants of up to USD 25,000 (residential and commercial systems) or even USD 30,000 (systems on public buildings) thanks to the Commonwealth Solar Hot Water Commercial Pilot Program. Pre-studies can also be funded with up to USD 10,000 – applicants have only to pay 25 % of the costs themselves and will receive the rest as a grant. The photo shows the Massachusetts State House in Boston.
Photo: Jens Goetzke/pixelio
"With more than 200 residential systems installed, Massachusetts has definitely one of the best incentive programmes for solar thermal in the US. So far, we have not regretted our 2010 decision to establish Wagner in Cambridge, Massachusetts," Jörg Gäbler from Wagner Solar says. Gäbler is Managing Director of Wagner Solar Inc, a subsidy of German solar company Wagner & Co. With the new programme for large systems, support for solar thermal in Massachusetts became even better. The new programme is an addition to the Commonwealth Solar Hot Water Residential Program (up to 4 residential units), which came into effect in February 2011.
Applicable projects for the Commercial Program can be residential (multi-family houses, minimum 5 units), commercial or public. The base rebates in the system are calculated by an elaborated formula that includes the entity type (public or private), the number of collectors installed and the OG 100 thermal performance rating of the collector's SRCC .
SRCC is short for Solar Rating & Certification Corporation (SRCC), an independent certification organisation. OG 100 ratings look to the collector performance in kWh/day*collector, depending on average sunshine hours and temperatures. For Massachusetts, climate type "C" and mildly cloudy weather is applicable. Without an OG 100 rating of the collector, funding will not be granted.
Besides the base rebate, applicants may be eligible for additional funding if their system consists of components manufactured in Massachusetts or if the building was affected by the tornado that hit Massachusetts in June 2011. The maximum amount for private systems (commercial and residential) is capped at USD 25,000 and USD 30,000 for public ones. For detailed calculation instructions, see the website of the Massachusetts Clean Energy Center (MassCEC).
The program has a budget of USD 1,000,000 provided by the MassCEC Renewable Energy Trust Fund. This fund is fed by a surcharge of 0.05 USD-Ct/ kWh, which customers have to pay with their electricity bill.
MassCEC has done quite a lot to make sure the systems are of high quality. The certification's technical requirements are not easy to meet, such as at least five hours of shade-free sunshine per day on the collector, a minimum of 10 years warranty on the collector and 2 years on the system's installation. According to its website, MassCEC will inspect at least one system of every new installer and any system may be subject to further inspections.
Also, every applicant will have to participate in a monitoring programme and has to install the necessary equipment onsite at its own costs. This will allow MassCEC to collect data and assess actual system performance. The data is thought to help design a larger follow-up programme.
More information:
SRCC Collector Ratings