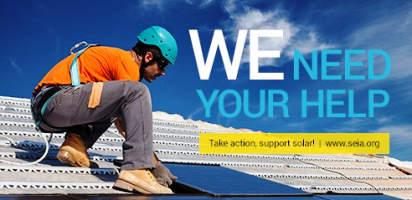 USA: Concerted Actions in California and New York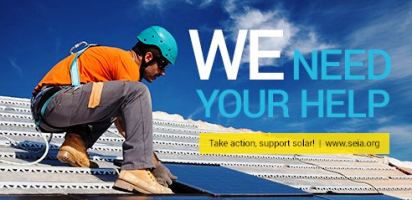 It will require concerted actions by the industry to keep solar heating and cooling on the agenda of politicians and administrators of incentive programmes in the United States. The Californian solar industry achieved a partial victory in mid-May, when the state assembly approved the extension of rebates for gas-replacing solar thermal systems under the California Solar Initiative (CSI) – Solar Thermal by 2.5 years, even though the industry had called for five. On the east coast, negotiations with the New York State Energy Research and Development Authority (NYSERDA) are still underway for a follow-up of the statewide solar water heater rebate programme, which ended in December 2016. In a policy paper published this February, NYSERDA announced it would make USD 15 million available to incentivise ground-source heat pumps, whereas rebates for solar water heaters were not planned.
Image: Solar Energy Industries Association
"To meet our statewide climate change goals, especially on the heating side of the equation, we need consistent programmes that increase access to the sun for California homes and businesses," Kelly Knutsen, Senior Policy Advisor at the California Solar Energy Industries Association, was quoted as saying in a press release published after the assembly decision on bill AB 797. "We thank Assembly member Jacqui Irwin for her strong leadership on this important issue." The original draft of AB 797 had called for an extension up to 2023. The approved version will continue the CSI – Solar Thermal rebates until 31 July 2020, and require an "assessment of the cost-effectiveness of the entire programme […] to be completed by December 31, 2019."
The
online budget statistics
of CSI – Solar Thermal show that by mid-May 2017, not even half of the funds for the natural gas-displacing portion of the programme had been spent: USD 60.6 million had been allocated or were under review, while USD 95.6 million remained. The budget for electricity-displacing systems had already been exhausted last year, so that the programme was closed at the end of 2016. Currently, CSI Thermal offers a cash rebate for solar water heaters in residential and commercial buildings and for industrial applications. This rebate can be combined with a 30 % federal tax credit.
New York State: Regular meetings with NYSERDA are important
On as many as 100 pages, NYSERDA explains its Renewable Heating and Cooling Policy Framework: Options to Advance Industry Growth and Markets in New York (see the attached document). Only the summary for solar thermal was short and disappointing: "The analysis has not identified any currently cost-effective resource in the solar hot water market," even when accounting for federal and state incentives, the authors of the study concluded. Their evaluation has drawn criticism from associations and industry representatives alike. The U.S. Solar Heating & Cooling Alliance – a division of the Solar Energy Industries Association – initiated a conference call with Donovan Gordon, Director of Renewable Thermal at NYSERDA, at the end of March. "Gordon confirmed in this call that funding for other technologies besides ground-source heat pumps is still possible and that he is interested in learning more about SHC technologies," said Chip Bircher, organiser of the monthly SHC Alliance conference calls in April. The next call with NYSERDA will be held on 5 June.
Over five years, up to 2016, NYSERDA provided USD 20.3 million to support the installation of over 1,200 residential, commercial and agricultural SWH installations, the policy paper reads. The number of solar applications had remained below expectations; however, it was still higher than the number of heat pump systems subsidised during the last 15 years. NYSERDA supported over 560 ground-source and over 530 air-source heat pumps in newbuilds or as part of major renovations based on its programme for new commercial structures.
Websites of projects and organisations mentioned in this article: