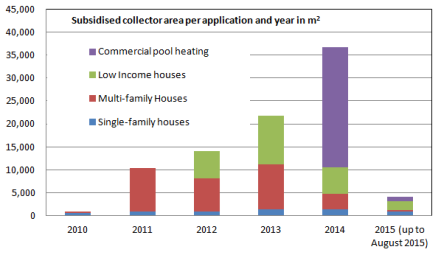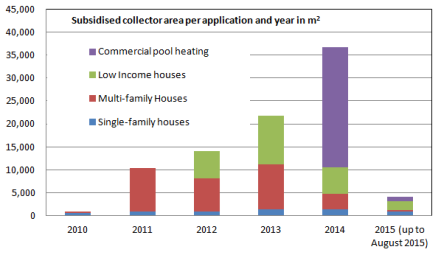 USA: Ups and Downs of Californian Incentive Levels and Application Numbers
If there were an award for the most transparent support programme in the field of solar heating and cooling, then the California Solar Initiative (CSI) – Thermal Program would get the prize. The CSI-T programme offers a regularly updated and publicly available Excel file of all submitted, approved and paid applications, and this file also includes an amazing amount of additional information, such as collector size, system supplier, contractor for the installation, total project costs or the application itself. The chart above, provided by Lewis Bichkoff, Lead Analyst of the CSI Thermal Program at the California Public Utilities Commission (CPUC), shows the subsidised and installed collector area per year. The annual volume shows significant growth from 953 m² (10,247 ft²) installed and granted during the first year to 36,641 m² (394,401 ft²) in 2014. In 2014, there was a noticeable dominance of pool heating systems, which made up 71 % of the total subsidised collector area.
Chart: CPUC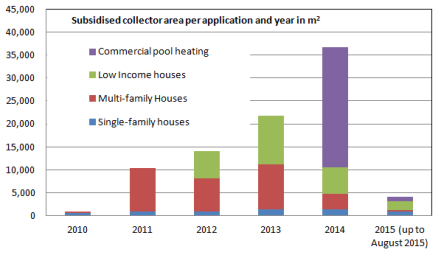 The peak is related to the postponed implementation of the commercial solar pool heating sub-programme. The
CPUC expanded
the overall programme in February 2013 by including additional applications, such as for process heating, solar cooling, and commercial solar pool heating. "It took us almost a year to agree on the level of incentives and other requirements linked with the pool heating scheme, so that potential applications piled up over that period," explains Les Nelson, Vice President of the Solar Heating & Cooling Programs at the International Association of Plumbing and Mechanical Officials. "In the end, the CPUC voted for the higher subsidy rate of 7 USD per annual displaced therm, which was a very attractive incentive covering almost 100 % of the investment costs in some cases." These two effects – delay and attractive subsidy rate – caused the boom of commercial pool heating projects in 2014. All pools in California, except those located at single-family homes, are eligible for CSI incentives, including public (municipal) pools, associations, hotels, and multi-family housing pools. There are an estimated 46,000 commercial swimming pools in California, most of which are heated with natural gas.
Photovoltaic boom puts solar thermal contractors off track
As can be seen in the chart, the demand in the multi-family sector and in low-income households dropped significantly in 2014. Nelson sees it explained by the still growing photovoltaic market: "The fact that the federal tax credits for renewable technology projects may expire at the end of 2016 is driving the PV market even further. Most solar thermal contractors are also installing solar electricity systems." Process heat and solar cooling – both eligible technologies since 2013 – went down a different road. No applications in this field show up in the Excel file download of all approved and submitted applications until mid-August 2015.

Single-family homes

Multi-family homes and commercial projects

Solar pool heating*

Old

New in 2015

Variation

Old

New in 2015

Variation

Old

New in 2015

Variation

General market

18.59

29.85

61 %

14.53

20.19

39 %

7.00

5.00

-29 %

Low income

25.64

36.90

44 %

19.23

24.89

29 %

N/A

N/A
New subsidy levels approved by CPUC in January 2015 for gas-displacing systems in Step 1.
* Solar pool heating tariffs were already adjusted downwards in December 2014. All new tariffs except commercial pool heating are retroactive to 23 July 2014. See further details in the database of incentive programmes.
Source: CPUC Decision Granting Petition from 29 January 2015.
At the end of January 2015, the CPUC commissioners responded to the extreme ups and downs in the market in 2014 by increasing the subsidy level across all sectors except for pool heating, by accepting a petition by the California Solar Energy Industries Association (CALSEIA) and CSI Thermal Program Administrators. According to the Decision Granting Petition published on 30 January 2015 (see the attached document), the pool heating incentive has remained at the lower December 2014 value of 5 USD/therm of displaced energy, and a cap became effective at the end of January 2015 limiting subsidies to 50 % of the investment costs.
By August 2015, the online statistics of CSI Solar Thermal show that the pool heating segment is back to normal this year with 23 % of collector area subsidised (see chart above). But it also seems that the increase in subsidy levels has not yet resulted in higher demand in most user categories. By the middle of August, only 4,100 m² of collector area across all four categories – single-family, multi-family, low-income and commercial pool heating – had been granted incentives.
You can download the statistics of CSI Solar Thermal in Excel format:
More information: