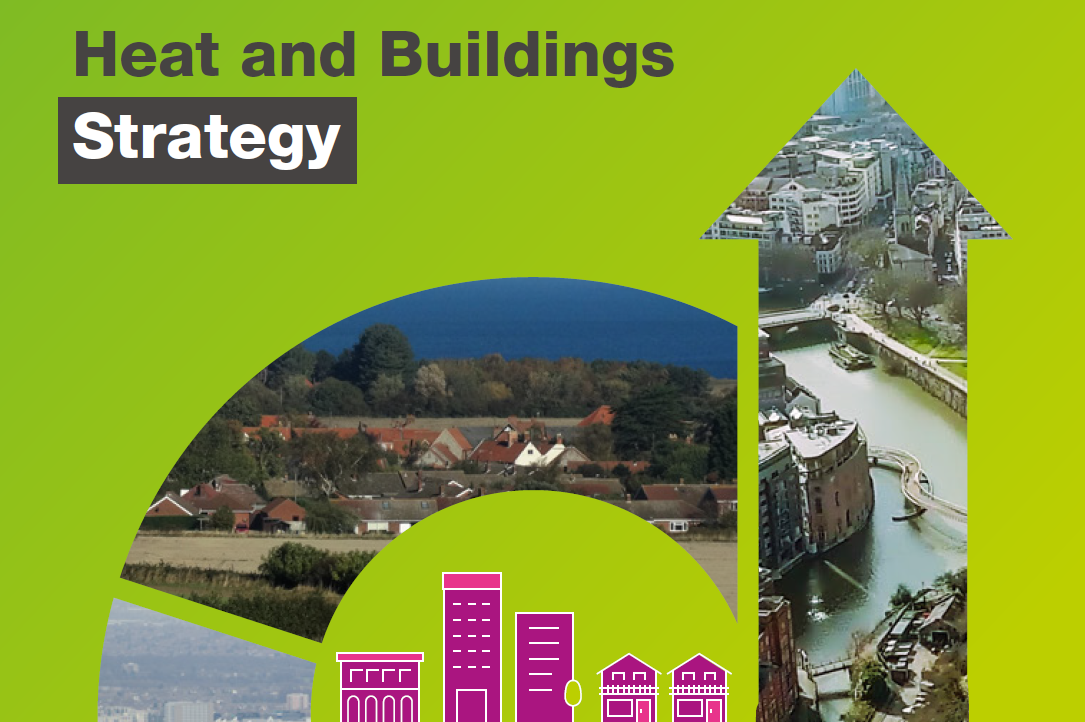 Unfavourable stop and go policy in England
The Green Homes Grant scheme in England "underperformed badly". The Public Accounts Committee came to this conclusion when reporting that only about 47,500 families upgraded their homes out of the 600,000 originally envisaged and the scheme caused GBP 50 million of administration costs – more than GBP 1,000 per home upgraded. Only very few solar thermal system providers profited from the support scheme, which accepted applications only for a short time between September 2020 and March 2021. But this was still enough to more than double the British solar thermal market from its very low level of 6,340 m2 in 2019 (most recent figure available). Unfortunately, the future prospects are more than questionable because the planned Boiler Upgrade Scheme targets new heat pumps and in the announcements solar thermal is not even mentioned as an eligible technology.
Figure shows cover of UK Heat & Buildings Strategy
Originally, the UK government had announced a GBP 2 billion Green Homes Grant scheme offering a voucher of GBP 5,000 for households in England and GBP 10,000 to cover 100 % of the costs for low-income households. Solar thermal systems as well as heat pumps and insulation were among the eligible technologies.
The programme was initially set to run until March 2021 but was extended until March 2022. On the 31st March 2021, however, the scheme suddenly stopped for new applications, but families with an issued voucher were able to carry out their installation even after that date. According to the final report, the spent budget accounted for just GBP 314 million, 16 % of the planned sum.
Stocked up on solar thermal material in advance
"We managed to profit dramatically from the Green Homes Grant voucher scheme and increased our solar turnover by approximately 2,800 % in 2021", confirmed Sean Bingham, Director of the solar thermal system supplier Barilla Solar. The applicants were all homeowners, either augmenting a boiler or a heat pump with a storage tank with two heat exchangers or installing a pre-heating combination boiler, he added.
Barilla prepared well for the short, strong boom in demand triggered by the vouchers by stocking up on additional solar thermal material in advance. They were then able to respond to the high demand and redeem vouchers well after the end of the programme. Initial estimates by the solar companies involved in implementing the scheme indicate a market volume of around 20,000 m2 of newly installed collector area in 2021.
Green Homes Grant scheme with complicated paperwork
AES Solar had quite a different experience with the Green Homes Grant scheme. The solar solution provider mostly performed PV installations in 2021. "The government did a poor job on the Green Homes Grant scheme. The paperwork was too complicated and the scheme was not promoted at all", concluded AES Solar Managing Director George Goudsmit. He hopes that the newly announced Boiler Upgrade Scheme will be more effective and that solar thermal energy will be included.
Boiler Upgrade Scheme overlooks solar thermal
According to the Heat & Building Strategy published by the UK Business Department in October 2021 (see pdf for download below), GBP 450 million will be allocated for the Boiler Upgrade Scheme between 2022 and 2025. The grant scheme will provide households in England and Wales with grants. They receive GBP 5,000 when they switch to an air-source heat pump or GBP 6,000 when they switch to a ground-source one. Solar thermal can be installed as part of the scheme, as long as the heat pump is able to meet the full space and water heating demand. There will be no additional financial support provided if solar thermal is included in the system.
Solar and heat pumps are an ideal combintion
There has been no open statement or open letter from the Solar Energy UK association, formerly named the Solar Trade Association, as a reaction to the lack of financial support for solar in the Boiler Upgrade Scheme. The IEA SHC's UK Alternative Delegate Dr Richard Hall comments that "solar and heat pumps are an ideal combination and in the social housing version of the Green Homes Grant the vast majority of the installations included a balanced combination of insulation, heat pumps and solar. There is no one-size-fits-all solution to heat decarbonisation and it's hard to see how the scheme in its current form fits in with the accepted wisdom of taking a whole-building approach to residential heat decarbonisation".
Organisations mentioned in this news article:
http://www.barillasolar.co.uk/
https://solarenergyuk.org/
https://www.aessolar.co.uk/
Downloads:
Green Homes Grant scheme PAC report
BEIS_Clean_Heat_Heat___Buildings_Strategy_UK