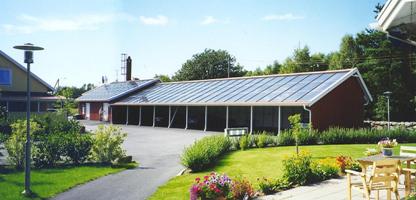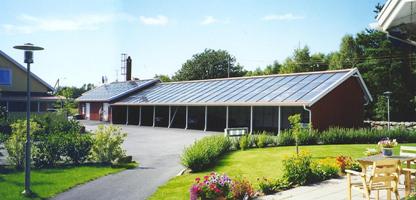 Solar_roof_Onsolar
Sweden: Increased Subsidy Budget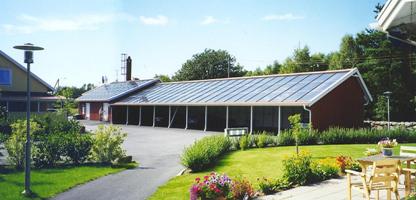 Solar roof in the Swedish city of Onsala: The increased subsidies in Sweden focus on larger collector fields – like the 220 m2 plant from 2005.
Photo: Jan-Olof Dalenbäck
He is one of the well-known experts of Europe's solar thermal market: Jan-Olof Dalenbäck, professor of the Chalmers University of Technology and secretary of the Solar Energy Association of Sweden (SEAS). Dalenbäck was invited to speak about the Swedish solar thermal market at the 4th European Solar Thermal Industry Conference (estec 2009) in Munich at the end of May. His presentation showed the good and bad side of the currently developing situation.
On the good side: The government has more than doubled the total budget of the long-term incentive programme at the beginning of 2009, from Swedish Kronor (SEK) 10 million (EUR 1 million) to SEK 25 million (EUR 2.5 million). Simultaneously, it increased the maximum subsidy per project from SEK 250,000 to SEK 3,000,000, enabling buyers to profit from incentive-based subsidies of SEK 2.5/kWhth (0.25 EUR/kWhth) for solar thermal systems.
On the bad side: The solar thermal market is strongly competing with the biomass, heat pump and district heating sectors. The number of system suppliers has grown from 4 in 1998 to over 20 a decade later, which is a lot for the small market volume of 26,800 m2 (18.8 MW). Accordingly, the number of collector imports reached almost 70 % in 2008. The share of vacuum tubes amounted to 46 % – more than half of it were vacuum tube collector systems from China (see the following diagram).
Growing number of collector imports: Three of four collectors are manufactured abroad.
Source: SEAS
The results of the improved subsidy scheme will be evaluated in 2010. This year, Dalenbäck calculates with a growth rate of 10 to 20 % within the solar thermal market. Researchers obtain the necessary market data via an agreement between the suppliers and the SP Technical Research Institute of Sweden, which works on behalf of SEAS. Manufacturers and system suppliers report their sales in different categories by filling in a form quarterly.
More information:
Solar Energy Association of Sweden (SEAS): http://www.svensksolenergi.se
Find attached the list of eligible collectors (stand: June 2009) which is updated monthly and managed by SP Technical Research Institute of Sweden.
The incentive programme that is described below in the table stopped in December 2011, because the government did not want to subsidise solar thermal technology any longer.
Country / region

Sweden

Name of programme

Stöd för investeringar i solvärme (2008:1247)

Type of incentive

Performance-based subsidy

Eligible technologies

Solar Thermal systems with glazed (liquid) collectors

Applicable sectors

Among others residential buildings, multi-family houses, public buildings

(All applications where there is a demand for heat in the summer)

Amount

2.5

Swedish Kronor (SEK) / kWhth (in practice, equalling 1,000 SEK/m2 (1 SEK is about 0.1 EUR)
The programme bases subsidies on the calculated annual collector yield [kWh/a] of eligible collectors. A list of both eligible collectors and their calculated annual module yield is published by Solar Energy Association of Sweden (SEAS). The area-specific yield varies from 300 to 600 kWh/m2a; subsidies therefore vary from 750 to 1,500 SEK/m2 depending on the type of collector.

Maximum incentive

Max. SEK 7,500 / per residential unit and SEK 3,000,000 per project

Requirements for system

Collector must be approved at an accredited laboratory and in accordance with EN 12975 and must be certified with a Solar Keymark from 2010/2011 onwards

Requirements for installation

Not yet, but to be eligible for the subsidy, it is required to provide a description of the product and the installation procedure in Swedish. The

SEAS

is planning installer certificates.

Finance provider

Ministry for Enterprise – Administrated by the National Board of Housing, Building and Planning,

Division of Building Construction

Total funds

SEK 25 million (EUR 2.5 million) per year

Effective date

The programme has been running since 2000, total funds and the maximum subsidy per project increased in 2009

Expiration date

End of 2011 (SEAS will apply for extension)

Website

http://www.boverket.se

http://www.svensksolenergi.se

Last review of this tabloid

June 2009

Contact

Boverket – National Board of Housing, Building and Planning
Box 534
371 23 Karlskrona

Tel.

+46/455/353000