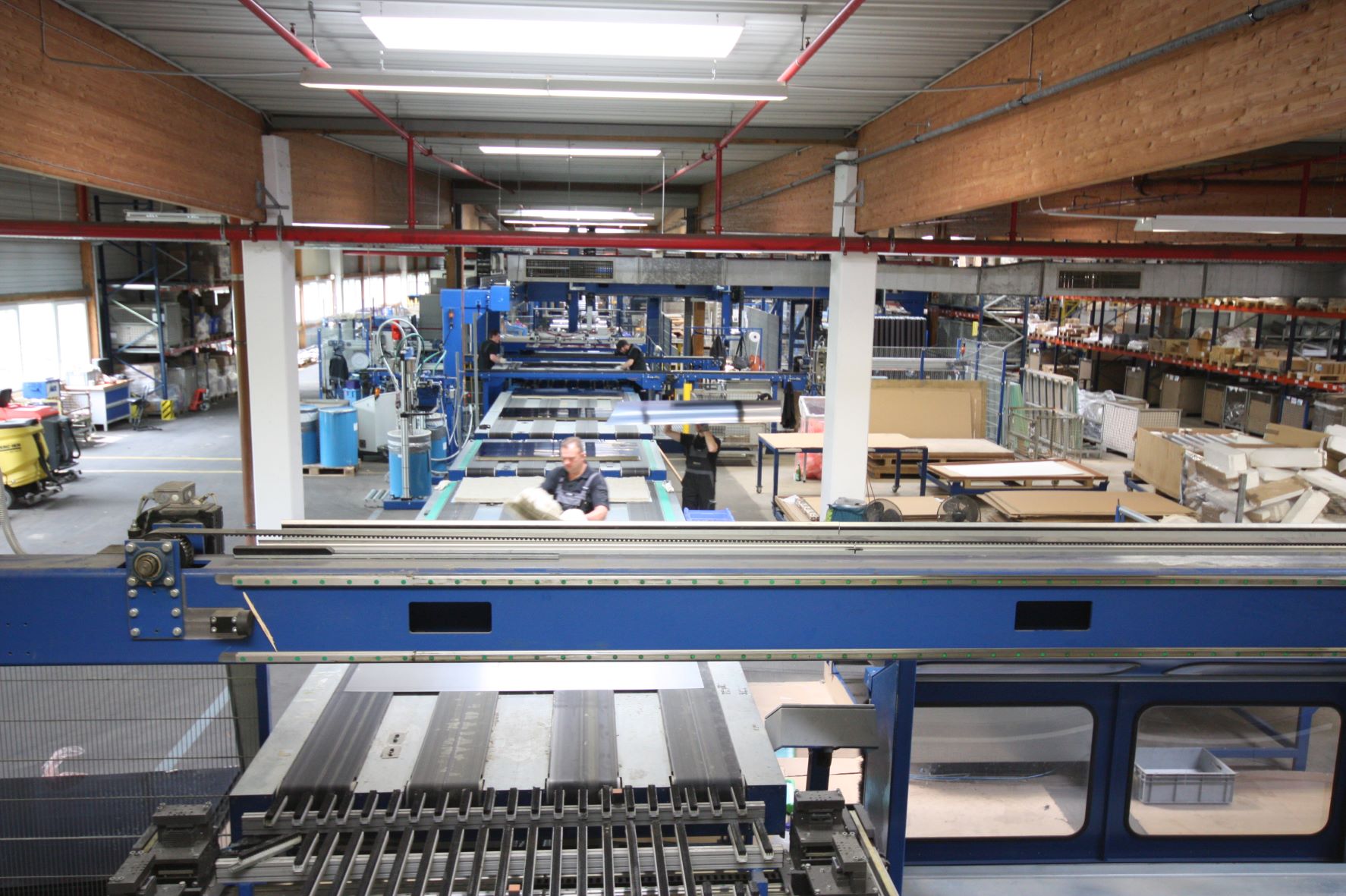 Survey of German solar collector industry: "daily struggle to procure materials"
Throughout the world, logistics are currently disrupted and supply chains have broken down. Raw materials for collector and storage tank production in Germany are currently only available with delays. A survey of the German solar collector industry has shown, however, that the companies are affected very differently. Some report massive problems, others have experienced only isolated delays. All companies are able to deliver. Delivery times are given as several weeks, sometimes even months. Most manufacturers have also adjusted prices in line with rising inflation. Further results of the survey of the German collector industry conducted by solarthermalworld.org in cooperation with the German magazine Solarthermie Jahrbuch can be found here.
Photo: Solmetall
"It is a daily struggle to procure materials" is one piece of feedback from the industry. Of the 23 German collector manufacturers listed on the map of Germany (see link), 18 took part in the survey in June, including major heating technology manufacturers such as Bosch, Viessmann and Wolf. In addition to the large heating technology full-range manufacturers, there are also medium-sized specialists for solar collectors and very small companies with only a few employees.
According to the survey, vacuum tube manufacturers seem to be particularly affected by the supply bottlenecks as most manufacturers purchase vacuum tubes from China, which they assemble into collectors in Germany. Since the entire logistics chain is not functioning properly at the moment, it can happen that the tubes arrive in Germany but there is no truck available to transport them to the factory, as has already happened at Bosch Thermotechnik, for example.
"We are able to deliver"
Narva is one of the few manufacturers that produce vacuum tubes for solar collectors outside China. The factory is located in Brand-Erbisdorf near Freiberg, Saxony. At Narva, the situation is relaxed: "Since we rely on Western and Central-European suppliers, we are currently in a secure supply situation," says Development Engineer Tom Beier.
The materials for which there are delivery problems also vary widely. The two absorber specialists Solab and Ruperti Werkstätten complain about problems with copper. "With copper, delivery times fluctuate a lot," said Georg Wendlinger, Technical Manager at
Ruperti Werkstätten. Viessmann also manufactures absorbers and, according to Press Spokesman Wolfgang Rogatty, has the biggest bottlenecks with copper.
Delays in absorber production have a direct impact on the supply chain of the solar thermal industry. Wolf, for example, does not produce its own absorbers and is dependent on suppliers. Wolf Sales Manager Torsten Müchler said that not only absorbers but all materials are affected by delivery delays. Sometimes it is glass, sometimes aluminium and sometimes absorbers. But Müchler also said: "We are able to deliver." Whereas in the past delivery times would have been as short as two working days, today you have to reckon with weeks, sometimes even months. This applies not only to solar collectors but to all the company's heating technology products.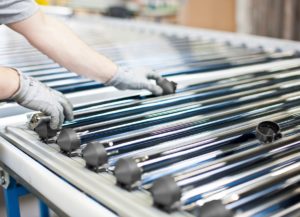 Vacuum tube collector manufacturing at Ritter Energie- und Umwelttechnik Photo: Ritter
Solar glass is in short supply
Solar air collector manufacturer Grammer is particularly struggling with the supply of glass. "The situation is most difficult with solar glass. Partly also with insulation and sealing materials," said Rudolf Ettl, Head of Solar Air Technology at Grammer. The availability of the sealing material EPDM is limited at the manufacturer Solar-Technologie-International (STI), and frame profiles are also difficult to obtain. Solvis complains about problems with semi-finished products such as sheet metal or aluminium profiles.
"We ordered enough aluminium at the end of 2021," said Michael Ganslmeier, Managing Director of Citrinsolar. "But the inflow is not quite what it should be." He says the situation is particularly difficult in storage tank manufacturing, another of Citrin's mainstays. There are big price fluctuations in steel. This applies to both normal steel and stainless steel. This makes production "very difficult to plan", says Ganslmeier. Since there is currently a very high demand for heat accumulators, this further aggravates the situation.
The vacuum tube collector manufacturer Ritter Energie- und Umwelttechnik also faces the challenge of supply difficulties. "This can be any material, from packaging material to production material to pallets. It changes all the time," said Marketing Consultant Benjamin Buortmes. According to Managing Director Thorsten Siems, Airwasol, the specialist for vacuum-air collectors, has no problems getting enough raw materials for collector production. What is missing, however, are electrical components. At Bosch Thermotechnik, too, cable harnesses and pumps are a much bigger problem at the moment. This affects the production of fresh water units and home-transfer stations, which Bosch also manufactures in Wettringen.
"We get everything"
Akotec, a specialist in vacuum tube collectors, uses vacuum tubes from Narva. "We haven't had any supply problems so far. We get everything," said Managing Director Karin Sprenger. However, the company offers not only solar collectors but also complete solar thermal systems. For this, Akotec depends on the purchase of storage tanks, pump groups and expansion vessels. According to Sprenger, there are waiting times of up to six months for these components. STI also sells complete solar systems. Managing Director Hendrik Stengel said that solar controllers are also hard to come by.
At Thüsolar, a small specialist for special formats, the bottleneck in production currently lies elsewhere: Managing Director Jörg Thielicke said he has stockpiled enough material. However, he does not have enough staff to manufacture his solar collectors and heat storage units.
Prices are rising
It is not only delivery times that are skyrocketing, but also prices. Volker Wartusch, Managing Director of Solab, states, for example, that the company's solar absorbers have become 25 % more expensive. For solar collectors, the increase is not quite as big. Most manufacturers have adjusted prices in line with inflation, but some have made double-digit increases.
Websites of companies mentioned in this article:
Akotec Produktionsgesellschaft mbH: http://www.akotec.eu
Bosch Thermotechnik GmbH: http://www.buderus.de
Citrin Solar: http://www.citrinsolar.de
Grammer Solar: http://www.grammer-solar.de
Narva Lichtquellen GmbH & Co. KG: http://www.narva-bel.de
Ritter Energie- und Umwelttechnik GmbH & Co. KG: https://ritter-energie.de/
Ruperti Werkstätten: http://www.rupertiwerkstaetten.de
Solab: http://www.solab-solar.com
Solar Technologie International GmbH STI: http://www.sti-solar.de
Solmetall: http://www.solmetall.de
Thüsolar GmbH: http://www.thuesolar.de
Viessmann: http://www.viessmann.de
Wolf GmbH: http://www.wolf-heiztechnik.de